Ahead of Vietnam Tourism Opening, Daily Omicron Toll Nears 100,000
On March 15, the government plans to reopen the country fully to international tourists.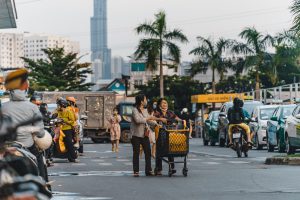 Vietnam is now recording close to 100,000 confirmed cases of COVID-19 per day, as the highly transmissible Omicron variant drives a nationally unprecedented outbreak. The country's health authorities recorded 98,864 new infections on Saturday, marking yet another daily high in the country since the pandemic broke out, followed by an additional 86,990 yesterday.
The spike, which began in January before taking off in earnest in the second week of February, has driven Vietnam's total of confirmed COVID-19 cases to more than 3.3 million, the fourth highest in Southeast Asia, both in absolute and relative terms.
The near-vertical spike in infections, which is more than five times as high as the peak that Vietnam experienced during last year's Delta variant outbreak, comes as the country prepares, like many of its Southeast Asian neighbors, to reopen its borders to international visitors.
Two weeks ago, the Vietnamese government announced that it would fully reopen international tourism and lifting all COVID-19 travel restrictions beginning on March 15, after two years of effective isolation from the outside world. In order to qualify, tourists must be fully vaccinated and produce a negative COVID-19 test before departure and upon arrival, AFP reported. Each visitor must also purchase COVID-19  insurance coverage worth at least $10,000.
Over the past two decades, Vietnam's tourist industry has grown by leaps and bounds, in line with its dynamic economy. Prior to the pandemic, it was worth some $32 billion per year, more than 10 percent of GDP, making its revival a matter of crucial importance in the government's wider plan to revive the economy, which despite its relative resilience during the pandemic has registered some of its worst quarterly performances since 2000.
The current spike in cases is unlikely to derail the government's reopening plans. After a delayed start, Vietnam now boasts one of Southeast Asia's highest rates of vaccination, with more than 78 percent of adults having received two doses of COVID-19 vaccine, and the government plans to administer booster shots to its entire adult population by the end of March. The government is also considering vaccinating teenagers.
Moreover, given the relatively low levels of hospitalization and death that have been associated with the Omicron variant, there is a decent likelihood that with prudent management, the spike will subside within a reasonable timeframe. This week, epidemiologists said that cases in the capital Hanoi are set to peak in the middle of March, after which they should begin to fall. In the case of the Philippines, where the country exceeded last year's Delta surge shortly after the New Year holiday, the downturn was as rapid as the spike, from more than 30,000 cases per day in mid-January to around 1,000 currently.
For similar reasons, Thailand last week announced its own slackening of COVID-19 restrictions with an eye to the resumption of tourism, despite being in the midst of a similar spike in cases. As a Thai Public Health Ministry spokesperson noted, the mortality rate is currently sitting at around 0.19 percent – around one-tenth of the rate during last year's Delta outbreak.