Australia's Response to the Russian Invasion of Ukraine
Despite its distance from Ukraine, Australia is keenly aware of the potential consequences of Russia's aggression.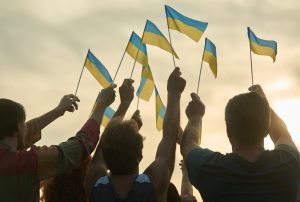 The unprovoked Russian invasion of Ukraine is of great concern to Australia, despite being outside its region. If Russia's behavior does not carry consequences then it makes the whole world a far less secure place. Yet as a middle power, with very few direct interests in the region, Australia's ability to place significant costs on Russia is limited. This doesn't mean that Canberra is without agency, however, or that it is incapable of playing a role in the world's response to this act of aggression.
Australia's primary response so far has been to work in unison with its allies and friends in the United States, United Kingdom, European Union, Japan, and Canada in imposing various sanctions on Russia itself and key individual members of the regime, as well as several others with close ties to the regime. This is being implemented in stages in the hope of gradually tightening the economic screws. Sanctions now include shutting several Russian banks out of the SWIFT system that allows transactions between banks worldwide.
These sanctions are important, but they are unlikely to reverse Russian President Vladimir Putin's current trajectory. There is evidence that in the short term the Russian economy will be reasonably well insulated from these constraints, although sanctions may have longer term effects. At present they are more symbolic than anything else, especially if China plans to soften their impacts.
The serious economic costs to Russia will come from Europe finding a way to circumvent its reliance on Russian gas. At present European countries seem unwilling to ask their citizens to reduce their energy consumption while workarounds are found. While Germany has signalled it is keen to find new sources of gas, finding suppliers is easier said than done.
At present Australia could only play a minor role in providing new sources of gas to Europe. Although Australia is one of the largest liquified natural gas (LNG) exporters in the world, the bulk of Australia's LNG production is sold via long-term contracts to China, Japan, Taiwan, and South Korea. This currently leaves only a limited supply capable of being diverted to Europe unless these contracts can be renegotiated due to the extraordinary circumstances – something Japan, Taiwan, and South Korea may be open to with some creative diplomacy.
While Australia may not carry much diplomatic weight within the Kremlin, it does have a strong relationship with India, which may be more influential. Canberra might see more results by trying to convince India to place pressure on Putin. India has maintained a significant defense relationship with Russia, even as New Delhi has also been moving closer to the West. This places in India a bind, but also offers opportunities.
New Delhi's response to Russia's invasion has been a curious one. Always keen to guard its own independence, India has not joined with Western powers in sanctioning Russia. However, India's statements regarding the invasion are more forceful than it is accustomed to making (albeit without naming Russia). So India's abstention from the United Nations Security Council's vote to condemn Russia's invasion of Ukraine can be seen more as a diplomatic habit, rather than an endorsement. But this abstention may also keep lines of communication open with the Kremlin, something that could prove vital. Canberra could play a role in convincing New Delhi it holds a critical card.
The other major power with even more influence in Moscow is one that Australia has no current high level diplomatic engagement with: China. Despite this, Australia has been very vocal about China's lack of pressure on Putin for his invasion. The fear is that the closer relations between Beijing and Moscow are part of a coordinated attempt to recreate the world order through their own authoritarian designs. Or Beijing may be playing a more cautious game, seeing what Putin can and can't get away with and taking notes. But if President Xi Jinping does have considerable sway with Putin, making him defensive through constant public criticism may not be Canberra's best diplomatic move.
Despite its distance from Ukraine, Australia is keenly aware of the potential consequences of Russia's aggression. Canberra is a stickler for the rules-based order, understanding that middle powers like itself would be severely impacted should the law of the jungle return and brute force become the dominant practice of international relations.
But Australians are also sympathetic to Ukrainians plight. There is a strong Ukrainian Australian community of around 40,000 people. The Australian government has committed to providing places for Ukrainian refugees should they want them. However, admirably, it currently looks like that most Ukrainians are determined to stay and fight for their country. And those who have left are hoping it is only temporary.