EU Announces Fourth Round of Sanctions on Post-Coup Myanmar
The list of targeted entities includes the state-owned Myanma Oil and Gas Enterprise, a major source of revenue for the military junta.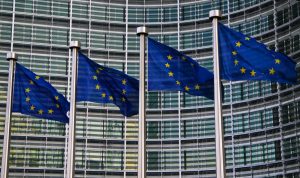 As expected, the European Union has imposed a fourth round of sanctions on Myanmar's military junta, targeting 22 more individuals and four entities, including a state-owned oil and gas company that is funneling funds to the military.
In a statement yesterday announcing the sanctions, the European Union said it was "deeply concerned by the continuing escalation of violence in Myanmar and the evolution towards a protracted conflict with regional implications. Since the military coup, the situation has continuously and gravely deteriorated."
Among those newly targeted with asset freezes and travel bans are four members of the junta's cabinet, including Minister for Investment Aung Naing Oo and Minister for Social Welfare Thet Thet Khine, both of whom were similarly targeted by the U.S. government in July. Sanctions has also been imposed on 14 members of the Union Election Commission (UEC), three high-ranking officers of the Myanmar armed forces, or Tatmadaw.
The announcement brings to 65 the number of individuals who have been targeted with EU asset freezes and travel bans since the coup. Brussels has also targeted a total of 10 entities with close ties to the Tatmadaw.
By far the most significant target in the latest round of sanctions is the state-owned Myanmar Oil and Gas Enterprise (MOGE). Since last February's coup, activists have waged a campaign urging foreign governments to impose sanctions on the firm, which according to a United Nations human rights expert, "represents the single largest source of revenue to the state." About 50 percent of Myanmar's foreign currency comes from natural gas revenues, and MOGE was expected to earn around $1.5 billion from oil and gas projects in 2021-2022, according to a Myanmar government forecast.
In August, a group of 462 civil society organizations called on foreign governments to blacklist MOGE, arguing that its revenues were "being paid into accounts now controlled by the illegal regime, even as it commits atrocities, from air strikes on communities in ethnic areas to detaining and torturing peaceful protesters and journalists." The U.S. Congress and European Parliament have also recommended sanctioning MOGE.
But previous rounds of Western sanctions had until yesterday refrained from targeting the firm, perhaps due to the involvement (if not the active lobbying) of two major Western oil firms, France's TotalEnergies and U.S.-based Chevron, in the Yadana offshore gas field, in partnership with MOGE and Thailand's state oil firm PTT.
This obstacle was removed late last month, when Total and Chevron both announced that they were withdrawing from their involvement in Yadana due to the mass human rights abuses and political turmoil that has resulted from last February's coup. Indeed, it is not inconceivable that the two firms, having successfully withstood activist pressure to withdraw since the 1990s, chose to pull the plug on their operations after receiving word that sanctions on MOGE were impending. It may also have had something to do with the fact that the Yadana field was nearing the end of its 30-year lifespan.
In comments given to the Associated Press, John Sifton of the advocacy group Human Rights Watch applauded the move but urged the EU to "implement these measures in ways that ensure that energy companies' shares in oil and gas operations are not simply transferred or relinquished to junta-controlled entities – an outcome that would only enrich the junta further."
Given Myanmar's technical limitations, it is likely that Total and Chevron could only be replaced by international firms with the ability to operate the Yadana gas field in their stead. And whether or not that happens may have a lot to do with whether the United States follows the EU in sanctioning MOGE. Alone, the deterrent effect of European sanctions is limited, but if Washington were to bring its full economic pressure to bear on Myanmar's oil and gas sector, the junta may find the pool of potential alternative partners shrinking rapidly.