Illicit Drug Production Has Surged Since Myanmar's Coup
The chaos that has enveloped Myanmar since the military takeover has been a gift to the country's drug trafficking syndicates.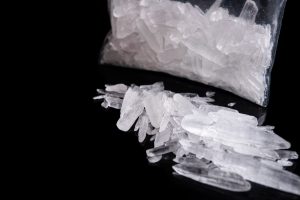 The political turmoil and instability unleashed by Myanmar's coup has been a gift for the region's drug syndicates, the U.N. Office on Drugs and Crime (UNODC) said this week, with narcotics production and trafficking spiking in the year since the military's seizure of power.
According to a report published yesterday by the news agency Reuters, authorities in Laos, Thailand, and Myanmar seized an eye-popping 90 million methamphetamine tablets and 4.4 tons of crystal methamphetamine in January alone, most of it manufactured in remote regions of Myanmar's Shan State.
"Meth production increased last year from already extreme levels in northern Myanmar and there is no sign it will slow down," Jeremy Douglas, the UNODC's regional representative in Southeast Asia, told Reuters.
Most of this illicit production is centered in Shan State, where pocked, rugged terrain, fractured state jurisdictions, and active conflicts have long provided fertile soil for narcotics production.
Even before the coup, governments in Southeast Asia were struggling to stem a storm-surge of methamphetamines and other synthetic drugs from the Shan hills. Asian anti-drug authorities confiscated a record 139 tons of meth in 2019, up from 127 tons in 2018 and 82.5 tons in 2017. This then jumped up further to a new record of 170 tons in 2020.
As I have noted previously, this boom partly resulted from a supply glut caused by COVID-19, which, according to UNODC, saw the price of methamphetamines in East and Southeast Asia drop to its lowest level in 10 years. It also partly reflected the ingenuity of the region's drug entrepreneurs, who have recently contrived ways to produce "pre-precursors" – the ingredients needed to manufacture the hard-to-obtain precursor chemicals that go into producing synthetic drugs like crystal meth and yaba.
Then came the February 2021 coup in Myanmar, which was marked by violent crackdowns on pro-democracy protesters and the collapse of the formal economy amid a campaign of strikes, civil disobedience actions, and the expanding violent resistance to the junta's rule.
In areas of eastern Shan State that lie under the de facto control of armed rebel groups like the United Wa State Army and a scattering of small militias – effective subcontractors of the Myanmar military in contested parts of Shan – the state's loosening hold was a golden opportunity to scale up drug operations and reap immense profits. One sign of the extent of the growth came in July, when authorities in Laos interdicted a record shipment of nearly 17 million yaba pills, close to the total amount seized in Laos in the whole of 2020.
The statistics cited by Reuters further substantiate the claim of a substantial growth in drug production in Myanmar since the coup. In Thailand, 520 million methamphetamine tablets were seized in the fiscal year ending September 2021, up from 361 million in the previous financial year, according to data from its Office of Narcotics Control Board. As for crystal meth, while seizures dropped 22 percent to 21.6 tons compared with 2020, these were still significantly higher than the 18.2 tons intercepted by authorities in 2019, when traffickers did not have to contend with the COVID-19 pandemic and its associated border closures and travel restrictions.
With no clear solution to Myanmar's crisis in sight, and the economy set to stagnate throughout the course of 2022 – the World Bank has projected its "critically weak" economy to grow by just 1 percent this year – there is every chance that the flow of drugs will continue, even intensify further. As Douglas said in his interview with Reuters, "Drugs and conflict remain inseparable in Myanmar, one feeding the other. Chaos and instability work for traffickers."