Myanmar Air Force Launches More Air Strikes in Kayah State
The air assaults, which displaced thousands of civilians, reflect the unusually robust nature of the resistance in the eastern state.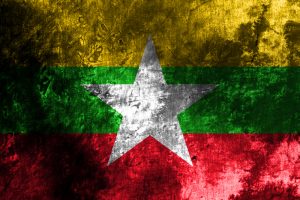 With the world's attention distracted by the unfolding Russian assaults on Ukraine, Myanmar's military junta have once again launched air strikes on rebel forces in the country's east. According to a report yesterday from Reuters, the Myanmar armed forces on February 23 bombarded areas close to Nan Mae Khon village in Kayah State, in response to resistance from the Karenni Nationalities Defense Force (KNDF), a civilian militia opposed to army rule.
The Free Burma Rangers, a group that provides relief across eastern Myanmar, posted on Twitter footage taken on February 23 of a house ablaze in Nan Mae Khon. It reported "2 villagers are dead & 3 wounded in one of the strikes" and stated that "thousands" of people had been displaced by the attacks.
Since last February's coup, Kayah State has been one of the main targets of air strikes by the Myanmar air force, due in large part to the unusually stubborn resistance that has emerged there. Last year, the KNDF formed as a merger of the scattered militias and People's Defense Forces (PDFs) that mushroomed up in Kayah State to oppose junta rule, and has resisted attempts by the junta's forces to quash its resistance.
The attacks follow similar strikes last month, when the Tatmadaw launched air strikes on Loikaw, the capital of Kayah State, forcing thousands of local residents to flee their homes. According to The Irrawaddy, more than half of Kayah State's population of 300,000 population have already been displaced by fighting since the coup. Last May, the Myanmar air force also bombed areas of Kayah's Demoso Township in order to root out civilian resistance fighters.
The junta's increased reliance on air power, and its horrific human costs, earlier this month prompted the advocacy group Burma Campaign UK to call for the United Kingdom and other countries "to impose sanctions to try to stop aviation fuel reaching the Burmese military."
Noting that the majority of the more than 400,000 people, who have been displaced from their homes since last February's coup, have fled because of airstrikes or the threat of airstrikes, and the fact that Myanmar is reliant on imports of aviation fuel, the group called for two rounds of sanctions: one on Myanmar companies involved in the supply of aviation fuel to the military and another on foreign companies involved in "any aspect of the supply of aviation fuel to Burma, including insurance and accreditation and certification services."
Whether or not these sanctions are implemented – and the Ukraine crisis will likely suck up much Western attention in the coming weeks – the use of air power could well prove counterproductive. In an article this week, the veteran Myanmar watcher Bertil Lintner argued that the sharp increase in air strikes, including in Kayah State, marked "a change in traditional counterinsurgency tactics that points more to military weakness than strength" and raised "hard new questions about the fighting ability of its increasingly stretched ground forces."
The increasing resort to air power, Lintner wrote, would "cause more human suffering and dislocation among an already angry and disenfranchised population" and ensure "more popular support for fast-rising anti-coup forces."