Myanmar Military Spokesperson Expresses Uncertainty Over Junta Polls
Frequent resistance attacks have greatly complicated the holding of a stage-managed election this year.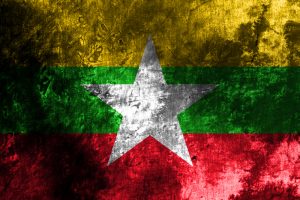 A spokesperson for Myanmar's military junta has cast doubt on whether the military will be able to hold the general elections later this year, given the country's deeply unstable security environment.
In an interview with Voice of America's Burmese-language service, Maj. Gen. Zaw Min Tun said that there is uncertainty over whether the election will be held in 2023, due to issues regarding voter registration and a surge in "subversive activities" by resistance groups.
"I can't say for sure right now," he told the U.S.-funded broadcaster. "All I can only say is that we are working hard to hold the elections this year."
The comment reinforces the widespread skepticism about the feasibility of an electoral exercise on which junta leader Senior Gen. Min Aung Hlaing has pinned his personal prestige.
Earlier this month, during a ceremony in Naypyidaw marking the 75th anniversary of Myanmar's independence from Great Britain, the general outlined the election plans in detail. He urged the people of Myanmar and the wider world to support the process, describing it as an important step toward the creation of a "genuine, discipline-flourishing multiparty democratic system."
Obviously, the elections, which are expected to be held in August (though no formal announcement has yet been made), are a clear attempt to recast the status quo and to stage a transition from an outright to a more veiled form of military rule. They are also very unlikely to proceed in any sort of coherent manner. Challenging enough at the best of times, the logistics of organizing an election in the current state of rebellion and generalized conflict that has pertained in the two years since the military seized power in February 2021 verge on the impossible.
The military's control over large parts of the country is either illusory or contested, leaving relatively few areas in which it could guarantee safe and hassle-free polling.
As Mary Callahan argued in a recent article for Frontier Myanmar, any attempt to do an election in a context of such stark political polarization will put large numbers of civilians in harm's way. "Anyone who votes, no matter who they vote for, will be considered complicit and therefore a legitimate target for radical guerrilla groups," she wrote. "Meanwhile, anyone who refuses to vote could find their homes raided by police – or worse, given the army's penchant for airstrikes, artillery attacks, and arson against civilians." Indeed, those conducting the census aimed at updating voter lists ahead of the election have already come under attack from resistance forces.
Indeed, the spokesperson's admission came after the publication of the leaked minutes from a top-level "counterterrorism" meeting chaired by Home Affairs Minister Lt.-Gen. Soe Htut that was published last week by Khit Thit Media. According to an English-language report by The Irrawaddy, the meeting, which was attended by more than 50 senior security officials from the union, regional, and state levels, found that the regime was failing to secure public support for its attempt to defeat the shadow National Unity Government (NUG), which is spearheading the resistance to the junta's rule. It also concluded that the People's Defense Forces (PDFs) that are loosely aligned with the NUG had expanded beyond the junta's control.
As a result, The Irrawaddy reported, "None of the officials present at the meeting was confident the regime will be able to successfully hold the election planned in August."
For reasons of personal face, Min Aung Hlaing may not feel he can back down from holding some form of election – but it will be far cry from a nationwide exercise, let alone a politically legitimate one.