Scott Morrison Called 'Hypocrite and Liar' in Leaked Texts By Political Allies
The prime minister was called a "complete psycho" and other unflattering things by allies and adversaries alike as intra-party divisions continue to roil Australian politics.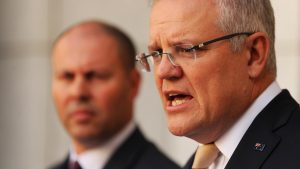 Australian Prime Minister Scott Morrison has been labelled a "hypocrite and liar" a "horrible person" and a "complete psycho" in separate leaked text messages from some of his closest political allies.
Morrison was first blindsided in front of dozens of journalists on Tuesday when he was confronted at the National Press Club by a reporter who claimed to have received leaked text messages between a current senior cabinet minister and the former premier of New South Wales, Gladys Berejiklian.
Berejiklian, a senior ally of Morrison's before she stood down following corruption allegations late last year, described Morrison as "horrible" and "untrustworthy."
"She described you as a horrible, horrible person, going on to say she did not trust you, and you are more concerned with politics than people," the reporter said. "The minister is even more scathing, describing you as a fraud and a complete psycho. Does this exchange surprise you? And what does it tell us?"
Morrison responded: "I don't know who you're referring to, or the basis of what you've put to me. But I obviously don't agree with it. And I don't think that is my record."
Later that day, the reporter claimed that in another text sent during the 2019-20 bushfires, Berejiklian said: "Lives are at stake today and he is just obsessed with petty political point-scoring."
After Berejiklian resigned in response to the state corruption watchdog announcing it was launching an investigation into her, Morrison urged her to run for federal positions, describing her as "a dear friend over a long period of time."
More text messages were leaked Friday, this time describing Morrison as a "hypocrite and a liar." That message came from Barnaby Joyce, the deputy prime minister and leader of the National party, the minor partner in Morrison's coalition government. 
Joyce sent the messages to a third party, asking them to forward them to Brittany Higgins, a former political staffer who went public last year alleging she was raped by her colleague in the parliament office of the then-defense industry minister.
"Tell [Brittany Higgins] I and Scott, he is Scott to me until I have to recognise his office, don't get along," Joyce said. "He is a hypocrite and a liar from my observations and that is over a long time. I have never trusted him, and I dislike how he earnestly rearranges the truth to a lie."
Joyce said he offered to resign as deputy prime minister after he learned the text message would be made public, but Morrison refused to accept his resignation.
Morrison has sought to downplay the leaked messages, especially ahead of an election in which his character, particularly whether he is trustworthy, will be scrutinized. 
"Politics is a brutal business. If you can't accept and understand each other's frailties and be forgiving in those circumstances, then frankly, that says a lot more about you than it does about others," he said. 
On Sunday evening, former Labor premier of New South Wales Bob Carr alleged that Defense Minister Peter Dutton was the unnamed minister who exchanged messages with Gladys Berjiklian, labeling the prime minister as "a complete psycho."
"If PM Morrison has one more week in free fall the prospect of a leadership change pre-election is real. Party rules don't count if most MPs think you will lead them to defeat," said Carr.
Carr later told Sky News that "there is only one person that stands to benefit in damaging an already damaged PM," arguing that Dutton would win a leadership spill in "an increasingly right-wing party room."
Dutton is one of the most senior politicians in Canberra and has sought leadership before. In 2018, Dutton, then home affairs minister, challenged then-Prime Minister Malcolm Turnbull for Liberal Party leadership, losing by just a handful of votes.  
But while there's speculation on whether there may be a challenge to Morrison, some senior ministers have rallied around the prime minister. 
Home Affairs Minister Karen Andrews told the ABC on Sunday that Morrison remains an asset for the party and will be key to retaining government at the next election. 
"It is a different set of circumstances now, but the Scott Morrison that was there a couple of years ago, back in 2019, is the same Scott Morrison that we have now," Andrews said, adding that unity is how they will win the election.
Opposition leader Anthony Albanese said the saga highlights the "dysfunction" and "disunity" of the current government, adding that it was one thing for French President Emmanuel Macron to call Morrison a liar, but quite another when the accusations came from Morrison's closet political allies.
"This isn't a government. It's a shambles which isn't looking after the interests of Australians because they are obsessed by their internal hatreds and dysfunctions," he said. 
"That [text message] was after Barnaby Joyce had served in the cabinet for over half a decade alongside Scott Morrison. The idea that this was just a flippant remark is simply untenable," he said.