With His Term Coming to a Close, Moon Reiterates Importance of Peace Process on Korean Peninsula
In an interview with news agencies of OANA, South Korean President Moon Jae-in expressed his hope for the U.S. and North Korea to renew talks.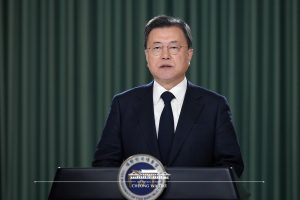 South Korean President Moon Jae-in reiterated the importance of the peace process for denuclearization on the Korean Peninsula while expressing concerns over North Korea's recent flurry of missile tests in an interview with news agencies of the Organization of Asia-Pacific News Agencies (OANA) on Thursday.
With three months left before the end of his presidency, Moon seemed resigned that further progress is unlikely under his watch but expressed expectations that the Biden administration's efforts for restoring stalled nuclear talks with North Korea will eventually bear fruit.
"Since dialogue is the only way to resolve problems, a meeting between [U.S.] President Biden and [North Korean] Chairman Kim is expected to take place eventually," Moon said. He added that "it is just a matter of time" for the U.S. and North Korea to sit down at the same table.
Since the Hanoi summit between then-U.S. President Donald Trump and Kim collapsed with no deal in 2019, Pyongyang has consistently demanded that Washington make concessions first in order to restore the stalled talks. North Korea's demands include lifting the heavy load of U.N. sanctions, permanently halting the joint South Korea-U.S. military drills, and withdrawing U.S. troops from the South. Washington has unofficially proposed possible incentives to North Korea in return for renewing dialogue, but Pyongyang has not responded.
In order to make a breakthrough to end the impasse, Moon suggested the countries involved declare a formal end of the 1950-53 Korean War last year at the United Nations General Assembly. Kim Yo Jong, the powerful sister of the North Korean leader and the regime's main voice on inter-Korean relations, called this initiative an "admirable idea" but questioned the timing and preconditions.
According to North Korean state media reports on the results of the fourth Plenary Meeting of Eighth Central Committee of the Workers' Party of Korea (WPK) convened in December last year, Pyongyang will put more focus on reviving the country's crippled economy. The public reports did not unveil any details on Pyongyang's updated policies on nuclear talks and inter-Korea relations. Instead, North Korea is devoting its efforts to developing its military strength, as proved by the flurry of missile tests in January.
North Korea will likely showcase more of its advanced weapons in the coming months as the country's biggest events – the birth anniversaries of Kim Jong Un's father and grandfather – are scheduled in February and April, respectively,
North Korea's most recent launch was a test of the intermediate-range ballistic missile (IRBM) Hwasong-12, a step up from the short-range ballistic missiles (SRBMs) it usually launches.The next missiles North Korea will test-fire may be its long-range ballistic missiles.
The peace process led by Moon has de facto ended with no substantive results in the denuclearization of the Korean Peninsula. Pyongyang is unlikely to accept Washington and Seoul's proposals for talks this year, much less before Moon leaves office. However, Moon still believes his peace process focused on dialogue is the only way to promote permanent peace and prosperity on the Korean Peninsula.
"If North Korea-U.S. talks resume and the leaders of the United States and North Korea hold a historic summit once again, I expect and hope that – unlike in Hanoi – substantive progress toward denuclearization of the Peninsula, the establishment of a peace regime and normalization of North Korea-U.S. relations will be made," Moon said.
In the wake of the North's recent series of missile tests, South Korean Foreign Minister Chung Eui-yong will have a meeting with his U.S. and Japanese counterparts in Honolulu, Hawaii, on Saturday to reaffirm the soundness of the trilateral alliance on North Korea issues. This meeting comes after the meeting of the nuclear envoys of the three countries on Thursday. The three defense chiefs also held a phone call on Thursday and are expected to hold an in-person meeting in Hawaii next month, showing how the tensions on the Korean Peninsula have escalated.