China's Luckin Looks to Relist on NASDAQ
Insights from Jay Ritter.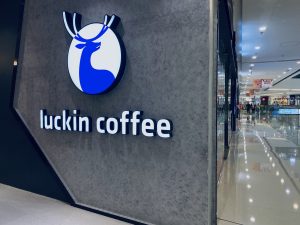 The Diplomat author Mercy Kuo regularly engages subject-matter experts, policy practitioners, and strategic thinkers across the globe for their diverse insights into U.S. Asia policy. This conversation with Professor Jay Ritter – Joseph B. Cordell Eminent Scholar in the Department of Finance at the University of Florida, who is known as "Mr. IPO" for his numerous award-winning work on initial public offerings – is the 313th in "The Trans-Pacific View Insight Series."
After its 2020 fraud scandal, Chinese coffee company Luckin seeks to relist on Nasdaq. Identify the key obstacles facing the company's second IPO attempt.
Investor skepticism is one obstacle. Some investors are wondering, "If we couldn't trust you before, why should we trust you now?" There are also concerns about the business model: How profitable will the company be? And overhanging the company is the question of whether Luckin will have to delist its stock in the U.S. within a few years.
Is this a credible comeback in light of U.S. backlash against Chinese IPOs in U.S. capital markets?
Luckin will probably have to delist within a few years, so it is difficult to understand why they want to relist in the U.S. rather than on the STAR [Shanghai Stock Exchange Science and Technology Innovation Board] market in China.
Analyze the impact of the U.S. Holding Foreign Companies Accountable Act on Luckin's re-listing.
Because the U.S. government insists on a U.S. entity auditing Luckin's Chinese auditors, which the Chinese government will not allow, Luckin and all Chinese companies may have to delist in the U.S.
What risk factors should investors consider regarding Luckin and other Chinese companies that attempt to list in the U.S.?  
If Luckin is forced to delist within a few years, it is unclear where, if any place, they will then be listed. Alibaba went public in the U.S., but has since also listed in Hong Kong. Thus, there is a liquid market in Hong Kong for investors to buy or sell the stock even if Alibaba is forced to delist from the U.S.
Even if Luckin is allowed to continue listing in the U.S. in the future, it is not clear what power foreign investors have to force the company to pay dividends.
Investors in all companies face the risk of the business of the company not being profitable. If coffee drinking becomes more popular in China, the business may grow. But if coffee drinking does not gain in popularity, the underlying business of the company is at risk.
Investors are hoping that the accounting numbers are accurate now. If they have been overstating sales growth or profits, the stock price may fall when investors find out, even if sales are growing (but not as much as investors expected).