Do Japan's Sanctions on Russia Spell the End of Japan-Russia Diplomacy?
Japan's unprecedented sanctions on Russia have angered the Kremlin, leading Russia to cut diplomatic ties with Tokyo.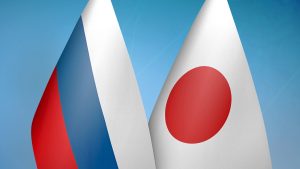 Japan's economic sanctions on Russia for its invasion of Ukraine prompted the Kremlin to withdraw from peace treaty negotiations concerning the disputed islands located between Russia and Japan. Japan's Prime Minister Kishida Fumio has protested Russia's statement that it "has no intention of continuing" peace treaty negotiations "under the current circumstances."
Japan has stressed that its stance in maintaining peaceful relations with Russia and keeping diplomatic channels open remains unchanged. But Moscow has accused Japan of "anti-Russian behavior" and blamed it for the deterioration of bilateral relations.
The Soviet Union seized the four disputed islands — known as the Northern Territories in Japan and the Kuril Islands in Russia – from Japan in the last days of World War II. The islands have been a major hurdle in Japan and Russia normalizing relations. The two countries began negotiations for a formal peace treaty in 1957, but still have not reached agreement due to the dispute.
Since the end of World War II, both countries have been working toward improving relations via economic sweeteners such as joint oil and gas projects on the disputed islands. In 2018, then-Japanese Prime Minister Abe Shinzo and Russian President Vladimir Putin reaffirmed that they would carry out peace treaty talks based on the 1956 joint declaration, which states that the two smaller disputed islands would be handed over to Japan upon the conclusion of a peace treaty. But no further progress was made.
Since the start of the invasion of Ukraine, diplomatic and economic ties between the two nations have soured and a final resolution concerning the islands appears to be off the cards.
It has been almost a month since Japan first froze the assets of Russian banks and people close to the Kremlin as well as imposing export restrictions on diesel engines, semiconductors, and other high-tech products. On March 7, Japan decided to expand its sanctions on wealthy Russian and Belarusian oligarchs and officials in the Putin administration. Kishida has also pledged to unveil a revised list of further import and export restrictions.
In response, Russia added Japan to its list of "unfriendly countries" the next day. It also suspended visa-free travel, which had allowed former Japanese residents to visit the now Russian-controlled islands. The islands have a historical significance to the former Japanese residents who were expelled from the islands and seek to regain their land and community. Russia, on the other hand, views them as rightfully earned spoils of war.
From Japan's point of view, the invasion of Ukraine and Japan-Russia relations should be treated separately. Kishida called Russia's withdrawal from peace negotiations "unjust" and "absolutely unacceptable" based on the reasoning that the current crisis in Ukraine originated from Russia. Japan's foreign minister also stated that Japan's economic sanctions on Russia were unavoidable since Russia's actions violated international law.
Meanwhile, Japan has shown an usual level of sympathy and support for the Ukrainian cause. In addition to the protests against the war held every weekend across Japan, the Japanese public has donated over $17 million to a relief fund for Ukraine.
Over the years Japan has garnered a reputation for its low refugee acceptance rate. But since the war in Ukraine, Japan has welcomed 188 Ukrainians fleeing the conflict, offering a one-year visa along with assistance to help them settle into life in Japan.
During President Volodomir Zelenskyy's online address to the Japanese Diet on Wednesday he thanked Japan "from the bottom of his heart" for its humanitarian aid and participation in sanctions. While he praised Japan for being the first country in Asia to take action against Russia, he slammed the U.N. Security Council – where Russia holds veto power – for failing to help Ukraine. He also appealed to Japan for further sanctions in order to put more pressure on Russia and thereby "restore peace."