How Is Cambodia Navigating the Impacts of Russia's Invasion of Ukraine?
In the five weeks since the invasion, the country has pivoted from neutrality to condemnation of the Russian aggression.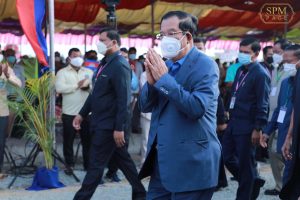 On a boiling tropical afternoon in mid-December, Russian President Vladimir Putin's trusted ally Nikolai Patrushev, who serves as the secretary of the Security Council of Russia, stepped into Ballroom Two of the Sofitel Hotel in Cambodia's capital Phnom Penh. Waiting for him inside was Hun Manith, Cambodian Prime Minister Hun Sen's middle son and the nation's top military spy. The two intelligence czars and their teams discussed ways to combat people's revolts known as "color revolution" and "exchanged information" on the political and strategic situations in Asia and Europe.
As Patrushev conducted his Southeast Asia tour, Moscow was beginning to deploy troops and tank columns to the Russo-Ukrainian border en masse. This, as we now know, would later develop into the much-condemned invasion of Ukraine and the attempted "demilitarization" and the "denazification" of the government of President Volodymyr Zelenskyy.
Exactly 11 weeks after the Manith-Patrushev meeting, on March 2, Cambodia made what some viewed as a surprising move. The country's mission to the United Nations decided not just to vote yes but also to co-sponsor a U.N. General Assembly (UNGA) resolution deploring the Russian invasion. Prime Minister Hun Sen himself said that Cambodia was lobbied by France, Germany, Japan, and the United States to do so and that the nature of the invasion went against Cambodia's foreign policy principles of opposing separatism and the use of force. Hun Sen even went so far as to tell government mouthpiece Fresh News that he doubted Moscow's chance of "winning" its war against Ukraine.
A month after the war erupted, Hun Sen on March 23 moved to call it an "invasion," adding that Cambodia would join calls to condemn the Russian actions in Ukraine. Hours later, Russian ambassador Anatoly Borovik, who had been busy meeting Cambodian officials in previous weeks to explain Moscow's stance, tweeted in an apparent response to the premier that "It was Moscow that assisted Phnom Penh in the most difficult period in its history."
Most recently, on March 24, Cambodia, once again, both co-sponsored and voted yes on another U.N. resolution demanding protections of civilians and open access of humanitarian assistance in Ukraine.
These moves by Cambodia raise several questions regarding how Phnom Penh may view its role in the ongoing situation. What immediate impact is the war in Eastern Europe having on Cambodia's political elites, on wider regional agendas, and on the kingdom's domestic politics?
The first element to consider is the historical context of Russia-Cambodia ties, particularly in light of Borovik's recent barbed tweet. The relationship is indeed one that dates back to the early days following the CPP's rise to power. The Vietnamese invasion that ousted the Khmer Rouge government in early 1979 also marked the re-establishment of diplomatic relations between Cambodia and the USSR and began an era of significant support and cooperation.
But the CPP is well aware that present-day economic relations with Russia are different from what  they were in the 1980s, when the isolated Phnom Penh regime, led by the Kampuchean People's Revolutionary Party (the forerunner of the CPP), survived on Soviet political and economic support. Today, in contrast, two-way Russo-Cambodian trade totaled $94.18 million in 2021 while Moscow's investment in Cambodia remains stagnant despite attempts in recent years to promote more Russian business activities in the country.
The next major issue the Cambodian government likely considered when taking a stand against Russia's war is what this will all mean for Cambodia's position relative to the West's sphere of influence.
The very fact that Cambodia made its decision to condemn the invasion little more than three hours before the voting at the UNGA – after lobbying efforts by France, Germany, Japan, and the United States – implies that Hun Sen and the CPP government were responsive to Western pressure. But the decision to align with the West on this issue was likely a complicated one. After all, a strengthened NATO and a broader, more unified Western alliance could conceivably threaten the CPP's tight grip on power.
The strengthening of the Western alliance and coordinated sanctions against Russia must have shocked CPP leaders and conjured up a scenario in which the West could utilize this agency and power in order to pressure them to democratize. For the CPP, this would mean giving up supremacy in domestic politics and reconciling itself to possible electoral compromise or even defeat.
There are, of course, movements and opinions inside the CPP which support Putin, given his similarities to Hun Sen in suppressing domestic opponents. Since 2017, the claim that Western countries are covertly backing the opposition and civil society organizations to oust the CPP from power has become common among hardline ruling party supporters. Soon after the Russian invasion took place, some even went as far as to run a narrative of the "threats" posed by NATO expansion.
However unlikely at present, the removal from power of Putin, either by a palace coup or popular demand, would send a message to authoritarian leaders and regimes around the world, regardless of who would step in as his replacement. The image of a resilient, democratic Ukraine, standing against Russia, an authoritarian, strongman-led state, could also inspire democratic movements elsewhere.
Then again, the stronger and more unified Western alliance that has resulted from the Russian aggression may not be the blessing Cambodia's weakened opposition camp might expect it to be.
With crises like those in Myanmar and Ukraine taking up prime space on Western countries' agendas, the case of Cambodia's backsliding democracy could well take a back seat, receiving lesser attention and prompting less action. In contrast, the U.S. and the European Union may need to work with Hun Sen more closely for two reasons. First, they may simply want a stable Cambodia under Hun Sen. Second, the Western alliance may not want to get involved in too many crises concurrently. If this scenario comes true, the CPP may enjoy even greater space to crack down on opposition figures and dissidents in order to ensure the party's tight grip on power amid a potential leadership transition from Hun Sen to his eldest son Hun Manet.
Overall, the decision to align with the West on the issue of Ukraine would have been a particularly complex one given recent attempts to decrease Cambodia's trade dependence on the U.S. and the EU – an effort which Cambodian elites view as a way to neutralize Western leverage and pressure for political reforms.
During the pandemic, Cambodia managed to secure a bilateral free trade agreement with China in 2020 and South Korea in 2021. Cambodia has also looked to other nations like Hungary, Turkey, and the Russia-led Eurasian Economic Union in order to diversify its export markets and gain more political independence from the West. War in Ukraine and the resulting sanctions against Russia complicate these efforts as they disrupt trade, investment, and a potential FTA negotiations with Russia.
In the past half-decade, the most powerful counterpoint to Western economic and political influence on Cambodia has been China. This war has been revealing on that front as well. Beijing's reluctance to throw its outright support behind Moscow could also force Cambodian elites to critically reexamine China's limitations and boundaries when it comes to supporting an ally in need.
And there is yet another element that likely influenced Phnom Penh's decision-making around Ukraine which should not be ignored: sheer economic pragmatism. Simply put, this war is bad for business.
Russia's war on Ukraine has caused a hike in global energy prices. This hurts the Cambodian economy and jeopardizes its attempt to recover from COVID-19, as small businesses, manufacturers, and the agriculture sector will feel the impacts with higher production costs. If the war expands into Europe, Cambodia's major export market, the Kingdom's economy will take a direct hit.

The wildcard factor in this decision has to do with the timing of the war. This invasion has fallen right at the beginning of Cambodia's chairmanship of ASEAN. Given the bloc's many agendas, which will require support from the EU, the U.S., or Japan, these country delegations were likely even more intent on ensuring Cambodia, as ASEAN chair, would join the condemnation of the invasion. These lobbying efforts obviously paid off, even leading Phnom Penh to break ranks with its prime ally and patron Beijing.
The pressures the Cambodian government must have felt to get this decision "right" are significant. Any case of inadequately responding to the invasion could hurt Cambodia's own leadership of ASEAN's already-fragile regional grouping.
The long-term impacts of the Russia-Ukraine war on Cambodia remain to be seen. But what is certain is Cambodia is navigating an increasingly chaotic international security landscape that will require its political leaders to be more forward-thinking, more consultative, and more inclusive when it comes to deciding what it takes to secure Cambodia's economic and political future.