How Has the Russia-Ukraine War Impacted Cambodia's Foreign Policy?
The country and its prime minister, Hun Sen, have been unexpectedly outspoken about Ukraine's plight.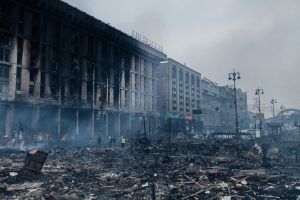 Russia's invasion of Ukraine in February of this year undermined the basic principles of the United Nations, including the first article of the organization's charter, which states that "conflicts between countries should be solved by peaceful means only." While many countries have been reluctant to condemn and isolate Russia for its aggressive action – including, China, Vietnam, Thailand, Indonesia, India, and Pakistan – Cambodia has been remarkably outspoken on this issue, coming down in Ukraine's favor.
The war has reinforced the security concerns of small states like Cambodia, which fear that larger powers will invade their territory or meddle in their domestic affairs. Consequently, they count on international law to protect their national sovereignty and territorial integrity. Cambodia's choice to extend its support to Ukraine and condemn Russia is a clear indication of the government's effort to maintain these international norms.
In the early phase of the war, it was initially assumed that Cambodia would abstain from any votes condemning Russia's invasion of its neighbor. This assumption seemed to make sense for two reasons.
First, the current Cambodian government has deep historical ties to Moscow. After a Vietnamese invasion toppled the Khmer Rouge government in 1979, only the Soviet Union and Vietnam officially recognized the new Vietnam-installed government, known then as the People's Republic of Kampuchea (PRK), as Cambodia's legitimate government. Throughout the 1980s, most of the rest of the international community continued to recognize the Coalition Government of Democratic Kampuchea (CGDK), an alliance of the remnants of the Khmer Rouge regime and two other resistance groups. The Soviet Union was also critical in providing material support in the form of monetary aid of around $80 million to the PRK annually, aid that was crucial to its survival.
While the current economic relations between the two countries differ from what they were in the 1980s, Russia and Cambodia still have very good diplomatic and political relations. In 2015 and 2016, top Cambodian government officials including Prime Minister Hun Sen, Deputy Prime Minister Sok An, Minister of Interior Sar Kheng, and former Foreign Minister Hor Namhong, a former ambassador to the Soviet Union, paid separate visits to Russia. A month prior to the invasion, Nikolai Patrushev, Russia's Secretary of the U.N. Security Council and a member of Putin's inner circle paid a three-day official visit to Cambodia. The purpose of the visit was to strengthen the relationship between the two countries. During this visit, Patrushev also presented Russia's Order of Friendship medal to Hun Sen.
Second, many observers and analysts, interpreting the Russia-Ukraine war in a framework of conflict between democracies against autocracies, expected Cambodia to follow China's lead and automatically come out in support of Russia. This perception has not only come from external observers but has been echoed by top Cambodian government officials. For instance, Chrun Theravat, a secretary of state in the Rural Development Ministry, wrote an opinion piece for the government-aligned news site Fresh News, claiming that "Russia's attack on Ukraine is not an invasion."
However, running counter to these assumptions, the Cambodian government has decided to extend its support to Ukraine. In March, Cambodia co-sponsored a U.N. General Assembly resolution condemning Russia. And in October of this year, Cambodia voted in support of another General Assembly resolution condemning Russia's annexation of Ukraine's territory.
Beyond signing resolutions, Cambodia has also offered material support to Ukraine's war effort.  In early November, Cambodian Prime Minister Hun Sen held a phone conversation with Ukrainian President Volodymyr Zelenskyy, during which he pledged to send Cambodian demining experts to help remove any landmines laid by Russian troops. It is expected that the first team will be sent in December and the second team will send in the first quarter of 2023.
And Cambodia, in its capacity as the rotating chair of the Association of Southeast Asian Nations (ASEAN), released a statement expressing its concerns over the situation in Ukraine and urging both parties to solve the conflict via peaceful means. Hun Sen also pledged to support Ukraine's goal of becoming a "Sectoral Dialogue Partner" with ASEAN, a step closer to the full "Dialogue Partnership" the group already has with Russia, China, the United States, and other states.
Cambodia's wholehearted diplomatic support to Ukraine is particularly noteworthy given the fact that diplomatic relations between the two countries barely existed before the war. Cambodia's backing of Ukraine over Russia, a powerful country, perhaps indicates that when it comes to Cambodia's priorities, the protection of sovereignty and territorial rights trumps all of these other concerns. These security concerns are also apparent in the foreign policy priorities Cambodia has championed through ASEAN during its chairmanship this year.
Cambodia views ASEAN as an instrument that can help to protect its interests and as a vehicle through which the country can project its views in the international arena. This explains why in 2022, Cambodia has taken its chairmanship seriously and tried to strengthen the unity among ASEAN states, while attempting to increase its role in the international sphere.
Throughout its chairmanship, Cambodia made efforts to engage with big and middle-sized powers and to strengthen ASEAN's role in the international arena. An indication of this is Cambodia's effort to raise U.S.-ASEAN relations to the level of comprehensive strategic partnership during the ASEAN Summit, a status that China achieved in 2021.
Cambodia also invited Ukraine's foreign minister to attend the recent 40th and 41st ASEAN Summits in Phnom Penh, paving the way for Ukraine to sign the Treaty of Amity and Cooperation (TAC). Six other countries also signed the TAC including Denmark, Greece, Oman, Qatar, and the United Arab Emirates. This act highlighted the bloc's commitment to strengthening the respect for international law and norms. The TAC is a legally-binding code that governs inter-state relationships based on the principle of peaceful co-existence and cooperation.
Cambodia also assisted Timor-Leste's efforts to become the 11th member of ASEAN. At the end of the ASEAN summits in Phnom Penh, member states granted Timor-Leste observer status and announced its intention "in-principle to admit Timor-Leste to be the 11th member of ASEAN." Timor-Leste has been waiting for admission for more than ten years. It is hardly a coincidence that Cambodia pushed for Timor-Leste to become an ASEAN member against the backdrop of Russia's war in Ukraine. Cambodia's support for Timor-Leste could be interpreted as a need for small states to stand together, particularly in a world dominated by competing great powers.
Cambodia has also clearly viewed the Myanmar crisis as a major challenge to ASEAN unity. For this reason, the issue has dominated ASEAN's agenda in 2022. An indication of this is the frequent visits that top Cambodian officials, including Prime Minister Hun Sen and Foreign  Minister Prak Sokhonn, who is also ASEAN's special envoy for Myanmar, have paid to the country. The purpose of these visits has been to build a conducive environment for the implementation of the bloc's Five-Point Consensus peace plan. But clearly, Cambodia has prioritized ASEAN unity in its dealings with Myanmar. For instance, while Cambodia condemned the execution of four pro-democracy activists as "highly reprehensible," it has never encouraged ASEAN to expel Myanmar from the bloc. Cambodia has only increased its engagement on the Myanmar issue based on the ASEAN framework.
Russia's invasion of Ukraine has raised pressing security concerns for Cambodia. Nevertheless, as the war progresses it remains to be seen how Cambodia, and ASEAN, will react to the changing tides of the international sphere. Will Cambodia continue to act based on a strategy that prioritizes sovereignty and territorial rights? Or will other forces sway Cambodia's hand?