North Korea Confirms Test of Its New Hwasong-17 ICBM
In response, the U.S. imposed new sanctions on the entities and individuals of North Korea and Russia involved in the North's missile program.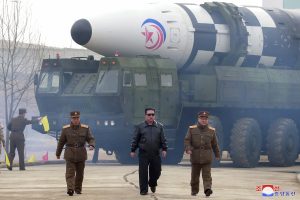 North Korean state media reported on Friday that the missile launched yesterday was the country's new Hwasong-17 intercontinental ballistic missile (ICBM) system.
According to the report, the missile flew 1,090 km with a maximum altitude of 6,248.5 km for 4,052 seconds before splashing down in the targeted waters. South Korea's military released a similar analysis on the performance of the North's Hwasong-17 system hours after the launch yesterday.
North Korea usually reports its missile tests with images, but it released a heavily edited video covering Thursday's Hwasong-17 ICBM test, which is a rare reporting style. In the video, North Korean leader Kim Jong Un celebrated with others at the launch site after the successful launch of the new ICBM system.
"The new strategic weapon of the DPRK will clearly show the might of our strategic force to the whole world once again," Kim said in a released statement by the North's state media. (DPRK is an abbreviation of North Korea's official name, the Democratic People's Republic of Korea)
"The success in the development of the new-type intercontinental ballistic missile, the aggregate of the latest defense science and technology, is a great demonstration of the might of our self-reliant defense industry which has increased and developed with our driving force," Kim added.
While emphasizing the importance of strengthening the self-reliant defense and military capabilities "to cope with all crises in the future," Kim publicly announced a return to the era of brinkmanship, saying, "Our state defense capability will make thorough preparations for long confrontation with U.S. imperialism on the basis of the tremendous military technical force unflinching even to any military threat and blackmail."
Thursday's test marked North Korea's largest missile launch since it tested its Hwasong-15 ICBM in November 2017. In response, the U.S. State Department announced new sanctions on five entities and individuals located in Russia and North Korea.
"As part of this action, we imposed sanctions against the Russian entities Ardis Group of Companies LLC (Ardis Group); PFK Profposdshipnik; LLC, and Russian individual Igor Aleksandrovich Michurin; as well as DPRK entity Second Academy of Natural Science Foreign Affairs Bureau (SANS FAB); and DPRK individual Ri Sung Chol for transferring sensitive items to North Korea's missile program," Ned Price, spokesperson of the U.S. State Department, said in a statement.
U.S. Secretary of State Antony Blinken spoke with his South Korean counterpart Chung Eui-yong and condemned the North's missile test as a clear violation of multiple U.N. Security Council resolutions. Blinken and Chung discussed how yesterday's launch demonstrates threats posed to countries in the region by the North's illicit weapons of mass destruction and ballistic missile programs.
South Korean President-elect Yoon Suk-yeol also condemned the North's missile test, deeming Pyongyang's series of ballistic missile tests in 2022 as military provocations against the South. Notably, current South Korean President Moon Jae-in's government has avoided using the word "provocation" to describe North Korea's missile tests. The rhetorical and passive reaction from Moon's office to the North's missile missiles – centered on expressing different levels of "regret" – has been criticized by the conservatives.
Even before Thursday's launch, experts had predicted the possibility of the North launching larger missiles that could pose a direct threat to the U.S. mainland. Considering the two reconnaissance satellite tests on February 27 and March 5, North Korea appeared to be preparing to test its new ICBM system by disguising its missile tests as a space launch. After South Korea's military confirmed North Korea's failed ballistic missile test on March 16, the possibility of the North testing its new ICBM in the lead up to the country's most important event, the 110th birth anniversary of Kim Il Sung, the founder of the North and grandfather of Kim Jong Un, loomed. Yesterday's test was conducted earlier than expected, however; Kim Il Sung's birth anniversary falls on April 15.
Although Kim has long said that he no longer felt bound by his self-moratorium on testing nuclear devices and ICBMs after he failed to entice then-U.S. President Donald Trump to lift the crippling sanctions against his country, until Thursday Pyongyang had refrained from actually crossing that red line. There was hope of restoring the mothballed dialogues, in the expectation that North Korea would eventually open its borders, closed since 2020 to prevent the spread of COVID-19.
However, the North's Hwasong-17 ICBM test should not be read as Pyongyang's plan to make a sudden move for the negotiations. Instead, North Korea has been crystal clear that it will keep building up its missile programs to directly confront the United States. The timing of this test is a sign that Pyongyang will be willing to work more closely with China and Russia in the wake of the Ukraine crisis. If Beijing and Moscow are willing to look the other way, Pyongyang's next move may be sending a satellite into orbit.