How the Russia-Ukraine War Is Changing Northeast Asia's Geopolitics
For China, Mongolia, and Japan, the fallout from the invasion is just starting to be felt. The long-term consequences are not yet clear.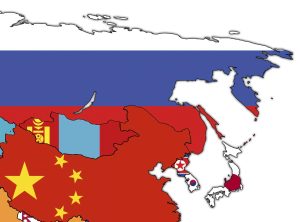 Russia's invasion of Ukraine is changing the post-Cold War status quo, with a direct link to European security and Russia-NATO relations. While the geopolitical pressure is mostly leaning to the west of Russia, Northeast Asia is also already feeling the economic and security impact.
Western sanctions against Russia have taken effect via multiple channels, crushing the country's financial stability and creating disruption for international companies operating in Russia. Understandably, while these sanctions, including import and export restrictions, are strictly aimed at Russia, its eastern neighbors – including Mongolia, China, and Japan – are also being affected in different sectors, including food supply, energy, and defense.
On February 28, the United States passed a sanctions package targeting the Central Bank of Russia. The EU immediately followed suit. In addition, energy sanctions targeting Russia and the disruption of global supply chain will likely lead to economic recessions in Northeast Asia as countries began to depend on domestic substitutions –if they have that option – and energy prices continue to hike.
One of the many Western sanctions tools – the Foreign Direct Product Rule – and other aggressive measures to halt Russia's import-export trade is creating a food security issue in China. Despite Xi Jinping's ambitious goals for China to become self-reliant in grain production, China has long been dependent on other countries, including Russia, Ukraine, and Japan, for wheat and other consumer products. Now, with Ukraine having stopped wheat exports because of the war, China will be among the many countries scrambling to find alternative suppliers.
Since the beginning of the COVID-19 pandemic, China has imported more food from Japan ever. Nikkei reported that "Exports of food, farm, forestry and marine products to mainland China surged 35.2% to 222.4 billion yen ($1.93 billion) in 2021."
Mongolia, on the other hand, has already experienced an energy price hike. For example, in Ulaanbaatar, the commonly used gasoline, AI-92, is now 2,390 Mongolian tugrik versus 1,434 tugrik in April last year, marking a 66 percent increase. Moreover, as Mongolia's diesel fuel consumption is 100 percent dependent on Russia, the country is being squeezed by inflation and energy transition.
At the same time, if commodity prices continue to spike and Mongolia exports its natural resources such as coal, the Economic Revival Policy could actually benefit from such a fluctuation. However, there are external factors that prevent Mongolia from achieving such a golden opportunity. As the Chinese government continue to lockdown cities and border stations due to COVID-19, Mongolia's exports to China are on hold, a recurring problem amid the pandemic.
Mongolia's economy could also be hurt by a drop-off in Mongolia-Russia trade. If the Russian economy and financial system are crippled, air-based trade is likely to be affected. Mongolians abroad have already reported the inability to use credit cards offered by Mongolian banks due to the severing of Russia's connection to SWIFT. On the other hand, since Mongolia and Russia are connected via railroad infrastructure, some trade is expected to continue as usual, but shipments of goods from Europe will be curtailed.
Besides the economic consequences, Russia's recent actions are also changing the geopolitical environment in Northeast Asia. Countries such as Japan that do not have strong trust and confidence in Russia are wary of unexpected security issues.
On March 2, the Japanese defense ministry alleged that a Russian helicopter had violated Japan's airspace near Hokkaido Island. In response, Japan scrambled fighter jets to intercept. To prevent escalation, the two sides have agreed to be more careful in the area. Any minor miscommunication or action could aggravate the already existing distrust.
Considering all these moving geopolitical developments, Russia's invasion of Ukraine forced regional policymakers to reassess their strategies toward defense while seeking to maintain the status quo. According to Mordor Intelligence, the Asia-Pacific defense market was already increasing rapidly before 2022; the current situation will add fuel to that fire.
Moreover, for neighboring countries like Mongolia and China, Russia's geopolitical move to thwart NATO's influence in Eastern Europe presents multiple challenges.
Western sanctions against Russia have quickly turned into a double-edged sword for China, with U.S. officials threatening to consider sanctioning China if it shelters Russia from the financial consequences. At least for the short term, China is trying to keep its friendly relations with Russia without antagonizing Europe and the U.S., as shown by its abstention in the recent U.N. General Assembly resolution.
In addition, the past decade has been viewed as the height of China-Russia, Russia-Mongolia, and Mongolia-China relations. In 2014, Vladimir Graivoronsky from the Russian Academic of Sciences wrote that as "a triangle, Russia, Mongolia, and China, is a specific, relatively separate subregion of Northeast Asia as well as East Asia. Peoples of these countries belong to the three different civilizations – Russian, Mongolian, and Chinese. They have passed many centuries' long history of inter-civilization political, trade, economic, cultural, and peaceful and wartime relations." Russia's recent move, although it will not abruptly compromise these trilateral links, in time, it may sow the seeds of mistrust.
In Northeast Asia, while there are already a number of lingering historical and contemporary security issues, Russia's recent invasion of Ukraine will add to future tensions. From a security standpoint, governments will seek to prepare for significant security instability by increasing defense expenditures and investing in technology-based cyber and air defense systems, all while utilizing diplomacy to prevent escalation. All the Northeast Asia countries will be extremely vigilant and observant as the fallout continues to become clear.