Japan Resets Its Role in Europe in the Wake of Ukraine War
Kishida Fumio joined crisis talks in Brussels primarily to advise on the economic impact of the invasion. He also used the trip to promote Japan's wider diplomatic and security agenda.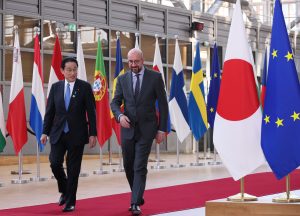 It was Germany's Foreign Minister Annalena Baerbock who summoned Japan's leader to the emergency meeting in Brussels to discuss the Ukraine crisis.
Prime Minister Kishida Fumio was the only Asian representative at the event, which provided him with an opportunity to reconnect with leaders of the G-7, to which Japan belongs. Germany currently holds the presidency of the G-7. Kishida was also invited as a guest to a gathering of the NATO security alliance, even though Japan is not a member of the pact.
According to the Yomiuri Shimbun newspaper, Kishida was "surprised" to be asked to go to Belgium but agreed immediately, despite his busy schedule.
By attending, the prime minister was able to speak directly with U.S. President Joe Biden, NATO's Secretary General Jens Stoltenberg and Germany's Chancellor Olaf Scholz. The talks with Scholz were short but positive. The chancellor spoke warmly of Japan as a highly regarded partner in Asia. During the long chancellorship of Scholz's predecessor, Angela Merkel, Japan played second fiddle to China in German foreign policy.
With war raging in Europe, it was natural for Kishida to join the chorus of disapproval against Russia, emphasizing his particular concerns about the possible use of weapons of mass destruction. Immediately upon his return to Japan, the prime minister accompanied new U.S. Ambassador Rahm Emanuel on a visit to Hiroshima, where he gave a speech reminding his audience of the human devastation caused by nuclear weapons.
These actions and words are important in terms of Japan's defense and security agenda. However, Kishida's primary role at the G-7 meeting in Brussels was to join the discussions on how to mitigate the economic damage linked to the Ukraine crisis.
The OECD has warned that the fallout from the war will reduce global economic output by 1.1 percent, with Europe more severely affected than the United States. Japan imports only 4 percent of its oil and 9 percent of its natural gas from Russia, so it is nowhere near as dependent on Moscow for energy as Europe.
Yet problems in the economies of its major trading partners, such as stagflation, would have a severely negative impact on Japan. Furthermore, soaring crude oil prices have been weighing on its current account. In January, Japan recorded its widest trade deficit in eight years, according to the Financial Times.
These troubles have dented the confidence of investors, who are calling into question the long-held wisdom that in times of trouble, it is wise to increase holdings in Japanese yen as a safe haven. In an unexpected scenario in mid-March, the yen fell to a six year low against the U.S. dollar. The Tokyo stock market held up on the basis that a weaker yen will be good for Japan's exporters. Nevertheless, the Ministry of Trade and Industry is worried.
These concerns have not deflected Kishida from supporting international efforts to sanction Russia. Speaking to reporters in Brussels, he said that draft legislation will soon be prepared aimed at stopping the export of luxury goods and severing links between Japan and Russian oligarchs. Members of the Diet will almost certainly back such moves. On March 23, Ukraine's President Volodymyr Zelenskyy received a standing ovation when he addressed the lawmakers in Tokyo by video link.
Zelenskyy called for Japan to institute a trade embargo with Russia to reduce funding for the Russian army. He said it was necessary to protect the Ukrainians fighting to hold back Russian troops.
Kishida told his G-7 counterparts in Brussels that as part of its economic sanctions, Japan would join them in revoking Most Favored Nation (MFN) status for Russia. Although this term suggests privilege, in fact it is common for members of the World Trade Organization to offer each other MFN status. Since Japan is not a major trading partner for Moscow, the change is unlikely to have much impact on Russia. However, it is significant in terms of international relations as it signals a decisive halt to Japan's efforts to court Vladimir Putin.
Former Japanese Prime Minister Abe Shinzo met Putin many times and often tempted him with the idea of investment in the eastern part of Russia, in return for talks about disputed territory. His hope was that the Russian leader would be ready to return at least part of the Kuril Islands to Japan, where the islands are known as the Northern Territories.
To his critics, Abe's obsequiousness toward Putin dented his otherwise measured diplomatic reputation. In retrospect, it appears unlikely that Putin ever considered conceding Russian territory to the east, especially now that he has sacrificed so many lives in a battle to take additional lands to the west.
Another concern for Kishida is the link between Russia and China. China's Xi Jinping has described the China-Russia relationship as "rock solid," although the Chinese Ministry of Foreign Affairs China insists it is taking an objective position on Ukraine and dismisses claims that it is supporting the Russian attack as "disinformation."
At the two parallel meetings in Brussels, the G-7 leaders addressed Beijing's role in the crisis and NATO's secretary general called on China to refrain from supporting Russia's war effort and to "use its significant influence on Russia to promote an immediate, peaceful resolution."
If China is identified as offering military support to Russia, a wave of sanctions from the West could follow. While Japan would feel obliged to support them, it would be at great cost, as so many aspects of the Chinese and Japanese economies are intertwined.
The international implications are also profound. The OECD's warning of a 1.1 percent global economic contraction will appear an underestimate if China is also dragged into a sanctions regime. Japan, which has had anemic economic growth for decades, would inevitably face recession in that scenario. All these risks are mounting just as Japan slowly begins to open its borders to visitors, following a long period of isolation caused by the COVID-19 pandemic.
Despite the war in Europe and mounting tension in East Asia, one aspect of Kishida's vision for Japan remains undimmed. He believes his country can stand out as a beacon of liberal democracy in Asia, engaged in what he calls "new capitalism." Kishida's massage centers on the idea that while China speaks of non-interference and win-win outcomes, it is Japan that can really deliver such results.
Germany's foreign ministry appears to accept this as a credible message and has come to see Japan as a crucial partner with much to offer. It is now down to Kishida to persuade other world leaders of Japan's value, at a time of high anxiety.