Myanmar Junta Accused of 'Hostage Taking' During Sagaing Raids
The northwestern region of Myanmar has become a hotbed of resistance to the junta.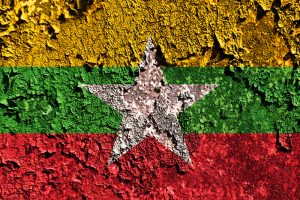 Myanmar's military junta has been accused of taking a large group of civilians, including at least 80 children, hostage during clashes with rebels in Sagaing Region over the weekend.
Citing local media reports, a civilian militia, and a statement from Myanmar's shadow National Unity Government (NUG), Reuters reported on Monday that air strikes and military raids in Yinmabin, a township west of the city of Mandalay, on Saturday left dozens of children and some teachers stranded at a monastery that also housed a kindergarten.
The strikes and raids, intended to destroy a training camp for a civilian People's Defense Force (PDF) outside Chin Pone village, drove most of the local population away. But according to one witness quoted by Radio Free Asia, around 40 junta troops deployed via helicopter took hostage the group, which included "some 100 preschoolers and other villagers" who were unable to flee.
According to a statement issued by the NUG's Ministry of Women, Youths, and Children's Affairs on Monday, the troops then threatened to burn down the village unless the villagers that fled returned, presumably including the captured group, which it said included children younger than five.
Sagaing, which borders India in northwest Myanmar, has been an epicenter of the civilian resistance to the military junta that seized power in February 2021, and has consequently borne a heavy burden of reprisal. According to the Armed Conflict Location and Event Data project, some 40 percent of the 12,000 deaths that have occurred since the coup have taken place in Sagaing, a previously peaceful region.
While most of the group was reportedly released on Monday as the soldiers withdrew, the NUG's statement "condemn[ed] in the strongest possible terms the junta's hostage-taking of the children as well as their teachers and parents," accusing the army of a "grave violation" of international law. A member of the North Yamar PDF said that the army had used the detention of the children and other Chin Pone residents as "human shields" to prevent them from being attacked by local PDF forces.
Such incidents are becoming almost a daily occurrence in Myanmar, as armed resistance to the military junta continues to spread. In an interview with Reuters, Phil Robertson of the advocacy group Human Rights Watch rightly added that such incidents showed the military was operating with "total impunity."
Unfortunately, these aren't especially hospitable times for international accountability.
While it is hard to know for sure what other impact events in Ukraine will have in Myanmar, the lion's share of the international media oxygen now being consumed by Russia's ongoing invasion of Ukraine, and it is hard not to see international focus on Myanmar fade as the situation in Eastern Europe escalates.
The action there is only likely to push Naypyidaw and Moscow into a closer relationship of necessity. In a striking sign of pariahs' solidarity, Myanmar's military junta has openly supported Russia's invasion, describing it as "an appropriate measure to preserve its sovereignty." In the months to come, it will no doubt become an even more valuable customer of the Russian military as Moscow is cut off and isolated by the nearly unprecedented campaign of Western sanctions.
In the long-term, the Russian invasion may lead to a hardening of Western attitudes against authoritarian governments around the world, including the generals in Myanmar. But the more likely short-term impact will be to embolden the military administration to employ whatever means are necessary to consolidate its slow-motion coup and solidify its control of the country.