Not Guilty Verdict in Police Murder Case Shines Light on Injustices Facing Australia's Indigenous People
In the past 20 years, over 500 Indigenous people have died in police or other official custody. Not a single officer has ever faced jail time for causing such a death.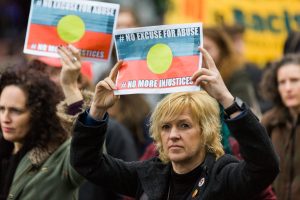 The recent acquittal of a police officer accused of murdering an Indigenous teenager has put the issue of Australian policing toward Aboriginal communities firmly back into the spotlight.
On Friday, Northern Territory police officer Zachary Rolfe was found not guilty of murder, as well as two alternative charges of manslaughter and engaging in a violent act causing death.
The court heard that Rolfe shot a Warlpiri man, Kumanjayi Walker, 19, while trying to arrest him in the remote community of Yuendumu, situated about 300 kilometers from Alice Springs, on November 9 2019. The officer argued that he acted in self-defense in order to protect his and his partner's safety.
The not guilty verdict maintains Australia's dubious record of never imprisoning a single police officer for the death of an Indigenous person. Since the 1991 Royal Commission into Aboriginal Deaths in Custody (RCIADIC), over 500 Indigenous people have died while under the supervision of the authorities.
One the main controversies in the Rolfe trial arose due to the fact the jury overseeing the case was all White, despite 30 percent of the Northern Territory population being Aboriginal.
In haunting scenes outside the Darwin courthouse, the family of Walker spoke for many when they stated, "It's always Kardiya (White) people on that jury. They see through their eyes, but they need to see through our eyes too."
In a powerful op-ed for SBS, human rights lawyer Hannah McGlade noted that "time and again, it was clear that juries which comprised no Indigenous peoples refused to place weight on evidence that could lead to a finding of guilt and a conviction."
McGlade had previously told The Diplomat that structural racism is still "entirely prevalent" in Australia.
The Northern Territory Juries Act 1962 states that jurors are ineligible if they were released from prison in the last seven years and must be able to "read, write and speak the English language." Both those provisions have the effect of eliminating many Indigenous people from the jury pool.
The Northern Territory has the highest rate of imprisonment of any state in Australia, and Indigenous people make up 84 percent of all inmates. Not all speak English and statistics show a lower level of reading and writing fluency among some Aboriginal communities.
Well-documented issues, including over policing, have only exacerbated these numbers.
George Newhouse, a human rights lawyer and head of the National Justice Project, told The Diplomat that the findings of the RCIADIC recommended using Indigenous imprisonment as a last resort, but this hasn't happened.
"To date all state and territory government efforts to reduce Aboriginal incarceration have been pathetic," Newhouse said.
The case has also renewed efforts for there to be a ban on police guns in rural communities. Walpiri elder Ned Jampinjinpa Hargreaves held back tears when he spoke after the verdict: "Karrinjarla muwajarri. No guns! No guns in the rural remote community!"
This call was rejected by the head of the NT police association, Paul McCue, who said on Monday that "members of the police force have the right to protect themselves, and to protect others."
MP Warren Snowdon, who oversees the vast electorate of Lingari, where 41 percent of residents identify as Aboriginal, asked for the police union to justify their continued need for weapons.
"Most instances, in most circumstances which involve people in communities, don't require weapons, not at all. In fact, quite the opposite," Snowdon said.
For the Warlpiri people, this case has brought back memories of the horrific issues of the past that still plague Australia. In 1928, an NT police constable named George Murray led an expedition on horseback that led to the deaths of at least 50 Aboriginal men, women and children. The incident became known as the Coniston massacre.
Samara Fernandez Brown, the youngest member of Walker's family who spoke on Friday, told Guardian Australia that when Indigenous people say "no more guns," it is because of that violent history.
Murray was acquitted of any responsibility in the Coniston massacre on the grounds of self-defense, as Rolfe would be nearly 100 years later.
For many, the outcome of this case has only exacerbated feelings of sadness, not just for the death of a young man, but for the consistent feeling that there remains a lack of justice for the original people on the world's largest island.