Pakistan's Prime Minister Takes on the West
Imran's Khan's tirade against the U.S. comes at a time when he is facing serious political challenges at home.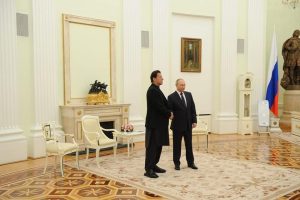 Prime Minister Imran Khan's recent visit to Russia has not gone well for him and Pakistan. The ill-timed visit was meant to push for the construction of a long-delayed gas pipeline, vital to meet the country's growing energy needs. However, with the eruption of the Ukrainian crisis and the politics around it, it seems that the planned gas pipeline with Russia may not see the light of day anytime soon.
Since Russia's invasion of Ukraine about two weeks ago, the U.S. and European countries have bombarded Moscow with all sorts of sanctions. They have also been pressuring Pakistan to not only condemn Russia for its action but also to give up planned economic ventures.
The U.S. has warned Pakistan of the consequences of the Russian invasion for regional and global security. Last week, ambassadors of 23 European countries issued a press release, asking Islamabad to join them in "condemning Russia's actions in Ukraine and to voice support for upholding the U.N. Charter and the founding principles of international law."
Khan, who faces a growing political challenge at home, has not taken this condemnation of his decision to visit Russia well. While addressing a public gathering in Mailsi town of Vehari district on Sunday, Khan criticized European ambassadors for asking Pakistan to condemn Russia for the Ukraine invasion. Criticizing the West for never having "acknowledged Pakistan's support in the war against terror, which claimed 80,000 lives and caused other collateral damage," Khan asked if they had written "the same letter [demanding criticism of Russia] to India." "Are we slaves to act according to your wishes?" he asked.
To a great extent, Khan's criticism of the West is driven by his domestic political challenges that are getting out of control due to the current government's inability to manage the economy well. A no-confidence motion against the prime minister is expected to be tabled in Parliament soon. Political allies of the ruling Pakistan Tehreek-e-Insaf (PTI) are already planning their moves after the no-confidence vote takes place.
Meanwhile, Pakistan's military establishment doesn't appear to be working to manage Khan's political battles any longer. Its apparent position of neutrality between the ruling party and the opposition has brought to fore Khan's political limitations. This situation appears to have left Khan politically isolated. Perhaps, he increasingly believes that reaching out to his support base at the grassroots levels with populist rhetoric could still give him political leverage.
Khan's public speeches and announcements are increasingly those of a leader in election mode rather than of a prime minister who has to keep in mind implications of his remarks for his country.
In a surprising decision last week, Khan reduced the prices of petrol and electricity – a move that has irked the International Monetary Fund (IMF). The decision is puzzling to say the least as oil prices in the international market have risen substantially and Pakistan is bound to increase petrol and electricity prices as part of the deal with the IMF.
Undoubtedly, Khan's anti-west stance has a genuine cross party appeal – something the premier wants to capitalize on. "No drone attacks in Pakistan since I became Prime Minister in 2018. I've ordered the Air Force to shoot down any drone that violates Pakistan's territorial integrity," he said at a rally on Sunday, pointing out that drone attacks, which killed hundreds of Pakistanis, were permitted by his predecessors.
Khan made these remarks knowing well that all drone attacks in Pakistan made under previous governments couldn't have happened without the approval of the security establishment. It seems that Khan is even sending a message to the military establishment that abandoning him will have costs for everyone.
Essentially, Khan's targeting of the U.S. and the West appears to be aimed at making the job of the military establishment difficult as it is the military that will be left to sort out things eventually with everyone. Reportedly, a number of planned meetings between Pakistan and officials from Western countries have been cancelled following Khan's tirade.
Pakistan's Foreign Minister Shah Mahmood Qureshi is suddenly trying to reach out to U.S. Secretary of State Antony Blinken to explain Islamabad's position on the Ukraine crisis but has not been able to find anybody who cares to hear him on the other side. "I have asked for a call with [U.S.] Secretary [of State Antony] Blinken and I was told that he is traveling for the next seven days. But I would be more than happy [to] explain Pakistan's perspective [on Ukraine] to him," Qureshi told Voice of America.
It is interesting that a day after Khan's criticism of the European countries, the Jamiat Ulema-i-Islam-Fazl's (JUI-F), a right wing religious party, filed a motion in the Senate, demanding a discussion regarding the implications of the premier's statement for Pakistan's trade with Europe. The move is bizarre as the JUI-F has in the past called for a boycott of French products and businesses in Pakistan over the issue of the publication of blasphemous cartoons.
For some, Pakistan's politics may not make sense anymore. The fast paced events in the country are a mere reflection of electoral and political interests dominating all rules of business. What is clear is that Pakistan is entering a new phase of political instability whose impacts will be surely felt on the country's economy and diplomacy in the coming weeks and months.