Rising Tensions in Palk Bay Over Fishing Rights
The conflict between Sri Lankan Tamil fishermen and their ethnic kin in Tamil Nadu in India hits rough weather yet again.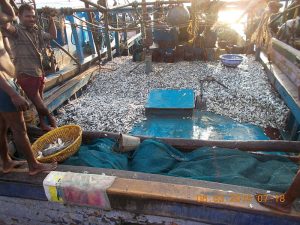 Sri Lankan Tamil fishermen have written to M. K. Stalin, the chief minister of the southern Indian state of Tamil Nadu, asking him to find a "progressive" solution to their conflict with Tamil Nadu fishermen.
In the letter, they drew attention to their grave socio-economic situation, which is the outcome of bottom trawling by fishermen from Tamil Nadu who are entering Sri Lankan waters, they said.
Bottom trawling involves scouring sea beds for fish. In addition to netting the targeted fish species and shrimps, this method of fishing pulls in a variety of marine life, including coral and seaweed. It destroys spawning grounds and the marine ecosystem, and thus depletes future catch. While this method of fishing is banned in Sri Lanka it continues to be practiced in India.
Bottom trawling has been practiced in the Palk Bay since the 1960s. Indeed it was encouraged, even incentivized with subsidies by the Indian government as is productive and earns foreign exchange.
However this has damaged the sea bed and depleted catch on the Indian side of the International Maritime Border Line, prompting Indian fishermen to cross into the less ravaged Sri Lankan side in search of fish.
This has triggered conflict with the Sri Lankan Tamil fishermen who use traditional forms of fishing.
Sri Lankan Tamil fishermen have complained for over a decade about Indian trawlers entering their waters and damaging their livelihoods. Tensions between them and fishermen from Tamil Nadu have simmered for over a decade, even erupting in violence from time to time.
In February this year, Jaffna district in the Tamil dominated Northern Province was roiled in unrest, when the bodies of two local fishermen who had gone missing were washed ashore. Locals allege that Indian trawlers operate aggressively in Sri Lankan waters and believe that the local fishermen were killed in a "mid-sea clash," even a "deliberate" collision between local and Indian fishermen.
Meanwhile in Tamil Nadu's southern districts, fishing communities are up in arms over the Sri Lankan Navy arresting Indian fishermen and seizing, even auctioning off their boats. In the early hours of February 7, eight fishermen were taken into custody near Katchatheevu Island and in February alone, some 81 Indian fishermen were arrested by the Sri Lankan Navy.
In October last year, an Indian fishermen was killed when a Sri Lankan Navy vessel rammed into a fishing boat, throwing its occupants into the sea. Earlier in January, four fishermen lost their lives when their boat collided with a Sri Lankan naval craft.
Hundreds of Indian fishermen have been arrested, tortured and even killed in the India-Sri Lanka conflict over fishing grounds in the past decade.
The fishermen caught in the conflict are ethnic kin. They are of Tamil ethnicity and share strong linguistic and cultural bonds. And although they live on either side of the Palk Bay, for centuries Tamils in India and Sri Lanka lived and worked in harmony.
In fact, bonds between them deepened during the Sri Lankan civil war (1983-2009). With the Sri Lankan state unleashing horrific violence on Tamils in the island, the latter fled to Tamil Nadu for sanctuary.
The Sri Lankan Tamil cause enjoyed much sympathy and support in Tamil Nadu. Indeed, fishermen from Tamil Nadu played an important role in smuggling weapons and other supplies to the war zone in the Northern Province and in ferrying injured fighters back to Tamil Nadu for treatment.
With the end of the civil war and the lifting of restrictions on fishing off the coast of the Northern Province, Sri Lankan Tamils returned to fishing. They found themselves up against Indian fishermen entering their waters in trawlers.
While the conflict appears to be one between Sri Lankan Tamil fishermen and their counterparts in Tamil Nadu, it is really one that is pitting traditional fishermen against the trawler fishing companies. The latter are rich and politically powerful.
Indian and Sri Lankan diplomats as well as fishermen from the impacted communities, fishermen's unions and civil society organizations have been involved in talks for several years now. Measures, like allotting Indian and Sri Lankan fishermen different fishing days, to reduce the possibility of clashes have been introduced.
However, comprehensive measures to resolve the conflict have not been taken.
The root cause of the conflict is the practice of bottom trawling and although in 2004, the Indian government admitted that this had to be halted, its practice in the Palk Bay continues. The government has put in place schemes for modification and buyback of trawlers to encourage fishermen to shift to deep-sea fishing. These appear to be moving at a snail's pace.
Successive governments in Tamil Nadu seem interested in securing the release of detained fishermen only. Beyond that they have been reluctant to push the powerful trawling companies to shift to more sustainable methods of fishing. While India drags its feet on addressing the grievances of Sri Lankan Tamil fishermen, China is extending them support.
It has set up joint ventures, the Guilan Sea Cucumber Hatchery and Farm at Ariyalai and the New Silk Road Foodstuff factory at Mannar in the Northern Province, which are providing employment to local youth. In addition, it has provided Tamil fishermen with nets and dry rations.
Prioritizing the lives and livelihoods of Sri Lankan Tamil fishermen is necessary not only for humanitarian reasons but also, to prevent China advance to its southern doorstep.