Sanctioning China to Get to Russia Is Easier Said Than Done
Secondary sanctions on China would be more painful and harder to justify – which makes any unified application unlikely.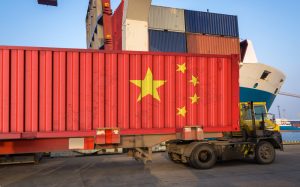 The Biden administration has made clear to Beijing that there will be consequences should it behave in a way that undermines U.S. sanctions on Russia. Before boarding a flight to Rome on March 13, for talks with China's ranking diplomat, Yang Jiechi, U.S. National Security Advisor Jake Sullivan, stated: "We are communicating directly, privately to Beijing, that there will absolutely be consequences for large-scale sanctions evasion efforts or support to Russia to backfill them.
"We will not allow that to go forward and allow there to be a lifeline to Russia from these economic sanctions from any country, anywhere in the world," Sullivan added. In other words, second sanctions may be in the cards.
Sullivan has not minced his words on Beijing extending support to Moscow, and he has been ramping up the rhetoric. On March 23, he articulated the Biden administration's definition of what would constitute economic support: Beijing should not take advantage of business opportunities created by sanctions, help Moscow evade export controls, or process its financial transactions. What is more, Washington is now calling on the G-7 to help it ensure that Russia cannot evade Western sanctions imposed over its invasion of Ukraine with the help of China or any other country.
But the United States has struggled to get its allies' buy-in when deploying secondary sanctions in the past, and it will probably find aligning the G-7 against China to be a challenge this time too.
There is a belief among a school of American policymakers that the global economy revolves around the United States to such an extent that the threat of cutting foreign persons or entities off from accessing the U.S. consumer and financial markets is sufficiently menacing to prevent neutral countries from falling out of line by maintaining economic relations with a sanctioned country. Indeed, over the last decade, secondary sanctions have become an increasingly common tool, albeit one whose effectiveness continues to stir debate. Former President Barack Obama deployed them in 2014 to deter other countries from recognizing either Russian control of Crimea or separatist movements in the Donbas region. In 2018, former President Donald Trump issued secondary sanctions to isolate Iran as it pursued its nuclear ambitions following the United States' departure from the Iran nuclear deal.
Secondary sanctions are highly controversial. Unlike primary sanctions, which prohibit companies and individuals in the sanctioning country from engaging with their counterparts in the sanctioned country, secondary sanctions have extraterritoriality and presuppose that the third nation has adopted a neutral position. As a result, secondary sanctions are often interpreted as U.S. overreach.
Aligning the G-7 to punish China for maintaining "normal trade cooperation with Russia," which will likely see Beijing benefit from business opportunities created by the sanctions, will be tricky. For a start, key U.S. allies such as the European Union and the United Kingdom do not have the same regulatory frameworks Sullivan is alluding to that enable the imposition of secondary sanctions against Chinese entities. Indeed, the EU is aligned with China on not recognizing the extraterritorial impact of U.S. sanctions, and Brussels is unlikely to drop that complaint now at the behest of the Biden administration. As a result, for U.S. allies to join Washington in putting pressure on Beijing so that the Xi administration begins to put pressure on the Kremlin, they would have to line up primary sanctions against China similar to those they placed on Belarus.
Belarus-style sanctions on Beijing are unlikely, however, not least because U.S. allies wanting to place primary sanctions on China would have to settle on a reason for doing so – and it would need to be a good one. First, sanctioning China without a sufficiently good reason risks setting a precedent that countries can deploy sanctions far more freely and over disputes that traditionally do not warrant such measures. Maintaining "normal trade cooperation" with Russia is a far cry from enabling the invasion of Ukraine, as the U.K. government charged Belarus.
Second, anything less than an incontestable basis for why China deserves sanctions over any other neutral state leaves the sanctioning government open to a significant loss of credibility in global governance. In each of the two U.N. General Assembly votes on the Ukraine war thus far, at least 35 countries remained neutral and five supported Russia. As a result, the sanctioning country runs the risk of jeopardizing its relationships with those countries too, which might consider sanctioning China overly arbitrary.
Finally, lawmakers would want to think long and hard over severing their country's commercial ties to China. The ramifications of Belarus-style sanctions on China for global governance alone would be immense. Consider this: Who, or what body, has the right to determine when "normal trade cooperation" becomes aiding and abetting an illegal invasion of a sovereign state? Similarly, what distinguishes a neutral country from a nominally neutral one, making it deserving of sanctions? Given that Beijing seeks to play an enhanced role in global governance and is actively seeking to discredit the U.S.-led world order and replace it with a system of majority rule, the G-7 probably does not want to play into China's hands by being seen to be unilaterally determining the answers to such questions.
The Biden administration will find it difficult to bring the G-7 on side if it looks to hit China with secondary sanctions. Not only is too little known about how China considers Russia's actions in Ukraine, but sanctioning China also risks alienating other third markets that have opted to remain non-aligned over the invasion and would not welcome what they could see as the G-7 erecting an arbitrary barrier between them and China. What is more, the G-7 would need to settle on an incontrovertible reason for sanctioning China to avoid the group losing significant credibility in global governance, setting a precedent diluting the use of sanctions, and arming China with further evidence as to why a U.S.-led international order is not in the world's interests. These unintended consequences make it a hard sell.