Thailand's Shattered APEC Dream
Thailand was hoping for a repeat of its successful 2003 chairmanship of APEC before the Russia-Ukraine war threw its plans into disarray.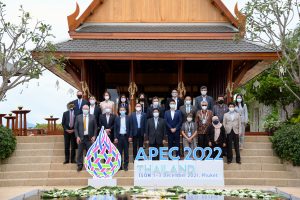 Observers generally view the upcoming Thailand-chaired Asia-Pacific Economic Cooperation (APEC) summit with great anticipation, considering that this will be the group's first face-to-face gathering in three years. The 2021 and 2020 meetings, chaired by New Zealand and Malaysia respectively, were conducted virtually due to COVID-19 restrictions while the 2019 summit in Chile was cancelled amid that year's Chilean uprisings. This year's leaders' summit, scheduled to take place in Bangkok on November 18-19, is expected to be attended by all leaders from 21 APEC economies, including U.S. President Joe Biden, Chinese leader Xi Jinping, and Russian President Vladimir Putin.
Thailand's last APEC chairmanship in 2003 was widely praised internationally, and the Thai government is hoping to repeat this success at the 2022 summit. But, as I wrote last November, Thailand's APEC dream is likely to be undermined by its troubled domestic politics. The fragility of Thailand's governing coalition is reflected in the recent comment made by the deputy prime minister and leader of the largest ruling Phalang Pracharat Party (PPRP), Gen. Prawit Wongsuwan, that the "appropriate time" for the dissolution of the Thai parliament would be after the APEC summit in November.
That said, as the world is spinning through the year 2022, it appears that the biggest threat to Thailand's 2022 APEC chairmanship is the war between Russia and Ukraine.
Russia's invasion of its western neighbor has severely complicated Thailand's hosting of a smooth and constructive APEC summit in several ways. First, this year's theme "Open. Connect. Balance" – referring to open opportunities for all, connections in all dimensions, and balanced growth in the post-COVID-19 future – is no longer compatible with reality. The reality is that most, if not all, APEC economies are bearing some burden of the international sanctions against Russia and they only have limited room for growth. The weaponization of economic interdependence and the forceful seizure of foreign assets witnessed amid the Russia-Ukraine crisis have further compelled nations to go down the path of de-globalization, which will defeat the purpose of APEC.
Russia has essentially been "disconnected" from the world in "all dimensions," be it the international monetary system, global tech access, trade and travel, and bans on individual oligarchs. Never before has a country faced such an unprecedented level of sanction, and now other APEC economies are suffering collateral damage. Companies with Russian partnerships, for instance, Malaysia's national oil and gas company Petronas, are facing growing pressure to terminate contracts. Russian investment plans, such as the one in Thailand's Eastern Economic Corridor special development zone, are also likely to go down the drain.
Meanwhile, the hospitality sectors in Indonesia, Thailand, and Vietnam are left to bear the costs of dealing with cashless and flightless Russian tourists who have been stranded by the sanctions. Phuket, Thailand's top holiday destination and the pioneer of the "sandbox" tourism program, has already lost access to its main Chinese market thanks to China's strict "zero-COVID" policy, and disruptions that come with the war in Europe have further diminished hopes for economic recovery.
Second, there is a difficult question concerning how the world should regard Putin after what he has done. There is no question that Putin must be held accountable for his grave breach of international law. But should Putin be totally shunned? And for how long? Whether the international community likes it or not, Russia is still a great power with massive influence in world politics. Put bluntly, Russia's opinion matters. Furthermore, as evident from North Korea and Iran's nuclear pursuits despite facing maximum international pressure, diplomatic and financial coercion often cannot convince states to abandon their strategic objectives. In the North Korean case, the Kim regime has shown to behave more boldly under intense pressure.
Based on the above logic, APEC members will clash over how to handle relations with Russia – much like the recent disagreements within the Association of Southeast Asian Nations (ASEAN) on whether or not to include Myanmar's junta. APEC economies listed as "unfriendly" to Russia, namely Australia, Canada, Japan, New Zealand, Singapore, Taiwan, and the United States, will probably try to exclude Russia. Nevertheless, their efforts will most likely be blocked by China, which has repeatedly stressed that sanctions are counterproductive. Thailand, as the 2022 APEC chair and a nation  that has taken a neutral stance on the Russia-Ukraine conflict to safeguard its national interests and maintain a balanced foreign policy, will ultimately be stuck in an awkward position.
The clash over Russia's treatment is then linked to the third issue: that is, the growing domination of great power politics in multilateral institutions. Great power competition was already a major obstacle to APEC in the year leading up to the pandemic. The 2018 summit in Papua New Guinea ended disastrously without a joint statement for the first time in APEC history due to the diplomatic sparring between the U.S. and China over competing trade visions. The conditions back in 2018, however, are nothing compared to current circumstances. China has now openly aligned with Russia in challenging the U.S.-led liberal order, and Washington is doing all it can to defend its hegemony. Disputes are unavoidable, and Thailand, notwithstanding its long-standing cordial relations with all major powers, will find it difficult to play the role of mediator.
Despite these signs, Thailand's Foreign Ministry still insists that the APEC summit in Bangkok this November will not be affected by the war in Europe. This is nothing but wishful thinking.