Ukraine: The View From Central Asia
The Central Asian states were caught off guard by Russia's invasion of Ukraine. Responses have varied from silence to concern to outright support.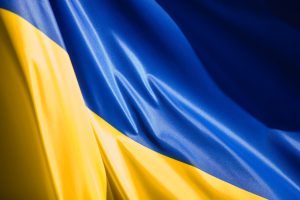 For Central Asia, the developments in Ukraine over the past several days came out of the blue. As most European countries advised their citizens to leave Ukraine in recent weeks, no similar statements came from Central Asia, probably in the hope that reports of a looming invasion by Russia into Ukraine was just hype. That's how Russian officials presented the situation up until the moment Russian troops crossed the Ukrainian border. 
Now Central Asian embassy officials are trying to help their citizens evacuate even as border areas are chaotic and flooded with displaced Ukrainians and others trying to flee the war. According to officially announced numbers, Uzbekistan and Tajikistan have the largest numbers of citizens in Ukraine among the Central Asian countries. 
The Embassy of Tajikistan reported that around 4,000 Tajik citizens reside in Ukraine and around 60 percent of them are labor migrants working in agriculture, sales, and construction. In addition, the Tajik government estimates that there were 101 Tajik students studying in Ukraine. The Uzbek Ministry of Foreign Affairs reported a similar number, 4,300 Uzbek citizens, who reside in Ukraine at the moment, but did not give a breakdown. Neither country clarified the number of citizens who have requested evacuation assistance.
Officially, Kyrgyzstan reported 1,357 of its citizens in Ukraine at the time of the start of the conflict. Three hundred sought evacuation assistance from the Kyrgyz embassy. As for Kazakhstan, 528 of its citizens requested evacuation assistance. Turkmenistan is the only country that officially did not announce any evacuation assistance, but its embassy reportedly set up a hotline to answer questions from citizens. Turkmenistan, along with Uzbekistan, over the past several years was a steady supplier of migrant workers to Ukraine. Many reportedly come to work as taxi drivers and in delivery services and thus both must have a sizable number of citizens in the country.
The Central Asian embassies are working desperately to help their citizens, but face the same issue: a rush of people trying to depart Ukraine. Uzbek officials acknowledged long waits on the Ukraine-Polish border as a result of the sudden flow of people that inundated "green zones" the Uzbek embassy had identified earlier to evacuate its citizens. Other Central Asian embassies and citizens probably found themselves in a similar situation and scrambling to find alternative routes out.
The Central Asian leaders have had chances to express their attitude regarding the events in Ukraine. Kyrgyzstan, more specifically Kyrgyz President Sadyr Japarov, has been the only leader to express his direct support to Russia. In a Facebook post on February 22 he said that failure to follow the Minsk Agreement prompted Russian troops to enter Donbass and that the action was "a necessary measure" to protect the population of the Donbass. Japarov also added that recognizing a specific country is the sovereign right of any country, referring to Russia's recognition of the breakaway territories of Donetsk and Luhansk. Japarov's statement closely followed Russian narratives about the events.
The statement from the Kyrgyzstan Ministry of Foreign Affairs on the situation in Ukraine was more restrained and neutral compared to Japarov's overt support. The ministry statement spoke about historic relations with both Russia and Ukraine and expressed hope for negotiations for peaceful settlement.
The situation around a conversation between Uzbek President Shavkat Mirziyoyev and Russian President Vladimir Putin is less clear. Following a phone call between the presidents on February 25, the Kremlin put out a statement that Mirziyoyev "expressed understanding in Russia's activities in Ukraine." A day later, the statement was corrected by the press service of Uzbek president, saying that Uzbekistan was neutral to the situation in Ukraine and supports the primacy of international norms in regulating and de-escalating the situation.
Kazakhstan, as Russia's closest ally in Central Asia, reportedly gave a brusque response to Russia that Putin will unlikely forgive Kazakh President Kassym-Jomart Tokayev for. According to a report by NBC, citing sources in the U.S. National Security Council, Kazakhstan decided not to send troops to Ukraine for a joint operation with Russia and not to recognize breakaway territories of Donetsk and Luhansk. Officially, Kazakhstan has avoided publicly criticizing Russia's actions, but Nur-Sultan has also not moved to back Russia either. In a March 1 statement, Tokayev insisted on the principle of the "indivisibility of Eurasian security" and offered Kazakh assistance, including mediation. 
Tajikistan has so far issued no statements on the developments in Ukraine. Given the large number of labor migrants from Tajikistan in Russia, which are vital to Tajikistan's domestic economy, the delay in expressing a position is a safe hedge.
The scramble by Central Asian diplomats to evacuate their citizens from Ukraine as a result of Russia's invasion demonstrates how they were caught off guard when Russia crossed into Ukrainian territory. Three Central Asian leaders have expressed a position on the developments in Ukraine, with Kazakhstan taking arguably the harshest stance if U.S. reports are correct and Kyrgyzstan the softest and most pro-Russian. Uzbekistan has positioned itself as neutral party. Turkmenistan,which maintains a strictly neutrality policy in all matters, has kept mum and Tajikistan, which depends on Russia to absorb a significant number of labor migrants each year, has also refrained from commenting.