Central Asia Sides With Russia in UN Human Rights Council Vote
The resolution to expel Russia passed, but the region's vote against it highlights the difficulty and complexity of Central Asia's position.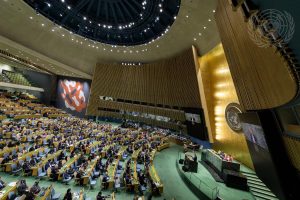 On April 7, the United Nations General Assembly voted to expel Russia from the U.N. Human Rights Council. Unlike votes on a previous resolution condemning Russia's invasion of Ukraine, in which votes against the measure were in the single digits, 24 countries voted against the motion to expel Russia from the Human Rights Council and 58 countries abstained. Although the 93 votes in favor of kicking Moscow out of the council were enough to carry the measure through, the changes in Central Asian voting patterns help highlight the difficult spot the region finds itself in.
With the exception of Turkmenistan, which avoided voting entirely in both the March 3 and the April 7 votes, there were some shifts in Central Asia voting patterns. In the March 3 vote condemning Russia's invasion of Ukraine, Kazakhstan, Kyrgyzstan, and Tajikistan abstained. Uzbekistan and Turkmenistan did not vote at all. In the April 7 vote, Kazakhstan, Kyrgyzstan, Tajikistan, and Uzbekistan voted against expelling Russia from the Human Rights Council.
In general, Central Asia is striving to maintain neutrality when it comes to the crisis in Ukraine. This looks a little different for each state in the region, however. Tajikistan and Kyrgyzstan have been the quietest, although Kyrgyz President Sadyr Japarov has publicly made pro-Russian comments. Kazakhstan and Uzbekistan have tried to define their neutrality on the issue more broadly and firmly, reflecting among other things, their greater international connections and ambitions.
In recent days, particularly ahead of scheduled meetings in Europe, Kazakhstan's leaders have laid out a more firm stance, stating clearly that Nur-Sultan respected Ukraine's territorial integrity and would not help Russia evade sanctions — while underscoring the economic realities of its continued trade with Russia. In mid-March, Uzbekistan's Foreign Minister Abdulaziz Kamilov called for a halt to hostilities and said Tashkent recognized the "independence, sovereignty and territorial integrity of Ukraine." (Soon after he left Uzbekistan to seek medical treatment abroad, according to the Foreign Ministry, sparking rumors that he'd been forced out under Russian pressure.)
Ahead of the April 7 vote, Russia's U.N. mission allegedly urged countries to "speak out against the anti-Russian resolution" in a note, Reuters reported, that was circulated to an unknown number of missions. "It is worth mentioning that not only support for such an initiative, but also an equidistant position in the vote (abstention or non-participation) will be considered as an unfriendly gesture," the note stated. "In addition, the position of each country will be taken into account both in the development of bilateral relations and in the work on the issues important for it within the framework of the U.N."
"Since Russia's unprovoked invasion of Ukraine six weeks ago, the Central Asian states have each been walking an incredibly thin line between Moscow's extraordinary economic, political and military leverage over them on the one hand and the strong aversion among wide segments of their populations to the scenes of Ukrainian civilians suffering horribly on the other," Steve Swerdlow, a human rights lawyer and associate professor of the practice of human rights at the University of Southern California, told The Diplomat.
The states of Central Asia are among those closest tied economically, socially, and politically to Russia, making the threat of being deemed "unfriendly" and the implied threat to both bilateral and multilateral relations more acute.
Earlier in the week, Russia ended simplified visa processes for countries it had labeled as "unfriendly." Being added to that list would have severe consequences on Central Asian economies and potentially social stability, too. As has been repeated ad nauseam, Central Asia relies on Russia to receive millions of workers from the region, and the region's societies rely on the remittances sent back from Russia. Although the war in Ukraine, and the resulting sanctions on Russia, have already begun to damage job prospects in Russia, and depress incomes, being cut out entirely would be worse still.
In addition to migrant issues, Central Asian economies do a great deal of trade with and through Russia. In mid-March, Russian authorities announced a temporary ban on exports of grain and sugar to Central Asia, including to countries within the Moscow-led Eurasian Economic Union (EAEU). The decision was reversed a week later, but other export restrictions were introduced.
The Russian invasion of Ukraine also brings to the forefront long-simmering concerns in Central Asia about Russian ambitions.
"Russia's aggression against Ukraine definitively answered a question that has lingered in the region for decades about whether Russian colonial and nationalist views on Central Asia's 'fake' statehood could eventually progress to concrete military invasion," Swerdlow said. "This anxiety is all the more powerful given that barely three months ago Russian troops were deployed to Kazakhstan to quell anti-government protests."
Given Kazakhstan's and Uzbekistan's statements over the last month, the recent vote may have simply been, as Matthew Kupfer, OCCRP's Central Asia editor, put it on Twitter, "a chance to throw Russia a bone." The Central Asian votes, by themselves, were not a deciding factor in the resolution passing or failing. If voting against the resolution would serve to forestall retaliation by Moscow, it was a vote worth making from the view of the Central Asian capitals.
"If for the vast majority of states voting to exclude Russia from the UN Human Rights Council was an obvious and clear choice, this was unimaginably difficult for the governments in Central Asia," Said Swerdlow, noting that the foreign ministries of Kazakhstan and Uzbekistan have consistently voices support for Ukraine's territorial integrity since the 2014 annexation of Crimea. "But it is entirely another matter to endorse a precedent where Moscow is publicly humiliated at the U.N. and given a pariah status in a body which both Nur-Sultan and Tashkent have expended so much political capital to join."
The U.N. Human Rights Council has faced its share of criticism as it has had among its members blatant violators of all kinds of human rights. It's resolutions are nonbinding, though its work serves to highlight serious human rights issues even if it cannot affect direct action in response.
Kazakhstan and Uzbekistan both currently sit on the council, their terms expiring in 2024 and 2023, respectively. When Uzbekistan was elected to the council in 2020 for a three-year term, it ascended to the council alongside both Russia and China. Writing about the election two years ago, VOA's Navbahor Imamova cited some prescient critics: "Critics also worry that by joining Moscow and Beijing on the Council, Tashkent will be boxed in from criticizing them." 
"As recent elected members to the Council, Kazakhstan and Uzbekistan are keenly aware that their own human rights records are poor and have recently experienced serious backsliding," Swerdlow told The Diplomat. "Aside from Russian pressure, an additional reason to vote 'No' was the principle: 'What goes around, comes around.'"
An overriding issue, of course, is that Russia remains a permanent, veto-bearing member of the U.N. Security Council. Moscow can wield that weight to the misery of its detractors.