What Does Russia's Invasion of Ukraine Mean for China in the Arctic?
An exodus of money, technology, and buyers from Russian energy projects may offer an opportunity for China to embed itself deeper in the Arctic.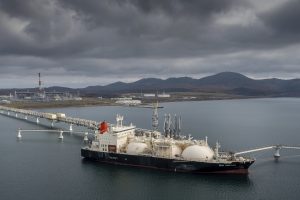 Russia's energy projects in the Arctic face an uncertain future after the imposition of sanctions on the country following its invasion of Ukraine last month. Amid economic sanctions and the departure of foreign firms en masse, the Kremlin may find that it is left with China as its only viable partner for projects up north.
Last week, Britain and the United States announced a wholesale ban on Russian oil and gas. The European Union has stated its member states will look to cut dependence on Russian oil and gas by up to 80 percent by the end of this year and have agreed to phase out Russian gas entirely by 2027.
In the meantime, China is reportedly considering buying or increasing its stakes in Russian energy and commodities companies. Just prior to the invasion of Ukraine, Russian President Vladimir Putin met with Chinese President Xi Jinping in Beijing on the eve of the Olympics. In a joint statement, the two state leaders reaffirmed to the world that the China-Russia relationship had "no limits," and more ominously, that there were "no forbidden areas of cooperation" between the two countries.
China subsequently eased import restrictions on Russian wheat, while Russia announced that it would export up to 100 million tons of coal to its neighbor to the east. Rosneft, the Russian state-owned oil giant, signed a 10-year deal to supply China with 100 million tons of oil. The two countries also agreed on long-term gas supplies, with Russia to pump natural gas to China through the planned Power of Siberia 2 pipeline. Gazprom, the Russian state-owned company which holds a monopoly on pipe-born gas exports, claims the project stands to boost Russia's export capacity to China by 50 billion cubic meters.
Russia has emerged as the third largest natural gas supplier to China, accounting for roughly a tenth of China's total gas imports in 2021. Gas imports from Russia rose over 50 percent year-on-year in 2021, reaching 16.5 billion cubic meters, thanks in large part to the original Power of Siberia pipeline, which began operating in 2019. The pipeline, which transports gas from fields in Yakutia in the Russian Arctic, will be able to supply China with an annual 38 billion cubic meters of natural gas by 2025. The contract signed last month in Beijing is set to add an additional 10 billion cubic meters to Russia's annual natural gas exports to China by mid-decade through the planned Power of Siberia 2 line, making Gazprom the single largest supplier of natural gas to China.
Besides forging closer ties through energy cooperation, Power of Siberia 2 carries geopolitical implications, too. The proposed pipeline will be routed through Mongolia, connecting China with gas fields on the Yamal peninsula, fields that until now have supplied much of Russia's natural gas exports to Europe. The planned extension enables Russia to divert production from these fields to the Chinese market, reducing its dependence on European customers. This carries risks, however. An over-reliance on China at a time when European buyers are forgoing Russian oil and gas could give Beijing more leverage in their bilateral relationship.
Gazprom has previously proposed a separate extension of the original Power of Siberia. If ever built, this pipeline extension would connect China to oil and gas fields on Sakhalin Island in the Russian Far East. Sakhalin-1 and Sakhalin-2, two major energy projects on the island, primarily serve markets in East Asia. Yet Taiwan is now set to wind down its imports of Russian gas. Both Japan and South Korea are looking to diversify suppliers away from Russian hydrocarbons, though both look reluctant to abandon Russian oil and gas outright.
Novatek, Russia's second-largest natural gas producer, has sought to turn Russia into a liquefied natural gas (LNG) powerhouse by developing liquefaction plants on the Yamal peninsula, in the Russian Arctic. Its first project, Yamal LNG, began production in 2018 and a recent expansion has brought its design capacity to up to 20 million tons a year. A second project, the Arctic LNG 2, whose first liquefaction is scheduled to come online in 2025, will likewise have a yearly capacity of 20 million tons of gas. Prior to the sanctions, Novatek had also been in talks with German engineering companies for a third Arctic energy project, Obsky Gas Chemistry, which is set to produce methanol, ammonia, and hydrogen.
Financial sanctions against Russian banks may mean a sudden dearth of funding for these projects. An Italian state lender announced at the beginning of this month that it was freezing its share of financing for the project. France's TotalEnergies, which holds a 20 percent interest in the Yamal LNG project and 10 percent in the planned Arctic LNG 2 project, is staying put, though the company has stated it will not enter into any new Russian gas projects, possibly precluding further financing of the Arctic LNG 2 project.
Moreover, the Japanese government recently made the vague statement that it will take "appropriate action" when it comes to its involvement in Russian energy projects. A consortium of Japanese companies holds a 10 percent stake in the Arctic LNG 2 project, and Mitsui & Co. and Mitsubishi Corporation both have stakes in the Sakhalin-2 project in the Russian Far East. For now, Japanese companies are likely to hang on to their stakes in Russian gas.
ExxonMobil has announced that it will abandoning its Russian assets, including its joint venture that operates the Sakhalin projects. Similarly, Shell is exiting all of its oil and gas projects in Russia, including its stake in the Sakhalin-2 project.
An exodus of money, technology, and buyers from Russian energy projects may offer an opportunity for China to embed itself deeper into the Arctic. In the joint statement issued last month, Putin and Xi agreed to "continue consistently intensifying practical cooperation for the sustainable development of the Arctic."
With Western energy companies and customers heading for the exit, Chinese companies might see an opportunity. Japanese politicians, for instance, recently expressed concern that should the country exit the Sakhalin gas projects, Chinese energy companies would likely swoop in to soak up newly available capacity.
Chinese state-owned energy majors have already taken shares in several Russian LNG projects. China National Petroleum Corporation (CNPC) holds a 20 percent equity stake in Yamal LNG. In 2016, the Silk Road Fund, a Chinese state-owned investment fund established to promote Belt and Road Initiative projects, bought a 10 percent stake in the same project through a long-term financing agreement. China National Offshore Oil Corporation and a CNPC subsidiary each took a 10 percent interest in Arctic LNG 2 in 2019. In November 2021, Novatek signed credit facility agreements with the China Development Bank and the Export-Import Bank of China for Arctic LNG 2.
Shenenergy, a state-owned company owned by the Shanghai government, signed a 15-year contract in 2021 for the supply of 3 million tons of LNG from the Arctic LNG 2 project. In January this year, another Chinese gas distributor finalized a 15-year deal for an annual supply of one million tons of gas from the same project.
Problems at the back end of these projects are emerging, too. After the sanctions it suffered following its annexation of Crimea in 2014, Russia has sought to wean itself off of foreign technology in its energy sector, partnering with foreign companies to transfer technical know-how to its shipbuilders, engineering firms, and plant operators.
This import-substitution strategy has moved slowly, however, and local projects still find themselves at the mercy of foreign suppliers. Novatek faced a series of technical hurdles after introducing new, domestic equipment to a recent expansion of the Yamal LNG project, resulting in major delays. The company is reportedly reverting to using foreign suppliers again for future projects.
In an effort to expand Russia's polar shipbuilding capacity, Putin has revived the Zvezda Shipbuilding Complex in the Russian Far East. Inaugurated in 2018, today the shipyard is building ice-strengthened tankers, and supply vessels, as well as the next generation of nuclear-powered icebreakers to support the development of shipping and extractive industries in the Russian Arctic. But Russia remains dependent on other countries to provide some of the most cutting-edge ships and equipment, specifically the ice-class LNG tankers it needs to effectively export LNG from Yamal.
The budding shipyard seems to have dodged sanctions so far, according to a list of sanctioned entities recently published as part of the European Union's fourth set of sanctions since the beginning of the invasion. This could change, however. South Korea is already tightening its export controls against Russia, targeting, among other things, marine technologies. Moreover, the financial sanctions placed on Russian banks severed the cash flow from Russian state development corporation VEB and other financiers, according to the Barents Observer, possibly stranding several Arctic shipbuilding projects.
Zvezda is currently relying on Samsung Heavy Industries (SHI), a South Korean shipbuilding major, to provide technology and equipment for it to build the next fleet of ice-breaking LNG carriers. The two companies formed a joint venture in 2019, and SHI is constructing ship blocks to be assembled at Zvezda. Novatek has reportedly been in talks with SHI for the building of an additional batch of LNG carriers for its Arctic projects as well, and the shipbuilder recently won an order to deliver ice-strengthened oil carriers to a Russian energy major, too, which now might fall through.
Adding to that, six Arc7 ice-class gas tankers are still on the order book of South Korea's Daewoo Shipbuilding and Marine Engineering (DSME) for 2023 delivery, also to service Arctic LNG 2. DSME also recently inked a deal to build four additional lower ice-class LNG carriers for Arctic LNG 2. In 2020, Novatek placed an order to build two large-scale floating LNG storage and transshipment barges that will act as transshipment hubs on each end of the Northern Sea Route, allowing gas shipments to be transferred from ice-class vessels to conventional tankers to sail to terminals in East Asia and Europe, the latter of which is now increasingly unlikely.
The French-American oil and gas service provider, TechnipFMC, a key player in the construction of Yamal LNG and now Arctic LNG 2, has yet to announce its actions following the sanctions. One of its spin-off companies, Technip Energies, however, has stated that it will exit the Russian market after working through its current project backlog. The French naval engineering company GTT, whose portfolio includes membrane systems for LNG carriers, has also signaled that its production in Russia is at risk. Finnish ship engine manufacturer Wartsila has stopped all its deliveries to the now increasingly pariah state.
Chinese state-owned companies have worked to position themselves as technology providers to Arctic projects. The country's shipbuilders have made strides when it comes to designing and constructing large-scale gas carriers. China's naval research institutes have been encouraged to enhance their polar shipbuilding capabilities as well. The fruits of this effort now include heavy icebreakers and homegrown ice-class gas carrier designs that are competing with South Korean shipyards.
No matter the outcome, the war in Ukraine will leave Russia severely weakened and isolated. As Rana Mitter writes for the Spectator, a cash-strapped and increasingly cut off Russia will be less able to resist greater Chinese influence in many of its Arctic projects.