When Sri Lanka Lost Control of COVID
What led to Sri Lanka's "Delta peak" in 2021, after a promising start to pandemic containment?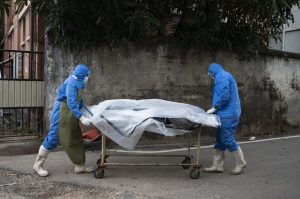 "Everything changed around mid-May [2021]. The original case definition for COVID-19 cited symptoms such as fever and shortness of breath but in May, patients had a sore throat, asthma exacerbation, headache, runny nose, and body pains," said Dr. Kurukularatne, the managing director at Sarva Medicare and Wound Care Clinic in Boralesgamuwa, Sri Lanka. "We tested these patients for COVID-19 and found that a lot of these turned out positive. We then suspected that there may be a new variant in the country."
"Young people came in and collapsed at our clinic. There are people who would immediately lose consciousness because they could not breathe," he said. "One lady came in and said she had an asthma attack, but it turned out to be COVID-19. Hours later, she died at home, just before the ambulance arrived."
In June 2021, Sri Lanka confirmed the first community case of the Delta variant of COVID-19. From August to September 2021, amid the "Delta peak," almost three patients died every hour in the country, including young adults and children.
"There was a 23-year-old male patient in my ICU. He had obesity and had been connected to the ventilator. He had an [oxygen] saturation of 82. When put on the ventilator, his saturation did not increase at all. Then he died," a nurse told The Diplomat in August 2021. "Almost everyone that was put on a ventilator died. I have only seen one patient live."
By the summer of 2021, workers on the frontline had never been busier. They had to bear the burden of daily death and also hear about the infection of loved ones at home. Then, one by one, they started to become infected. One nurse, a mother, discovered that she and her baby had both been infected with COVID-19. Many times, they could not even return to their hostels because of the risk of an outbreak. They had to sleep in areas full of COVID-19 patients they had already treated. Despite their toil and time, they received no special treatment.
Death became omnipresent in Sri Lanka. Whereas previously the media had published extensive details about each COVID-19 victim's identity and the lives they led, these details vanished amid the avalanche of death during the Delta peak. So many people died that lives could not be mourned or valued as they deserved.
The same PHI noticed a sense of apathy in people: "People have lived around COVID for some time and it has become a normal part of their lives. The only people that feel the impact of death rates are the people from the dead person's family. The other people in their communities don't care about the dead person. They just don't care."