Bad Business Climate in Russia a Boon for Kazakhstan
Kazakhstan stands to benefit as Russian companies look to move out of Russia in order to trade globally again.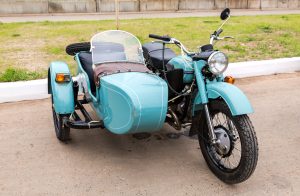 The COVID-19 pandemic broke supply chains and mangled logistics the world over. The war in Ukraine, sanctions on Russia, and rising anti-Russian sentiments have added a new layer of difficulties for Russian businesses. Some, like Ural Motorcycles, are looking to Kazakhstan to help ease the difficulties of conducting business in 2022. 
Kazakhstan stands to benefit from such operations seeking new territory from which to export. On April 26, Kazakh Minister of Industry and Infrastructure Development Kairbek Uskenbayev told reporters that "[a]ny company that is free of any kind of restrictions is welcome in our country." 
This repeated a common refrain from Kazakh officials in the wake of the Russian invasion of Ukraine.
In late March, in conjunction with a Kazakh delegation visiting Brussels, Kazakh officials gave a series of interviews illuminating Nur-Sultan's position. Kazakh Deputy Foreign Minister Roman Vasilenko made headlines when he told German newspaper Die Welt: "If there is a new iron curtain, we do not want to be behind it." He also said that "all companies with a good reputation that want to move their production here are welcome." Timur Suleimenov, the first deputy chief of staff to Kazakh President Kassym-Jomart Tokayev, told Euractiv that Kazakhstan would not "be a tool to circumvent the sanctions on Russia by the US and the EU." 
For a European audience, Suleimenov highlighted Kazakhstan's potential as a spot for European companies trying to reach the Russian market, but the reverse is also a possibility: Kazakhstan as a location for Russian companies trying to reach international markets.
Ural's history dates back to World War II, when it was a state-run motorcycle and sidecar producer. The company became a private enterprise in 1998 and went through a reorganization in 2000. It remains well-known for producing heavy-duty sidecar motorcycles, exporting them around the world from its factory and assembly plant in Irbit, Russia.
Last week, Ural CEO Ilya Khait in a company-produced interview confirmed that Ural would be relocating its assembly operations to Petropavl, Kazakhstan — about 600 kilometers (373 miles) southeast of Irbit. 
When asked why the company chose Kazakhstan, as opposed to other popular manufacturing relocation hubs in Vietnam and India, Khait replied: "Because we need to do it fast." He said that proximity to the factory in Irbit, the widespread knowledge of the Russian language in the area, and the ease of crossing the border between the two countries made Kazakhstan a good spot for a quick, necessary move.
"It was the easiest, simplest, fastest way to get our assembly out of Russia and restart manufacturing," he said.
In another interview, with Jason Marker of RideApart, Khait said over the last decade the company had moved to source components from around the world, up to 80 percent now, meaning, "We essentially are changing the address for shipping these components to another location."
Although the company has not been directly sanctioned, the Russian invasion of Ukraine and resulting pressure on Russia broadly has stymied the company's exports. In the RideApart interview, Khait spoke of canceled contracts, cut off supplies, and rising tariffs in Canada, Australia, and the United States. 
Canada and Australia stripped Russia and Belarus of their "most favored nation" trading status in March, meaning that exports from the two countries are now subject to a 35 percent tariff in both countries. In early April, the United States did the same, though the specific tariff varies. On April 19, Japan introduced an import ban on 38 goods from Russia, including motorcycles and parts.
Uskenbayev, the Kazakh industry minister, said that Ural had signed an agreement to lease space with Kaztechmash, a machine assembly plant in Petropavl whose operations have largely been focused on agricultural machine assembly. The minister added that there were a lot of companies in Russia interested in relocating operations to Kazakhstan. 
In the company-produced interview, Khait stressed that his intentions were not necessarily for a long-term relocation to Kazakhstan but to get assembly and shipments going as soon as possible. For Kazakhstan, this is an opportunity, even if it ultimately is a time-limited one. It also requires walking a delicate diplomatic tightrope between enticing companies to relocate to Kazakhstan (in order to circumvent the pain of sanctions) while avoiding directly violating sanctions regimes, which continue to expand as the war in Ukraine drags on.