India's Plan to Realize TAPI
The Turkmenistan-Afghanistan-Pakistan-India (TAPI) pipeline project seems to have far more going against it than pushing in its favor.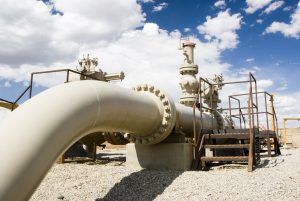 India has restarted efforts to revive the much-delayed Turkmenistan-Afghanistan-Pakistan-India (TAPI) pipeline project. The pipeline was discussed during a recent three-day state visit to Turkmenistan by Indian President Shri Ram Nath Kovind. TAPI remains largely embryonic, and anticipating its future evolution presents undisputable difficulties. Yet, on the face of it, TAPI remains a key priority for Turkmenistan and India, which sit at either end of the pipeline, and it continues to carry a strategic significance that is worth taking note of. India's approach to TAPI positions Turkmenistan as a crucial nexus for its connectivity with Central Asia as a whole. Equally, for landlocked Turkmenistan, the much anticipated TAPI pipeline represents an opportunity to find alternative export partners and one that comes with few strings attached.
India is the first foreign country to visit the new president of Turkmenistan, Serdar Berdimuhamedov, since he came to power in March 2022. TAPI seemed to be high on the agenda. Given that most of TAPI would go through Afghanistan, Kovind stressed that security along the TAPI pipeline is vital if the project is to be implemented. This point was echoed prior to Kovind's visit to Ashgabat by Indian Prime Minister Narendra Modi at the first India-Central Asia Summit held in January 2022. The conference, hosted by India, had all five leaders of the Central Asian countries in attendance, whereby they agreed on greater regional connectivity and supporting Afghanistan's peaceful development.
Speaking to TOLO News, Ismatullah Burhan, a Taliban spokesman for Afghanistan's Ministry of Mines and Petroleum, responded to India's call for a stable Afghanistan and stated that they are working on resolving the challenges ahead of TAPI's construction. Also, Ahmad Wali Haqmal, a spokesman for the Taliban's Finance Ministry, said that only technical issues are hindering progress and that the financial side of things had been "resolved." He stated that "our technical team is working with the technical team of Turkmenistan. We are trying to finish work on the acquisition of land and to resume the project." However, Haqmal did not specify who was providing the funding for the work.
TAPI offers a telling microcosm of India's relationship with the Central Asian states, the relevance of which seems to be exclusively linked to its discursive importance rather than to reality. The TAPI pipeline project envisions the supply of Turkmenistan's gas to India and Pakistan via Afghanistan. Originating at the giant Galkynysh gas field in Turkmenistan, the $10 billion TAPI pipeline would carry 33 billion cubic meters (bcm) of gas a year via a 1,800-kilometer pipeline that will stretch across Afghanistan. Construction has been estimated to last two years, an estimate that seems divorced from actual time given several announced "starts" to various phases of construction over nearly a decade.
TAPI seems to have far more going against it than pushing in its favor. First, financing the project remains precarious. The Asian Development Fund is expected to cover a small portion of the costs, though the bulk of the financing will apparently be left to a yet-to-be-identified private partner. Second, the proposed administration of the pipeline looks cumbersome as the Turkmen government has decreed that there will be four separate pipeline companies, one for each country, each constructing, owning, and operating their own segment of the pipeline. Then there are the immense security obstacles given that most of the pipeline will run through highly hostile terrain in Afghanistan. Also, the idea of India and Pakistan partnering on a deep level is hard to imagine.
Turkmenistan's poor investment climate has hindered TAPI's prospects of attracting investors. Turkmenistan is a closed state that is only partly integrated — through China — into the global economy and international system. The country's reticence to open up and join regional bodies also hampers its ability to deal with transnational issues. This could become a bigger problem as the TAPI pipeline is a transnational project that crosses four countries, so would require the Turkmen government to cooperate and thus adopt a transnational approach. If recent history serves as a guide, there is little room to hope for vast improvements in this area.
While Turkmenistan certainly has sufficient gas resources, the extent of its ability to develop these – in terms of governance, technology, skilled labor, and capital – is less clear. Corruption and weak processes keep the citizens from fully benefiting from their country's resource wealth. The revenue from the country's abundant energy resources has only benefited a small circle of government elites and not trickled down to ordinary people, as demonstrated in the high levels of poverty and scarcity of food. This situation, in turn, could compromise TAPI and endanger its prospects. 
However, Turkmenistan's best immediate hope for export diversification is the TAPI pipeline project. The strategic significance of TAPI for Turkmenistan is undoubted, as the existing infrastructure has been largely designed to accommodate the flow of Turkmen gas eastward to China or northward to Russia. Turkmenistan doesn't have the necessary transportation infrastructure to move gas to new markets on its own. An inherited gas pipeline infrastructure after the collapse of the Soviet Union meant Russia possessed almost complete control over the transportation of Turkmen gas abroad. However, since 2009, China has replaced Russia as the mainstay of Turkmenistan's gas business and of its export revenues. Consequently, Turkmenistan has no real leverage in talks on gas prices with either Russia or China. In order for Turkmenistan to become a master of its own gas resources, it must forge new energy transport routes so it can diversify its exports to new markets, which in turn can boost gas supply at higher prices. 
The timing of the pipeline push, however, may have to do with something more than energy and cash. India's official visit to Turkmenistan happened at a time when China has taken up a more primary role in the region. For example, the Indian president's visit to Turkmenistan coincided with the release of the Tunxi Initiative by China, a set of pledges made by representatives from Afghanistan, China, Iran, Pakistan, Russia, Tajikistan, Turkmenistan, and Uzbekistan to assist with Afghanistan's economic, political, and humanitarian development. Although India was not invited, China made a point of mentioning TAPI and the Chabahar port, projects that involve India. India was also excluded from a separate China-led meeting of special envoys for Afghanistan from China, the U.S., and Russia, a group known as the "Extended Troika." A noticeable snub, it spotlights Beijing's aspirations to play a leading role in the region, which only compound Indian concerns about potential Chinese encirclement.
If TAPI kicks off, big benefits will accrue for Turkmenistan. At best, TAPI has the potential to transform landlocked Turkmenistan into a strategic player in the region and tap into its vast gas reserves. Equally, TAPI could become a platform to support New Delhi's strategic ambitions. However, the project faces major uncertainties. While the outcome of the visit remains to be seen, the renewed priority of the TAPI pipeline may help finally push the project toward breaking ground.