Australian Prime Minister Albanese Confirms Trip to Indonesia Next Week
The trip will be the first by an Australian leader since Scott Morrison attended President Joko Widodo's inauguration in late 2019.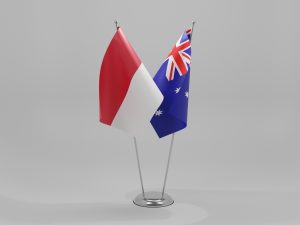 Australia's new Prime Minister Anthony Albanese and Foreign Minister Penny Wong will visit Jakarta next week, in a bid to kick off a new era in relations with the country's largest neighbor. According to the Australian Financial Review, Albanese announced the visit to the Australian Labor Party (ALP)'s caucus in Canberra today. The AFR also confirmed the trip with Indonesia's Ministry of Foreign Affairs.
The new Australian leader is fresh from last week's compulsory and prearranged visit to Tokyo to attend the Quad Leaders' Summit. But the fact that Albanese is choosing Indonesia as the destination for his first official overseas trip as prime minister – a plan that he announced during the campaign – indicates a desire to consolidate its relations with Southeast Asia in general, and its largest nation in particular.
During the election campaign that led up to the May 21 federal election, Albanese harped on the importance of Indonesia. As Rebecca Strating of La Trobe University noted in an article for The Conversation last week, Albanese also chose Indonesia as the destination of his first trips as leader of the ALP (2019) and his first trip as minister in Prime Minister Kevin Rudd's cabinet (2007).
Relations between Canberra and Jakarta have advanced under the last several Liberal/National Coalition governments. Under Morrison, who also chose Jakarta as the destination of his first overseas trip as prime minister, the two countries signed a Comprehensive Strategic Partnership and the Indonesia-Australia Comprehensive Economic Partnership Agreement, which "creates a framework for Australia and Indonesia to unlock the vast potential of the bilateral economic partnership."
But relations have long been hampered by a range of disagreements, ranging from human rights issues, Israel-Palestine, espionage, and regional security arrangements such as the AUKUS partnership, to a more general sense that Australia prioritizes its relations with the West – that it is reflexively "more Geneva and less Jakarta," to reverse the disappointed ambitions of former Prime Minister Tony Abbott.
During the campaign, Labor said all the right things about regional engagement, pledging to bolster Australia's relations with Southeast Asia by appointing a new senior envoy for regional affairs and creating an Office of South-East Asia within the Department of Foreign Affairs and Trade. The ALP also said it would also deliver an additional A$470 in bilateral and regional Overseas Development Assistance to Southeast Asia, focusing on Indonesia, as well as Cambodia, Laos, the Philippines, and Vietnam.
While Indonesia and other individual nations did not rate much specific mention in Labor's campaign manifesto, Wong has previously made it clear that she believes that the Coalition government had neglected relations with Jakarta.
"Our largest neighbor doesn't seem to be getting the attention on the Morrison government's agenda that it warrants," she wrote in the Financial Review last June. "Jakarta has received a steady flow of high-level international visits throughout the pandemic, including three from China's Foreign Minister Wang Yi. By contrast, neither [Foreign Minister] Marise Payne nor Scott Morrison has been to Indonesia since December 2019, despite making other high-profile overseas visits in that time." The ALP's national security plan promised a A$200 million climate and infrastructure partnership with Indonesia.
As I noted shortly after the May 21 federal election, the initial noises from Albanese's campaign were "good news for nations hoping for closer, more multi-faceted Australian engagement with their region." But when it comes to Indonesia, many Australian leaders have come to office with ambitious plans for building relations, only for ties to fray over the usual disagreements. As Strating argued, "Engaging with Indonesia requires creative, nuanced, and modulated diplomacy. Sensitivity around sovereignty, autonomy, and regional security is key."
An inaugural trip to Jakarta is a bright start, but it remains to be seen whether Labor's return to government marks the beginning of a genuine new era for Australia-Indonesia relations, or merely the latest iteration of a longstanding cycle.