Indonesian President Begins Three-Day State Visit to Australia
Cooperation on EV manufacturing and regional tensions are likely to dominate discussions between Joko Widodo and Anthony Albanese.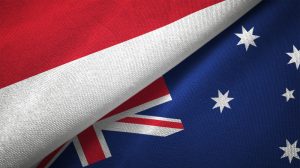 Indonesia's President Joko "Jokowi" Widodo arrived in Sydney today on a three-day state visit that will include a meeting with Prime Minister Anthony Albanese, his first visit to the country since February 2020.
During the trip, the two leaders are expected to discuss increased economic and commercial links, in particular, the renewable energy transition, when they meet for the eighth Australia-Indonesia Annual Leaders' Meeting. The annual summit was reinstated last year after a two-year hiatus due to COVID-19, when Albanese visited Indonesia – his first bilateral state visit as prime minister.
"I am delighted to welcome my friend President Widodo to Australia," the Australian leader said in a statement last week. "As one of our closest neighbors, Australia is building extensive co-operation with Indonesia on climate, economic development, education, and regional security issues."
At the top of the agenda is likely to be Jokowi's ambition to transform his nation into a regional and global hub for the production of electric vehicles (EVs) – an important pillar of his legacy as he nears the end of his second term in power.
The Indonesian leader wants his country to capture a larger share of the value of its abundant natural resources, particularly nickel, by moving from the export of raw materials to more advanced processing and manufacturing, with the aim of transforming itself into an EV production hub.
One thing the country lacks, however, is lithium, an important component of EV batteries resource that Australia has in relative abundance. As Jokowi put it in an interview with the Sydney Morning Herald this week, Indonesia and Australia have a great potential for integration. Indonesia has the world's largest nickel reserves, Australia [is] the world's largest main lithium producer."
Cooperation on this front could be among the first major achievements of the Indonesia-Australia Comprehensive Economic Partnership Agreement, a free trade pact that entered into force in 2020. The agreement aims to "create a framework for Australia and Indonesia to unlock the vast potential of the bilateral economic partnership."
Close cooperation on EVs would also be a feather in the cap of the Comprehensive Strategic Partnership that Indonesia and Australia signed under Albanese's predecessor Scott Morrison in 2018. While there is a long road ahead, it could also lay the foundation for more integrated economic relationships. As one observer put it this week, an EV ecosystem, if successful, could be seen as "just the beginning" of economic cooperation between the two nations.
Regional security is also likely to take place in discussions between Jokowi and Albanese. In an interview with the Australian Financial Review published on June 30, Jokowi said that he would urge Albanese to take "concrete action" to maintain peace between China and the United States.
Indonesia, like many nations in the region, views the intensifying tensions between the two superpowers with concern. Indeed, Jokowi's primary agenda during his nearly 10 years in power has been to promote economic integration and development, a goal that is threatened by the jousting between Beijing and Washington.
In particular, Jakarta has expressed misgivings about the establishment in 2021 of AUKUS, the trilateral security pact between Australia, the United States, and the United Kingdom, under which Australia is set to acquire a fleet of nuclear-powered submarines. After the announcement of the pact, Indonesia said that it was "deeply concerned over the continuing arms race and power projection in the region."
In the interview, Jokowi said that he now accepted the existence of AUKUS, and considered its three members partners, but that he wanted Australia to do what it can to de-escalate tensions. "I see Prime Minister Albanese is committed to this and I hope there will be more concrete action," Jokowi said.
During his visit, Jokowi will also likely open a discussion of Australia's restrictive visa policies for Indonesia, seeking to push things in the direction of reciprocity. In the interview with the AFR, which he also repeated in a separate interview with the Sydney Morning Herald, Jokowi said that the two nations' "very close" relationship "should also be reflected in the ease of travel."