Cambodian PM Pushes Myanmar Junta to Grant Envoy Access to Aung San Suu Kyi
Special Envoy Prak Sokhonn could undertake his next mission to the crisis-hit country as early as late May.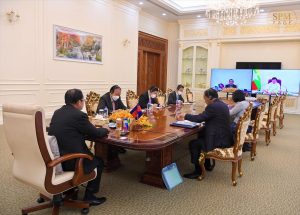 Cambodia's Prime Minister Hun Sen has urged Myanmar's military junta to allow the special envoy for the Association of Southeast Asian Nations (ASEAN) access to the country's ousted leader Aung San Suu Kyi on his next trip to the country.
Hun Sen reportedly conveyed the request during a video meeting with junta chief Senior Gen. Min Aung Hlaing yesterday. According to a statement from Cambodia's Foreign Ministry, which is filled  with diplomatic niceties and expressions of mutual gratitude between the two leaders, Hun Sen urged the junta leader to facilitate the next mission of ASEAN Special Envoy Prak Sokhonn, which the statement said could take place at the end of the month.
The Cambodian leader "reemphasized the importance of access for the Special Envoy to meet all parties concerned in Myanmar, including [Aung San Suu Kyi] and former President Win Myint, for creating conducive environment to start an inclusive political dialogue."
Should it eventuate, Prak Sokhonn's trip would be a follow up from his first official mission in March, during which the Cambodian foreign minister met with Min Aung Hlaing and members of his cabinet, as well as ASEAN diplomats and United Nations officials. The junta also allowed him to meet with Ko Ko Gyi, a Myanmar politician who was a leading activist in the failed 1988 uprising against military rule.
Also in yesterday's meeting with Min Aung Hlaing, according to the Cambodian  statement, Hun Sen "pointed out that that it is important to avoid excessive use of force in maintaining law and order." He also encouraged the coup administration to "further facilitate effective and timely delivery of humanitarian assistance, particularly in conflict areas, which not only alleviates people's suffering, but also supports effort [sic] to de-escalate violence and build trust to engender an inclusive peace dialogue." These three goals are all among the goals of ASEAN's Five-Point Consensus peace plan, which was established last April at a special summit in Jakarta.
Whether any of this makes a difference to the situation on the ground remains to be seen. In response to Hun Sen's request about access to senior members of the resistance, Min Aung Hlaing only "pledged to facilitate meetings with other parties concerned," the statement read. It is hard to see his junta granting access to Aung San Suu Kyi, who is currently on trial on around a dozen trumped-up charges, the most recent of which is bribery. She is also the titular head of the opposition National Unity Government (NUG), an institution made up of former National League for Democracy and opposition figures that the junta has described as "terrorists," and is allied with civilian militia groups that it has pledged to "annihilate."
In a broader sense, the junta's track record of scant adherence to ASEAN's Five-Point Consensus, and its tendency of expressing support for the plan while using it to advance its own aims, gives Hun Sen's urgings the quality of words spoken into a gale-force wind.
There is the subsidiary question of how much any of this matters. For one thing, even if the junta were willing to grant Sokhonn a meeting with Aung San Suu Kyi, this would almost certainly fall short of including the other important parties of the NUG and anti-junta resistance within a genuine process of dialogue.
For another, it is unlikely that the resistance would agree to enter into such a process, absent some kind of rupture in the Tatmadaw or serious indications that it is interested in genuine dialogue. As I've noted many times before, the resistance has long moved beyond a demand for the reversal of last February's coup, demanding nothing short of the permanent removal of military influence in Myanmar's politics, and the refounding of the nation on inclusive federal principles.
That is not to say that the ASEAN special envoy does not have a role to play in preparing the ground for a future process of dialogue, facilitating the delivery of humanitarian aid, and establishing contacts with all sides of Myanmar's multi-sided conflict. As the regional advocacy group ASEAN Parliamentarians for Human Rights noted in a recent open letter, there are also things that can be done to make the special envoy's role more effective and meaningful. Fundamentally, however, the nature and extent of his role will be determined by the changing balance of power within the country.