Myanmar Coup Leader Pledges to 'Annihilate' Those Opposing his Government
Senior Gen. Min Aung Hlaing's comments came on the anniversary of the bloodiest crackdown on those protesting last February's coup.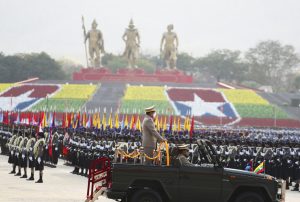 The leader of Myanmar's military junta says that the country's armed forces will "annihilate" the civilian militias that are waging a nationwide armed struggle against the military administration that seized power last February. Senior Gen. Min Aung Hlaing made the belligerent comments in a speech yesterday marking Armed Forces Day, during which he presided over a florid military parade in the capital Naypyidaw that featured tanks, truck-mounted missiles, artillery, and troops on horseback.
Addressing around 8,000 assembled security personnel after reviewing the troops from atop an open-topped SUV, Min Aung Hlaing said that the armed forces would not negotiate with "terrorist groups and their supporters for killing innocent people" and would "annihilate until the end" groups fighting to overturn its rule. "I would like to highlight that there are no governments or armies worldwide that negotiate with any terrorist groups," he added.
Min Aung Hlaing's comments come nearly 14 months after he led a coup and overthrew the elected National League for Democracy (NLD) government, plunging the country into political and economic crisis. For the first few months following the coup, the streets of Myanmar's towns and cities were thronged with those protesting the military takeover.
But after these largely peaceful protests were smashed by military crackdowns, opposition has reemerged in the form of hundreds of militia groups called People's Defense Forces (PDFs), which have taken up (sometimes homemade) arms against the military administration. In some parts of the country, these PDF militias have entered loose alliances with established ethnic armed organizations, which have been struggling for decades against the central state.
Min Aung Hlaing's promise to crush the PDFs carry an extra edge of menace due to the events of last year's Armed Forces Day, when security forces shot dead at least 140 people protesting the military junta, the bloodiest single day since the February 2021 coup. (Other groups put the death toll as high as 163.)
Indeed, a report released last week by the advocacy group Fortify Rights claims that between February and July 2021, the security forces committed acts of murder, torture, imprisonment, enforced disappearances, and forced population transfers. The report points out that the day before last year's Armed Forces Day massacres, junta-run television broadcasted a nationwide warning to protesters, saying, "You should learn from the tragedy of earlier ugly deaths that you can be in danger of getting shot in the head and back."
The Fortify Rights report found "reasonable grounds to believe that the Myanmar junta is responsible for crimes against humanity" and named 61 senior officials who should be investigated and potentially prosecuted for the alleged abuses, including Min Aung Hlaing.
Needless to say, Min Aung Hlaing's comments, and the broader track record of brutality of which they were a part, violate both the spirit and letter of the Five-Point Consensus peace plan formulated by the Association of Southeast Asian Nations (ASEAN), which has called for an end to violence and inclusive dialogue involving "all parties."
While last week's mission of Cambodia's Foreign Minister Prak Sokhonn, the current ASEAN special envoy to Myanmar, saw some small signs of progress, this suggests once again that the military junta will only cooperate with the process to the extent that it benefits its own position. One should always exercise caution in taking a leader's comments at face value, but Min Aung Hlaing's comments were not those of an individual who envisions a negotiated solution to his current political quandaries.