Has the Gotabaya Presidency Entered Its Final Days?
If the Sri Lankan president was angling for a dignified departure from power, those hopes are unlikely to be fulfilled.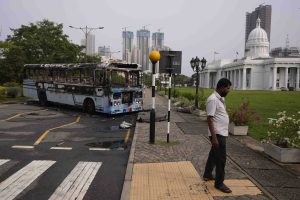 On Monday, Mahinda Rajapaksa resigned as prime minister of Sri Lanka. However, that has not pacified protestors who have been calling for the entire Rajapaksa clan to get out of politics. Mahinda's exit was a decision taken too late.
"Appamado Amatapadan" (doing without delay) is the motto of Sri Lankan President Gotabaya Rajapaksa's old school, Ananda College, whose prestige he put to full use during his presidential campaign in 2019. However, his stint as Sri Lanka's president so far has been characterized by the failure to take the necessary action at the right time.
This has plunged country in an economic and political crisis. What it more, it has plunged into uncertainty his own political future and that of the powerful Rajapaksa clan that has dominated Sri Lankan politics in the last two decades.
Sri Lanka imports a lot more than it exports and balance of payment issues have been a feature of the economy since 1977, when the island nation set off on a course of economic liberalization. The gaps were plastered over with the revenues generated by foreign remittances and tourism, which allowed successive governments to keep serious economic crises like the one Sri Lanka is facing now at bay.
Given the impact the pandemic had on foreign remittances and tourism as well as the disastrous policies implemented by Gotabaya's government, many experts warned that Sri Lanka would be in serious trouble unless an immediate course correction was set in motion. They suggested that a national unity government should be established to carry out the necessary steps.
The proposal to establish a unity government was first floated by member of parliament Tissa Vitharana at the beginning of the pandemic and more recently in February 2022, by 11 constituent parties of his own government, well before mass protests demanding the president's resignation began. The president and his allies ignored these suggestions.
However, since the beginning of April when public protests gathered momentum, Gotabaya and his allies had been flirting with establishing a unity government, with a new prime minister, preferably from the opposition. These efforts were marred by contradictions that convinced the people, who were calling for the president to resign, that these measures were just a ploy to buy time.
Gotabaya is scheduled to talk to political parties on May 10, in a last-ditch attempt to overcome the political instability. The speaker has also asked him to convene Parliament. He faces pressure from religious and business leaders as well as the international community to end the political instability immediately.
However, the president has neither the time nor the legitimacy to end the crisis, especially after the violence that came in the wake of his supporters attacking peaceful anti-government protesters at the Galle Face, Colombo on Monday.
For a long time, the Rajapaksas and their allies had a monopoly on mob violence, even when they were in the opposition between 2015 and 2019.
Given that the anti-Rajapaksa protests have been largely peaceful and were led by non-violent, pro-democracy youth, Rajapaksa supporters believed that these protests did not reflect the mood of the people. There were rumors that the government would crack down on the protest sites using army troops. However, the Rajapaksas chose to use mobs loyal to the clan. This took the protesters by surprise.
When Mahinda Rajapaksa announced his resignation as prime minister on May 9, a demand made by constituent parties of his own government to make way for a new cabinet, his supporters, led by local council members, arrived at Temple Trees, the official residence of the prime minister to urge him to reconsider his decision. This is a classic ploy in Sri Lankan politics.
Several thousands of Mahinda's supporters, egged on by government politicians, then attacked the protestors at Galle Face. Following these attacks, the assailants took to social media to boast about their actions and warned people to stay home. However, they miscalculated the mood of the people.
Shortly after the attacks on protesters, a large number of citizens mobilized through social media and started attacking pro-Rajapaksa mobs that had arrived in Colombo. A large number of these Rajapaksa supporters were assaulted and most of the buses that were used to transport them were burned down in Colombo and other towns across the country as they were returning home. Despite a police curfew and the imposition of a state of emergency, people also started setting fire to over 150 properties that belonged to government politicians, including several ministers. Several government politicians who had attempted to shoot protestors were killed.
Most Sri Lankans who have been struggling with a collapsing economy had not joined the protestors at Galle Face, not because they did not support the protest movement but because most people, especially the poor, were happy with letting more affluent youth and activists continue with the protest.
The Diplomat spoke to a large number of people standing in lines for fuel, gas, and kerosene. They spoke positively of the protests, but their involvement with the demonstrations were minimal because a missed day's work meant that their families would suffer. In a way, they had "outsourced" the protests.
However, the attacks on the peaceful protesters, which was broadcasted live on television channels and social media, finally brought the people into the streets. The violence unleashed by Rajapaksas' mobs has enraged them.
Prominent supporters of the Rajapaksas, inside and outside Parliament, now face serious threats to their lives. They are unlikely now to throw their weight behind the president, as they had done a few days earlier. They are unlikely to even participate henceforth in parliamentary sessions.
After seeing what transpired on Monday, opposition political parties too will be unwilling to be a part of any government that is headed by Gotabaya. According to political sources, in the past few days the president seemed to be angling for a dignified departure. This seems highly unlikely now.
Gotabaya has not been able to go his office for six weeks. The fact that he is meeting party leaders on May 10 via Zoom indicates how much he fears the protesters. He is clearly not at all comfortable with meeting anyone in a disclosed location where protestors can find him.
As the demand for an immediate solution mounts, Gotabaya is discovering that the solution to Sri Lanka's political and economic instability can only be found without him.