Political Dynasties Dominate Philippines Election — Again
The return to power of the Marcos clan hints at deeper problems with the country's democracy.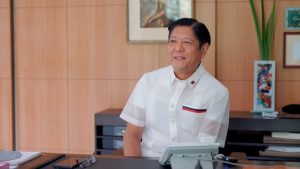 The election victory of Ferdinand Marcos Jr. in this month's Philippine presidential election reflected the continuing dominance of political dynasties in the country's political life.
After their unceremonial ouster in 1986, the Marcoses are once again the most powerful political family, headed by Marcos Jr., who will return to Malacañang Palace as president, a position occupied by his father for two decades. His sister is a senator until 2025, his son was elected as congressman, his first cousin was endorsed by several major parties to be the next speaker of the House of Representatives, and his relatives have retained their clout in Ilocos Norte province and Tacloban City.
Another big winner is the Duterte family of Davao. President Rodrigo Duterte, whose term will end on June 30, has succeeded in expanding the influence of his family with the election of his daughter as vice president. His eldest son was re-elected to Congress, while his younger son was elected mayor of Davao City, a post that both Duterte and his daughter Sara have held. Duterte's personal aide will be a senator until 2025. With his children secured in key positions in the government, he can go back to Davao without worrying too much about his pending case at the International Criminal Court.
In the Senate, most of the winners belong to well-entrenched political families. In 2019, no member of the Estrada clan was elected into office with former President Joseph Estrada losing his re-election as mayor of Manila. In this year's election, two Estrada siblings were elected to the Senate. How can two brothers democratically represent the national electorate in a 24-member Senate body? However, given the current composition of the Senate, their victory does not appear to be unusual.
Families, not parties, are the prominent winners of the 2022 senatorial elections. Newly elected Senator Alan Cayetano will join his sister, Pia Cayetano, whose term as senator will end in 2025. The Cayetanos are also the dominant family in Taguig, the country's emerging business and financial center.
Former Department of Public Works and Highways Secretary Mark Villar was also elected senator, and he will join his mother, Cynthia Villar, who is a senator until 2025. Senator Win Gatchalian's brother is currently the mayor and will soon become a Congressman of Valenzuela City, an industrial hub in Metro Manila. Senator Juan Miguel Zubiri is a scion of a political family in Bukidnon province. Senator Joel Villanueva's father is a deputy speaker of the House of Representatives. Senator Francis Escudero's family members have been elected, too, in Sorsogon province.
The election results for the congressional and local government positions across the country showed a similar pattern: winners were mostly those who come from wealthy and influential families.
This partly explains the observation about the massive vote-buying in the country's first elections during the pandemic. Those with plenty of resources and the backing of well-established political machinery have the initial advantage in reaching out to vote-rich communities and garnering support through patronage.
As competition between local political dynasties became more intense, they shifted their attention towards capturing the market for party-list groups, a system of representation reserved for society's marginalized sectors. Over the years, an increasing number of political dynasties fielded their own groups and nominees until they were able to dominate the party-list election. Even the son of former President Gloria Arroyo was able to win a seat in Congress by representing security guards and tricycle drivers through the party-list system. No wonder, the party list is now referred to as the "backdoor entry" for traditional politicians who want to gain more power. More than 70 percent of party-list groups which competed in the 2022 elections have ties to political dynasties and big business interests, according to a survey by election watchdog Kontra Daya.
Indeed, there are good and bad political dynasties; and ultimately, it is the people who will choose their next leaders. But the experience of the Philippines, in which only a few families dominate the political landscape, was so traumatic that the framers of the 1987 Constitution added a provision banning political dynasties through an enabling law. So far, no law has been passed by Congress regarding this Constitutional provision and this remains impossible to achieve as long as the majority of legislators belong to political dynasties.
Even the term limits introduced in the 1987 Constitution were meant to curtail the power of political dynasties, and thereby democratize Philippine politics. By preventing legislators and local officials from being in power for an extended period of time, the noble aim was to encourage citizens to seek public office. This didn't happen because a politician who finished his or her term was merely replaced by another member of his or her family.
The return of the Marcoses has reminded many about the dangers of a single family monopolizing political power. The social problems engendered by the dominance of political dynasties certainly did not begin with the rise of the Marcoses nor did they disappear after the family was deposed in 1986. Politics over the past three decades has continued to be infected with cronyism, patronage, violence, corruption, and elitism, which have led to mass cynicism and dissatisfaction. That the next president is another Marcos highlights the tragedy and paradox of modern Philippine politics. It is tragic because no substantial accountability has been pursued against those who benefited from placing the country under dictatorship; and unreal because we are so outraged by what's happening in the country yet we feel the political system is designed in a way that would only allow dynasties to remain in power.