The Trans-Caspian Corridor: Kazakhstan's Silk Road?
Kazakhstan and the Caucasus nations are looking at the Trans-Caspian transportation corridor with renewed vigor given the war in Ukraine.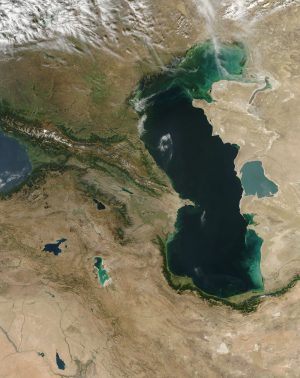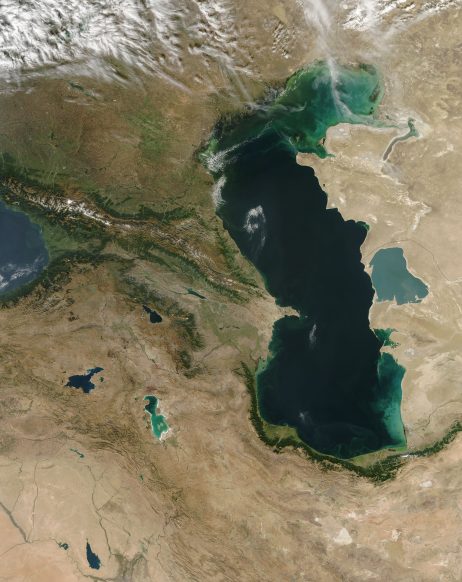 The Russian invasion of Ukraine is having drastic consequences on global geopolitics. Even more, international sanctions against the Russian government are also affecting Russia's neighbors. Countries that traditionally rely on Russia as a transportation corridor for goods to reach the European market are now looking for alternatives. This is the case for Kazakhstan. Nur-Sultan is now turning to the Caucasus not only to solidify friendships and partnerships but also to support the Trans-Caspian corridor, which has not yet reached its full potential.
Two factors need to be kept in mind: First, the idea of a Trans-Caspian corridor that connects Central Asia with the Caucasus and then across the Black Sea to southeastern Europe, is not new. When China announced its ambitious Belt and Road Initiative, part of the network of roads, railways, and sea lanes were envisioned to go through Kazakhstan, across the Caspian and the Caucasus. The Caucasus nations have generally supported this project. There are now consortiums of companies that work together to make transportation easier and faster. For example, the Middle Corridor, a Trans-Caspian international transport route, brings together shipping companies from Azerbaijan, Georgia, and Kazakhstan. 
The second factor to note is that Kazakhstan and the Caucasus nations are not strangers, particularly in the case of Azerbaijan, as the two countries share a common Turkic history. Kazakhstan, Armenia, Georgia, and Azerbaijan have overlapping memberships in blocs like the Organization of Turkic States (formerly called the Turkic Council), the Eurasian Economic Union (EAEU), or the Commonwealth of Independent States (CIS). While Georgia is not a member of the aforementioned blocs, Tbilisi and Nur-Sultan nevertheless enjoy cordial relations.
What is important here is that Kazakhstan and the Caucasus nations have been looking at the Trans-Caspian transportation corridor as a key project since the war in Ukraine commenced. For example, in March, the chair of the board of the Samruk Kazyna Wealth Fund, Almassadam Satkaliyev, and Azerbaijan's Minister of Economy Mikayil Jabbarov met in Baku to discuss how to intensify cargo transportation along the Caspian. Similar discussions have been held between Kazakhstani and Georgian officials. 
Additionally, Timur Suleimenov, first deputy chief of staff of the president of Kazakhstan, explained during a January 18 event at the Kazakhstani embassy in Washington, D.C. that Nur-Sultan and Baku are in discussions to develop a new tanker fleet to move energy commodities from Kazakhstan's Aktau port to Baku. (Anecdotally, a new Azerbaijani cargo-passenger ferry docked in Kazakhstan's Kuryk port in mid-May.) The potential of the Trans-Caspian corridor has also been discussed in other fora in recent weeks: Kazakhstani Prime Minister Alikhan Smailov suggested that Asian countries can use the Trans-Caspian international transport route in a speech at the Boao Forum for Asia in China's Hainan province on April 20-22.
How much can be achieved to transform the Caucasus into a true corridor remains to be seen. The infrastructure is already there, with ports on both sides of the Caspian, and a complex system of railways. However, there needs to be more harmony and cooperation between the Caucasus states (and Turkey) to make the transfer of containers at the border faster to reduce waiting times. Tariffs need to be discussed as well. Geopolitics plays a complicating role, too, as Armenia and Azerbaijan have well-known border issues. 
There have been some recent promising developments. Kazakhstan reached an agreement with its Azerbaijani, Georgian, and Turkish partners "to create a joint venture within the framework of the Trans-Caspian International Transport Route (TITR)." 
It is worth noting that as Russia cuts gas flows to Poland and Bulgaria, while Moldova is looking to export liquefied natural gas from Greece in the coming years, there is an obvious demand in Europe for alternatives to Russian energy. Kazakhstan, along with other Central Asian countries and even Azerbaijan, which is looking to expand its energy industry including green energy, can win big by becoming energy suppliers to Europe. 
Unlocking the potential of the Caspian corridor and the Caucasus to strengthen the connection between Central Asia and the Caucasus with Europe is not a new concept. Back in 2018, when the legal status of the Caspian Sea was close to being resolved, Fabio Indeo wrote for The Diplomat that this decision could create "an alternative westward corridor, achieving a strategy of export diversification" for Caspian states. While the corridor has not yet achieve its full potential, the current war offers a new incentive for regional states to achieve this goal. 
The Trans-Caspian international transport route, which travels through China, Kazakhstan, the Caspian Sea, Azerbaijan, Georgia, and farther to European countries and Turkey, represents the interests of several countries and companies. One country that stands to win big from this new connectivity and an alternate route is Kazakhstan, as lately that have been difficulties in transporting Kazakh cargo due to delays in ports due to sanctions imposed against Russia. Hence, it is no surprise that Kazakhstan is intensifying diplomatic talks to make full use of this important regional transport corridor, which opens a myriad of economic and logistical opportunities for the country and the region.