ASEAN Envoy Calls for Release of Aung San Suu Kyi from Solitary Confinement
This week, Cambodian Foreign Minister Prak Sokhonn will begin his second official mission to the country as the bloc's special envoy.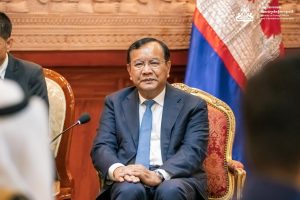 The Association of Southeast Asian Nations (ASEAN)'s special envoy for the conflict in Myanmar has called on the country's military junta to release ousted leader Aung San Suu Kyi from solitary confinement.
Prak Sokhonn, who is also Cambodia's foreign minister, made the call in the letter to coup leader Senior Gen. Min Aung Hlaing ahead of his second official mission to the country this week.
In the letter, he urged the Min Aung Hlaing's State Administration Council (SAC) to "exercise compassion and facilitate the return of Daw Aung San Suu Kyi to the home where she was originally detained, in consideration of her fragile health and well-being," according to a statement issued by Cambodia's Foreign Ministry yesterday.
Last week, Myanmar's military government transferred Aung San Suu Kyi from a secret location to a newly constructed prison in the capital Naypyidaw, where the remainder of her battery of ongoing court cases will now be tried. According to some reports, the 77-year-old Nobel laureate is now being held in solitary confinement in an isolated building within the prison compound.
The letter comes ahead of Prak Sokhonn's departure for Myanmar on Wednesday. His exact itinerary and agenda remain unclear, though he will no doubt press the military administration to adhere to ASEAN's Five-Point Consensus peace plan, which calls for an immediate cessation of violence and inclusive political dialogue involving "all parties" to Myanmar's conflict. During his first mission in March, during which he met with senior junta leaders, ASEAN diplomats, and United Nations officials, the Cambodian foreign minister saw "minor progress," although he was granted access to neither Aung San Suu Kyi nor any other senior members of the ousted National League for Democracy government.
The further isolation of Aung San Suu Kyi is clearly intended to increase the junta's control over the leader, a potent icon of the anti-coup resistance and titular head of the National Unity Government (NUG) that has been set up to resist the junta's rule. It could also be a move to create further faits accomplis, the reversal of which could then be presented to ASEAN and other foreign governments as signs of "progress."
It also marks a further step away from the Five-Point Consensus, which was agreed at a special summit in Indonesia in April 2021. ASEAN's attempts to implement even the minimalist goals of the Consensus have faced continuous stonewalling from the SAC, which has defined the main opponents of the coup as "terrorists" and effectively excluded them from any process of legitimate engagement.
As Prak Sokhonn noted in his letter, placing Aung San Suu Kyi in solitary confinement runs counter to the idea of an inclusive dialogue, especially given that the leader "is regarded internationally and by many in Myanmar as having a critical role" in any solution to the post-coup crisis.
The governments of ASEAN "all share the view that a peaceful national reconciliation cannot be expected when one party to the conflict is taken out of the resolution equation," he said in his letter, and called for the SAC "to begin an inclusive process of national reconciliation without further delay."
Since the coup, ASEAN's plans, comments, and responses to events in Myanmar have often seemed abstracted from the sometimes brutal realities inside the country. Much of this can be put down to ASEAN's penchant for quiet diplomacy, and a conviction that negotiations are always preferable to sanctions and pressure.
But faced with the obduracy of Min Aung Hlaing's regime, the bloc's policies are slowly hardening and falling into line with the dire situation within the country. ASEAN has already chosen to exclude the military government from participation in its high-level meetings, a significant move given the bloc's principle of "non-interference" in the affairs of member states. While full-blown economic isolation and Western-style sanctions are unlikely, ASEAN's pressure on the military junta is likely to increase.