ASEAN Special Envoy Begins Second Official Mission to Myanmar
Prak Sokhonn's five-day visit will involve meetings with regime figures and members of select ethnic armed groups, but significant progress is unlikely.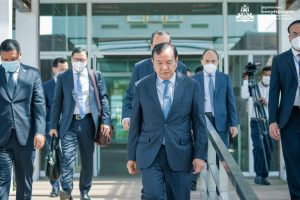 Prak Sokhonn, the Association of Southeast Asian Nations (ASEAN)'s special envoy to Myanmar, arrived in the country yesterday on his second official mission aimed at mediating the intensifying conflict between the country's military junta and its opponents.
Maj. Gen. Zaw Min Tun, a spokesperson for Myanmar's military junta, said Tuesday that the envoy, who is also Cambodia's foreign minister, would meet with Senior Gen. Min Aung Hlaing and other members of the military-run State Administration Council (SAC) during the five-day visit. He has also been granted access to representatives of ethnic armed groups and individuals from "some political parties."
During his mission, which follows an initial mission in March, Prak Sokhonn will attempt to nudge the military authorities in the direction of implementing ASEAN's Five-Point Consensus peace plan, which calls for an immediate cessation of violence, inclusive and comprehensive political dialogue aimed at ending the country's conflict, and the distribution of humanitarian aid under the bloc's auspices.
Despite the Consensus calling for "all parties" to be involved in peace talks, Zaw Min Tun made it clear that Prak Sokhonn would not be permitted to meet with Aung San Suu Kyi, who headed the National League for Democracy government that was ousted in last February's coup. Last week, the 77-year-old Nobel laureate was relocated from house arrest to solitary confinement in a purpose-built prison facility in the capital Naypyidaw, where her ongoing trials will now be conducted.
In response, Prak Sokhonn wrote a letter to Min Aung Hlaing urging the SAC to "exercise compassion and facilitate the return of Daw Aung San Suu Kyi to the home where she was originally detained, in consideration of her fragile health and well-being." Since the coup, Aung San Suu Kyi has been charged with a raft of outlandish charges, including sedition, corruption, violating COVID-19 restrictions, and illegally importing and possessing walkie-talkies – a barrage of criminal charges designed to rule her out of the country's political life indefinitely.
According to a report by Radio Free Asia's Burmese-language service, Prak Sokhonn will also hold a meeting on Friday with the 10 ethnic armed groups that recently answered the military junta's call for peace talks aimed at achieving "peace and development."
The talks have been boycotted by the ethnic armed groups most opposed to the coup who view it part of the military's time-tested strategy of divide and rule. The aim, they say, is to create time and space for the junta to crush the raft of civilian militias, known as People's Defense Forces (PDFs), that are currently waging a nationwide armed struggle against the SAC – including in regions of central Myanmar that have not seen conflict in decades.
Some of these ethnic armed groups, including the Kachin Independence Organization and Karen National Union, have provided  critical support, including training, weapons and refuge, to PDFs and members of the National Unity Government (NUG) with which it is affiliated.
Prak Sokhonn's itinerary is consistent with the junta's selective and insincere approach to the implementation of the Five-Point Consensus. Which is to say, it has granted the envoy access only to those groups that it has designated as "partners" of peace, while excluding the participation of its primary opponents, whose participation is envisioned by the Consensus. This makes it clear that the only solution that the military junta envisions to the country's conflict is the total defeat of the NUG and its armed associates.
Much the same is true of humanitarian aid, the distribution of which will form a subject of discussion during the envoy's mission. However, the cooperation of the SAC automatically forecloses any involvement of the NUG, ethnic armed organizations, and allied civil society groups, which are well placed to channel aid to those civilian populations most in need. Needless to say, all of these groups have warned that any aid dispersed by ASEAN to the military administration will very likely be manipulated to political ends.
Prak Sokhonn's second official mission to Myanmar is likely to underscore the shortcoming of ASEAN's approach to the country's crisis: that it has effectively granted the military a veto over the speed and scope of the process, which has since narrowed drastically from its ambitious goal of ending the cycle of violence and promoting peaceful dialogue. Whether a more punitive approach by ASEAN would succeed is unclear, but any incremental progress that takes place during this week's mission will fall far short of a meaningful step toward ending the conflict.