Cambodian PM Urges Myanmar Not to Execute Political Prisoners
Earlier this month, the military junta announced that four people would be hanged on treason and terrorism charges.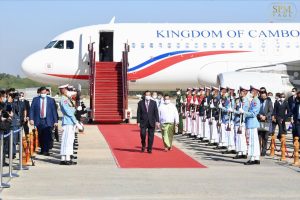 Cambodia's Prime Minister Hun Sen has urged Myanmar's military government not to carry out the planned executions of four political prisoners, suggesting that the move will further isolate the junta and throw up further obstacles to restore peace.
In a letter to Senior Gen. Min Aung Hlaing dated Saturday, a copy of which was obtained by the Associated Press, Hun Sen wrote that "with deep concern and sincere desire to help Myanmar achieve peace and national reconciliation, I would like to earnestly request you and the State Administrative Council (SAC) to reconsider the sentences and refrain from carrying out the death sentences given to those anti-SAC individuals."
Early this month, a spokesperson for the military junta announced that Phyo Zeyar Thaw, a former lawmaker in the ousted National League for Democracy (NLD) government, and Ko Jimmy, a veteran pro-democracy activist, would be executed for violating the country's counterterrorism law, after having their appeals rejected. Two other men have also been convicted of killing a woman they believed was a military informant. The four are among around 114 people who have been sentenced to death by military tribunals since the military coup of February 2021, mostly for waging an armed struggle against the military junta, in addition to at least 1,929 people who have been killed by the security forces.
The execution announcement, which marks a chilling new extreme for a military with a long history of human rights atrocities has prompted a surge of criticism from foreign governments and international organizations. In a statement on June 10, two United Nations human rights experts described the death sentences as "a vile attempt at instilling fear amongst the people of Myanmar."
The Cambodian government isn't generally known for upholding human rights standards, but is one of the two Southeast Asian nations, along with the Philippines, to have banned the death penalty. Indeed, I've argued previously that Cambodia's abolition of the death penalty in 1989 may in the fullness of time be viewed as one of the few lasting legacies of the country's opening in 1989-93, when it transitioned from socialist rule to multiparty democracy under the aegis of the U.N.
Hun Sen's letter, which he wrote as the current chair of the Association of Southeast Asian Nations (ASEAN), comes ahead of the visit later this month of ASEAN special  envoy and Cambodian Foreign Minister Prak Sokhonn. The June 29-30 visit will be the envoy's second since taking up his post at the start of the year, and is expected to see renewed efforts to hold the junta to the Five-Point Consensus agreed at an ASEAN plan last year.
But the pending executions point once again to the junta's contempt for the Consensus, which calls for an immediate cessation of violence, in addition to inclusive political dialogue involving "all parties" to Myanmar's conflict.
While the military junta has condemned foreign nations' criticisms as "irresponsible and reckless," it could conceivably seek to "trade" clemency for the four prisoners in exchange for some kind of political benefit. But absent that, it is unlikely that Min Aung Hlaing will listen any more closely to Hun Sen than he has to Western leaders.