India is the Key to Boosting Thailand's Post-Pandemic Recovery
The country is already leading the recovery of the tourism industry, but there are many more areas of untapped potential.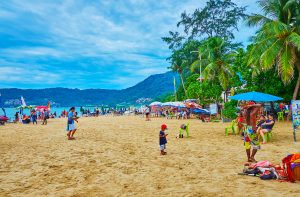 On May 1, Thailand scrapped its "Test and Go" entry scheme involving mandatory RT-PCR tests and up to two nights of quarantine in order to boost the recovery of the country's tourism industry. Shortly after this change, India had emerged as the leading source of foreign tourists to Phuket, Thailand's world-renowned resort island.
The five-month arrival record updated by the Tourism Authority of Thailand (TAT) further highlights India's expanding presence in Thailand's tourism scene. Data from January 1 until May 24 confirms that Indians have so far this year made up the largest proportion of foreign arrivals to Thailand at 100,884 visitors, surpassing Britons (89,745) and Germans (74,104). With the removal of all quarantine requirements for unvaccinated or partially vaccinated tourists from June 1 onward, Thailand can expect to see a new influx of Indian tourists.
Upon closer examination, the figures above should not come as a surprise. India, with its growing middle class and rising purchasing power, has been regarded as one of Thailand's fastest growing source markets even before the arrival of COVID-19. Notably, in 2019, Thailand attracted nearly 2 million Indians, from which it generated a revenue of $2.5 billion. That year, Phuket, a popular wedding destination among Indians, saw a year-over-year increase of 298 percent in Indian arrivals. Nevertheless, given the overwhelming presence of Chinese, Russian, and European travelers in the pre-pandemic days, the Indian market was not prioritized.
Now that the mass Chinese and Russian markets are taken out of the equation due to Beijing's lasting "zero COVID" strategy and international sanctions on Russia for the war in Ukraine, and the accelerating global inflation that discourages long-distance travel from Europe, the spotlight has been shifted to incoming Indian visitors. Put bluntly, reaching out to India is no longer a choice but a necessity for Thailand's tourism-reliant economy.
Among the Thai government's efforts to woo Indians are the recent launch of an air travel bubble facilitating direct flights, various joint promotions, and active online marketing campaigns. It is also worth mentioning that this year's South Asia Travel and Tourism Exchange in New Delhi was attended by several high-ranking Thai officials, underscoring Thailand's newfound commitment to the Indian market. Businesses in Thailand, too, have made operational adjustments to accommodate the new reality. Bangkok's largest waterpark, commonly known as Suan Siam, for instance, has included Indian breakfast in its offers, specifically to target early morning Indian arrivals.
Adding to Thailand's post-pandemic tourism growth is the potential to collaborate with India in the wellness field. Although "wellness" is not a new trend in Thailand, the term has become obsessively used following the revelation of the government's ambitious objective to gain 10 percent of the global wellness market share by 2027. To achieve this, tourist provinces along the Andaman coast will be grouped into a "wellness corridor" and a "wellness single license" enabling businesses to flexibly offer a combination of health services – traditional medicines, spas and beauty treatments, rehabilitation, elder care, and e-health. It remains to be seen whether Thailand's wellness endeavor will bring any real success. But it is clear that India, the center of Ayurvedic medicine with a large and booming wellness market of its own, will become a valuable partner in this regard.
Furthermore, both Thailand and India have embraced and demonstrated a strong devotion to digitization. Thailand's fintech and e-commerce platforms, as well as 5G deployments, have advanced rapidly during the COVID shutdown. Meanwhile, India – now home to 100 unicorn startups – has witnessed an unprecedented level of digital adoption across its  public and private agencies. Needless to say, there is plenty of room for digital cooperation. In fact, the Indian Minister of Commerce and Industry Anupriya Patel has already promised to give startup tips to Thailand, should Thai investors decide to join Indian projects.
More coincidental has been the unexpected success of a Bollywood biographical film "Gangubai Kathiawadi" in Thailand. The film, depicting a life of a sex worker turned social activist for women's rights, made a grand debut on Netflix Thailand last month and subsequently sparked discussions ranging from the protection and legalization of prostitution in Thailand to the extent of India's soft power. The film also prompted Thai celebrities and non-celebrities alike to recreate the "Gangubai look," dressing in a white sari and copying the protagonist's alluring yet powerful poses. The cosplaying has gone viral to the point that Piti Srisangnam of Chulalongkorn University raised concerns about the risks of romanticizing sex work and sending misleading messages to Indians.
Indeed, despite deep-rooted religious and cultural linkages, myths, misconceptions, and prejudices remain huge barriers to fruitful interactions between Thais and Indians. These barriers must be eased, perhaps through systematic awareness-raising activities, for Thai-Indian relations to reach their full potential.