Thai Tourism Sector Has Turned a Corner, Senior Officials Say
The country is aiming to attract more than 30 million tourists in 2023, but its success may depend on the future of China's "zero-COVID" policy.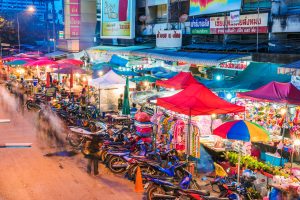 In recent days, senior government officials in Thailand have expressed confidence that the country's economy has entered its recovery phase, after more than two years of anemic growth due to the COVID-19 pandemic. The primary driver of this recovery is tourism, which has rebounded strongly after the devastation wrought by pandemic-induced travel bans and quarantines.
According to a report by Reuters, government spokesperson Anucha Burapachaisri told local media yesterday that the government expects to earn 2.38 trillion baht (around $64.5 billion) in tourism revenue next year. It is hoping that tourism arrivals jump back up to 32 million, or around 80 percent of their level in 2019, the last full year before the pandemic.
Since July 1, when Thailand fully reopened to foreign travelers, dropping the requirement that they present a negative PCR test prior to departure, travelers have once again flocked to Thailand's beaches, temples, and markets in encouraging numbers. Anucha said that the government is targeting between 8 and 10 million visitors for 2022, which marks a massive increase on the paltry 428,000 foreign citizens who made it through the country's maze of vaccination, visa, and quarantine requirements in 2021. In 2020, the country welcomed 6.7 million foreign visitors, most of them before COVID-19 was declared a pandemic in March.
Thailand's economy, the second largest among the Association of Southeast Asian Nations (ASEAN), is unusually dependent on tourism. While Thailand managed to contain COVID-19 with relative success for the first year of the pandemic, the shutdowns and collapse in international travel devastated the country's tourism industry. In 2019, Thailand attracted nearly 40 million foreign tourists, and the industry generated an estimated 20 percent of Thailand's GDP.
The stagnation in the tourism sector in 2021 was reflected in Thailand's economy as a whole, which grew just 1.5 percent, among the slowest rates in the region, after negative growth in 2020. Conversely, the improved tourism numbers are aiding the economy as a whole. Finance Minister Arkhom Termpittayapaisith said late last week that the Thai economy is expected to grow by 3-3.5 percent this year, and then between 3 percent and 4 percent in 2023, helped by the reopening of the country to visitors, as well as increased exports.
In its latest Asian Development Outlook, released in July, the Asian Development Bank projected Thailand's economy to grow by 2.9 percent in 2022, the slowest rate of the six largest ASEAN economies, and by 4.2 percent next year.
Despite the recovery so far, the Thai government's target of 30 million-plus visitors next year is optimistic. Prior to the pandemic, the country was heavily reliant on visitors from China. In 2019, Thailand welcomed 11 million Chinese tourists, more than a quarter of the total for that year. However, the Chinese government's "zero-COVID" policy has all but choked off outbound tourism, and despite the loosening of travel restrictions in certain cities, the immediate outlook is unclear.
According to the Bangkok Post, Thailand received just 36,246 Chinese visitors in the first five months of this year, and Thai officials have expressed some confidence that this could rise to 500,000 by the end of 2022. But these are still anemic figures, compared to the pre-pandemic period.
Whether the Thai government meets its tourism targets for 2023 may well depend on decisions made in Beijing as much as in Bangkok.