India Makes Its Relationship With the Taliban Regime More Official
Indian and Taliban officials are reported to have discussed diplomatic relations during a recent meeting in Kabul.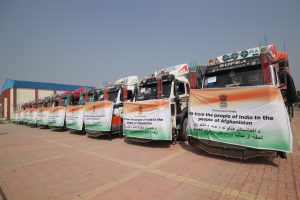 After decades of open hostility and months of furtive meetings, India and Taliban officials have made their relationship more official.
On June 2, a high-level delegation of Indian officials met with the Taliban's acting Foreign Minister Amir Khan Muttaqi in Kabul. This is the first official visit by Indian officials to the Afghan capital since New Delhi shut down its embassy in Kabul following the Taliban's return to power in August last year.
India has reportedly moved closer to reviving its diplomatic presence. Unlike other regional powers that have posted ambassadors in Kabul, New Delhi is considering sending "a very limited number of junior officials, mainly to oversee consular matters and the distribution of humanitarian aid," according to Hindustan Times.
India had sought to downplay the June 2 visit, describing it as one "to oversee the delivery operations of our humanitarian assistance to Afghanistan."
However, the two sides reportedly discussed "diplomatic relations" at the meeting. "The Taliban has asked the Indian delegation to reopen its diplomatic mission in Afghanistan," Taliban spokesperson Suhail Shaheen told The Hindu soon after the meeting.
India's approach to the Taliban regime this time around is sharply different from the past. During the first Taliban regime (1996-2001) India neither extended it recognition nor had a diplomatic presence in Afghanistan. New Delhi did not engage Taliban officials; in fact, it supported the anti-Taliban resistance at the time.
After the Taliban's ouster from power, India supported successive governments in Kabul and extended massive aid toward the country's socioeconomic development. Although it did not send troops to fight the Taliban insurgency, it provided training to Afghan security forces, police, civilian officials, and teachers. Reflecting its large role in Afghanistan was its sizable diplomatic presence; in addition to an embassy in Kabul, India had consulates in Herat, Kandahar, Jalalabad, and Mazar-e-Sharif.
Its significant footprint in Afghanistan disappeared almost overnight with the Taliban returning to power. India shut down its consulates and the embassy and evacuated its officials and nationals from Afghanistan. Its projects ground to a halt.
When the Taliban recaptured Kabul, India's outreach to the group's leaders was just a few months old. Even these were rather surreptitious meetings; India kept denying they happened.
Engagement between Indian and Taliban officials has grown slowly in the 10 months since the Taliban's return to power. Facilitation of the safe evacuation of Indians from Afghanistan by Taliban officials could have worked as an early confidence-building measure.
The Taliban have been courting India assiduously. Within weeks of coming to power, Taliban officials were requesting India to re-open its embassy in Kabul, restore commercial flights between the two countries, and facilitate travel of Afghans holding scholarships for study in India.
There are strong reasons driving their wooing of India. The regime is desperate for economic and humanitarian aid, which India can and has provided in the past. A stronger relationship with India will also provide the regime with greater leverage in its relations with Pakistan.
India, for its part, is concerned over the Taliban allowing anti-India terror groups to operate out of Afghan soil. New Delhi has economic and strategic ambitions in Afghanistan and the Central Asian states, which cannot be fulfilled without establishing ties with the current rulers. Extending aid and developing trade and diplomatic ties with the Taliban regime are seen as ways to prevent it from acting against Indian interests.
Since the Taliban came to power New Delhi has been mulling its options. Indian analysts have been pointing out that not engaging the Taliban is not an option any longer.
That option, which India had chosen in 1996, only left the space open for Pakistan to grow its influence in Afghanistan. It also left India without contacts in the regime in Kabul when a hijacked Indian Airlines plane landed in Kandahar.
Although diplomatic relations with the Taliban regime are seen to be necessary to protect India's security and other interests, New Delhi has not rushed the decision, preferring to wait and watch how the Taliban, now in power in Kabul, engage with Pakistan, the group's long-time patron. Would the Taliban continue to do the ISI's bidding?
Recent tensions between Pakistan and the Taliban regime over their disputed border and the latter not reining in the Pakistan Taliban signal that the equation between the two is not quite what it was in the past.
Additionally Indian and Taliban officials found themselves on the same side while dealing with Pakistani officials objecting to India's shipment of humanitarian aid to Afghanistan via Pakistani territory.
Indian officials have clarified that a diplomatic presence in Kabul does not mean recognition of the regime. New Delhi is unlikely to accord such recognition unilaterally. That will likely come as part of a broader consensus among major powers.
Yet by making the relationship official, India has accorded the Taliban regime a measure of legitimacy.