It's Time for Australia to Take a Fresh Look at Indonesia
Prime Minister Anthony Albanese's trip to Jakarta is a good opportunity for Canberra to reset relations with its largest Southeast Asian neighbor.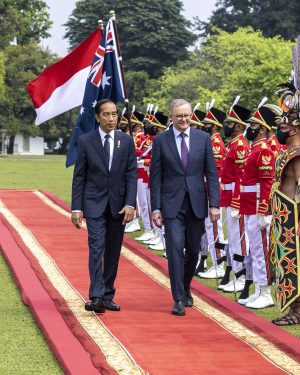 Australia's new Prime Minister Anthony Albanese and his new Foreign Minister Penny Wong arrived in Indonesia today with the aim of deepening relations with Australia's giant neighbor and within the Southeast Asian region more generally. Of course, the visit is primarily about business and trade opportunities, but in today's post-COVID-19 world, there are a lot or other reasons for Australia to build closer links with Indonesia, a nation of 275 million people that is expected to become the world's fourth-largest economy by 2045.
Indonesia has traditionally looked north for its partnerships and investment opportunities but COVID-19 and climate change have created fertile ground for increased collaboration between Jakarta and Canberra. For Australia, Indonesia looms as an important partner as we seek to grow and diversify our trade links beyond our current over-reliance on China, while Indonesia can benefit in terms of digital innovation and green energy partnerships.
In 2020, Australia and Indonesia concluded a ground-breaking trade deal called the Indonesia-Australia Comprehensive Economic Partnership Agreement (IA-CEPA), and as the Albanese government settles into power, and COVID-19 restrictions ease, both government and business will now want to see IA-CEPA reinvigorated and deliver on the vast opportunities.
The big challenge continues to lie with the lack of people-to-people ties. According to a recent survey from Sydney's Lowy Institute, some 64 percent of Australians, including business people, still harbor degree of mistrust or misunderstanding of Indonesians, an issue that must be addressed if we really want to build business and trade opportunities, as well as meeting our regional security needs.
Ironically, the bilateral relationship has been left in reasonable shape by the outgoing Morrison government, including in the areas of defense, policing, business-to-business ties, and cultural relations. But while the current relationship is quite broad, it lacks any real depth, with the population of both countries knowing very little about each other and in many respects remaining as "strangers next door."
Some trade experts argue that closer people-to-people links are not necessary and that a transactional relationship can work just as well. Australia still has a very significant, and mostly transactional relationship with China whereby both countries generally sell and buy from one another. But Indonesia is not China and such a "we sell, they buy" approach will not suffice in this case. To realize fully the opportunities available, we need to understand each other far better, including by building trust and knowledge about our respective cultures.
Indonesia is also now becoming an important strategic partner given China's expansion in our region. A strong, deep, and broadly based relationship is therefore critical not only for business and trade, but also for our mutual security. Our close defense-sharing arrangements should be expanded to allow for the exchange of naval officers on assignments, again to build trust and closer relations.
At a people-to-people level, Australia could break down barriers quickly by removing the requirement that all Indonesian tourists have to apply for a visa prior to coming here on vacation. Currently, each Indonesian national must pay A$140 just to apply for the visa, which also requires each person to complete a 15-page questionnaire where even children need to answer questions such as, "Have you been involved in acts of genocide?" and "Have you been involved in terrorism or human trafficking activities?" Only then can the application be submitted, followed by a wait of anywhere between 14 days and three months, for either the approval or refusal. In the latter case,  the full amount paid is forfeited. Indonesians currently enjoy access to 70 visa-free destinations to where they can travel, resulting in the majority of Indonesia's young and mobile generation placing Australia close to the bottom of their holiday destination list.
These people-to-people links should also include work opportunities for Indonesians in aged-care, childcare, and nursing, where qualified young people can gain valuable experience here whilst helping us in sectors that are desperately in need of quality staff. Likewise, Albanese can expand the already successful student study scheme that allows Australian students to live in Indonesia to study the Indonesian language at universities, while encouraging Indonesian students to live and study here.
And finally, we need to build on so-called "soft diplomacy," such as sport. Every week, over 54 million football-mad Indonesians watch their respective teams play on TV, and with a number of Australian players being household names in Indonesia, and a huge number of senior business people with strong links to the various clubs, soft diplomacy has been significantly undervalued.
As Prime Minster Albanese and his Foreign Minister Penny Wong embark on what will be one of the most important Australian visits to Jakarta for many years, Australia must now view Indonesia in a fresh light, and this needs to be reciprocated, as both nations have a huge opportunity to build capacity and depth in a vital relationship.
Our mutual economic growth, diversification, and national security depend upon it.