Myanmar Junta's Reprisal Attacks Amount to War Crimes, Says Rights Group
According to Amnesty International, more than 150,000 people have been displaced in Kayah and Kayin states since last year's coup.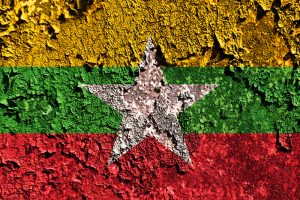 Myanmar's military junta has likely committed war crimes and crimes against humanity in its recent campaigns to crush anti-regime resistance in eastern Myanmar, according to the London-based advocacy group Amnesty International.
In a new report released today, based on interviews with dozens of refugees at the Thai border and other photographic and video evidence, Amnesty reveals the extent of the humanitarian crisis in Kayin and Kayah states since the military takeover in February 2021.
For decades, Kayin and Kayah states have seen struggles for autonomy from the central state, but the coup shattered a series of delicate ceasefires that had kept conflict to a minimum during the country's decade of reform in the 2010s. Since then, the two states have seen some of the worst fighting in Myanmar, as established ethnic armed organizations took up their arms once again, and new civilian militia groups sprung up to resist the military's rule.
According to Amnesty's report, the military "has proceeded to attack civilians and civilian infrastructure from the air and the ground, unleashing a new wave of war crimes and likely crimes against humanity that have caused mass displacement and a deepening humanitarian crisis."
These assaults have included unlawful killings, arbitrary detention, and the forced displacement of civilians in Kayin and Kayah states. The report also documented instances when soldiers razed villages and shot civilians fleeing clashes. It quoted one eyewitness who said troops had shot dead six people trying to cross a river into Thailand. Among the most sinister incidents came in December, when soldiers allegedly killed more than 30 people in a reprisal raid in in Kayah State's Hpruso township and then burned their bodies.
Meanwhile, the military has launched air strikes and artillery attacks that have hit homes, health facilities, temples, and churches. Air strikes killed nine civilians and wounded at least nine others during the reporting period, the report said. It quoted one 25-year-old woman who was displaced by the military's attacks as saying, "We have to live in fear, all the time. Whenever we hear the sound of the jet, during the daytime, we try to find a place to run and hide."
The military's assaults were particularly intense between December 2021 and March of this year, during which time more than 150,000 people were displaced, including between a third and a half of the population of Kayah State. As a result, tens of thousands have fled across the Thai border, which has long been a sanctuary for those affected by conflicts in eastern Myanmar. (The United Nations Office for the Coordination of Humanitarian Affairs in Myanmar reported today that upward of 700,000 people have now been displaced since the coup.)
According to Amnesty, the military's assaults fit a longstanding pattern of collective reprisal that the Myanmar armed forces have employed against ethnic minority communities in conflict zones. The report stated that the military's operations "reflected its signature policy of collective punishment of civilian communities perceived to support an armed group or, in the coup's aftermath, the wider protest movement."
Researchers cited a former field commander from a light infantry division, who defected from the army, who said, "They want to put fear into the civilians." In March, junta leader and military chief Senior Gen. Min Aung Hlaing promised to "annihilate" the civilian militias opposing its rule.
Another report released today by the Kachin Women's Association of Thailand (KWAT), bearing a curiously similar title to Amnesty's report, recorded a similar pattern of reprisal in Kachin and northern Shan states, where it claimed the military had launched airstrikes on and fired artillery shells directly into civilians. The KWAT report documented 13 incidents of shelling over the past six months, which killed eight people and injured 2o, including six children. Ongoing fighting and junta assaults have displaced more than 5,700 villagers across northern Burma during the past six months.
Both of these reports point to the fact that the situation in Myanmar continues to worsen. Amnesty's Senior Crisis Adviser Rawya Rageh said in a statement accompanying the report's release that while the world's attention has moved on since last year's coup, "civilians continue to pay a high price." It also suggests that absent a more muscular international response – among Amnesty's recommendations is a binding international arms embargo on the country's military – it will likely continue to do so.