Rohingya Refugees Need Sustained Support from International Community
With refugee flows from Ukraine and Afghanistan growing, will donors tighten their purse strings for Rohingyas?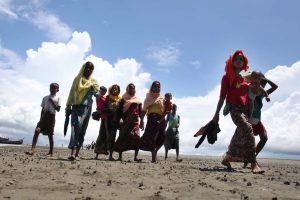 During his visit to Bangladesh, the United Nations High Commissioner for Refugees Filippo Grandi urged the international community to extend sustained and predictable support to Rohingya refugees staying in Bangladesh.
"The world must remember the crisis that Rohingya refugees and their hosts have been facing for the last five years. The refugees' lives depend on how the international community responds in caring for them," Grandi said.
During his five-day visit to Bangladesh in May, Grandi met Bangladeshi Prime Minister Sheikh Hasina and Foreign Minister Abdul Momen. Importantly, he visited refugee camps in Cox's Bazar and on Bhasan Char island.
With the Russian invasion of Ukraine triggering an exodus of Ukrainian refugees and the Afghan refugee crisis worsening, there is concern that the attention of international donors is shifting away from the needs of Rohingya refugees.
"We have enjoyed so far support from donors. But I am a bit worried," Grandi said. Not only is international donor support "needed more now because of [the situation in] Bhasan Char" but also "with Ukraine and Afghanistan and a lot of other competing crises, we are struggling to draw support [for Bangladesh]."
Bangladesh expected Grandi's visit to result in increased repatriation of Rohingyas back to Myanmar and enhanced financial support for its efforts to take care of the refugees. That didn't happen.
It was with the outbreak of the COVID-19 pandemic in 2020 and the consequent economic troubles worldwide, that the funding crisis for Rohingyas began. The fund for humanitarian assistance fell from 75 percent of the requirement in 2017 to 65 percent in 2020. The reduced availability of funding is likely to hamper the refugee management system already in place in the camps, which provides refugees with education, food rations, housing, and sanitation facilities.
According to Human Rights Watch "Bangladesh authorities have, in recent months, intensified their restrictions on Rohingya refugees' livelihoods, movement, and education."  The Bangladesh government has denied these allegations.
Some reports warn that shortage of funding for result could result in them indulging in extortion, prostitution, illegal drug trade, etc. It could trigger conflicts between different Rohingya groups and domestic violence.
Several Rohingyas have left the camps and risked their lives to make sea journeys to Malaysia or Indonesia. In the last two years, police say over 2,400 Rohingyas were trafficked through the sea route. Rezaul Karim Chowdhury, executive director of the Coastal Association for Social Transformation Trust pointed out that since the Rohingya crisis is "a protracted one" it "has created huge frustration among the Rohingyas. Many of them are getting involved in criminal activities and leaving the camps." Asif Munier, an expert on migration and displacement, said "Rohingya men, particularly those in their teens and 20s, are vulnerable to terrorism and criminality" as they are unemployed.
Bangladesh, which is already the most densely populated country in the world is accommodating over a million refugees. In addition to the economic burden that refugees impose on host countries, there are other costs too; it is leading to conflicts between host communities and refugees over jobs, destruction of forests for firewood, control over the drug trade and prostitution. Scholars are also drawing attention to how refugee flows are creating demographic imbalances and triggering security threats for the region.
The three main actors collaborating on refugee issues are the refugees' home country, the host country, and the international community. Refugees can be repatriated, integrated or resettled but in the Rohingya case, none of these approaches have seen progress.
In January 2022, the Bangladesh government and the Myanmar junta resumed repatriation talks after a year. However, the junta was willing to take back only 700 Rohingyas of an estimated 1.2 million refugee population as part of the first step. In the last four months no refugees have been repatriated. In May 2022, State Minister for Disaster Management and Relief Enamur Rahman said that there has been no visible progress in repatriating Rohingyas.
Is Bangladesh following the Bhutanese model of dealing with refugees?
Bhutan forced nearly one hundred thousand people of Nepali origin out of the country. They sought refuge in Nepal. When both Nepal and Bhutan engaged in repatriation talks, Bhutan imposed many conditions to have them verified. Ultimately, Nepal could not repatriate them. UNHCR then resettled them in countries like Australia, Canada and the U.S.
Another barrier to repatriation of Rohingyas is that refugees fear going home. I have argued in another piece in The Diplomat that Rohingyas are not confident about the security situation in Myanmar mainly due to citizenship laws that deny them rights. Therefore, confidence building is a must for voluntary repatriation.
The international community can contribute to resolving refugee issues by pushing Myanmar to take back its Rohingyas and by helping resettlement in third countries as they did in the case of Bhutanese refugees in Nepal.
The U.S. has done well to declare Rohingya persecution as genocide. However, China and Russia are not co-operating in this endeavor due to geopolitical realities. Importantly, no real effort has been made to resettle Rohingya refugees in third countries. Rather, some are still pushing for integration of Rohingyas with the host country.
Thus, it appears that a divided international community, lack of confidence among Rohingyas regarding returning home, and stricter scrutiny of returning refugees applied by junta is delaying the repatriation of Rohingyas.