Vietnam Imprisons Leading Environmentalist on Tax Evasion Charges
Nguy Thi Khanh, a recipient of the Goldman Environmental Prize, is the latest climate change activist to be jailed on tax-related charges.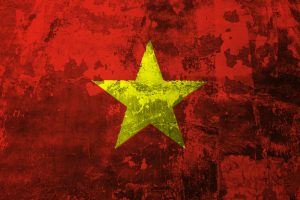 On June 17, a Vietnamese court sentenced the prize-winning environmentalist Nguy Thi Khanh to two years in prison, after finding her guilty of tax evasion. The 46-year-old, who has been recognized internationally for her efforts to push Vietnam's government to wean itself off coal-powered electricity generation and embrace green technologies, is just the latest environmentalist to be arrested for breaching the country's tax laws.
In late January, the Hanoi People's Court sentenced Dang Dinh Bach, director of the non-government Law and Policy of Sustainable Development Research Center, to five years prison. This took place three weeks after it sentenced the activist Bach Hung Duong and journalist Mai Phan Loi, leader of the Center for Media in Educating Community, to similar prison terms for tax fraud. All had spoken out against the Vietnamese government's coal policies.
Khanh, who grew up near a coal plant in Bac Am, a village in northern Vietnam, had worked with the Vietnamese government to accelerate the country's transition to renewable energy over the past decade. In 2011, Khanh founded the Green Innovation and Development Centre (GreenID) to promote sustainable energy development in Vietnam. She also started the Vietnam Sustainable Energy Alliance, a network of 11 Vietnamese and international environmental organizations that collaborate on regional energy issues.
For her efforts, Khanh was in 2018 awarded the Goldman Environmental Prize, which "recognizes individuals for sustained and significant efforts to protect and enhance the natural environment, often at great personal risk."
The striking thing about Khanh is the extent to which she was a partner of the state as well as its critic. The Goldman award citation noted that she "is committed to working with her peers and the government to support Vietnam's transition to renewable and sustainable energy solutions."
For instance, she played an important role in the Vietnamese government ramping up its renewable energy targets in its 2016 Power Development Plan, which revised down the number of planned coal plants and incorporated Khanh's recommendation to increase renewable energy to 21 percent of the total energy plan by 2030.
In a statement yesterday, the U.S. State Department said that it was "deeply concerned" and stated that "civil society partners are a crucial part of helping countries like Vietnam meet their climate change and environmental protection goals." Michael Sutton, executive director of the Goldman Environmental Prize, said similarly that "her continued detention will harm Vietnam's international reputation. We hope that any future energy transition support for Vietnam will be contingent on Khanh's release."
Khanh's coordination of campaigns and mobilization of youth in favor of environmental activism were clearly a source of concern for Vietnam's securocracy, which views any source of political mobilization outside the umbrella of the Vietnamese Communist Party (VCP) with extreme suspicion. As the 88 Project, an advocacy group, rightly notes, the use of tax-related charges against environmental activists is a transparent tactic to silence critics who "cannot persuasively be tried under national security provisions of the criminal code," which have been used to jail scores of independent journalists, bloggers, and other critics.
It is no surprise that recent arrestees Dang Dinh Bach and Mai Phan Loi are board members of the VNGO-EVFTA network, a group of seven community organizations set up to monitor the implementation of the European Union-Vietnam Free Trade Agreement (EVFTA), which entered into force in July 2020.
The seeming motivation for the arrests is the VCP's fear that environmental activism might form a gateway into more "disruptive" forms of political activity, fracturing its political monopoly.