Can Japan's Revamped Childcare Policy Get Workaholic Fathers to Take Leave?
Japan has made childcare leave a top priority but the latest amendments show inconsistencies between the law and reality.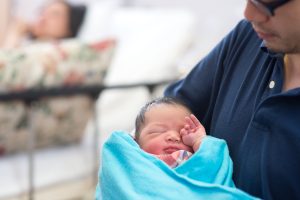 Last year the Japanese government amended a law aiming to make parental leave more flexible for fathers. Both men and women are already entitled to a generous 12 months of paid leave, but the latest amendment seeks to make the system more attractive to company workers and management.
In Japan only a small percentage of men utilize paid paternity leave. A government survey conducted in 2020 found that less than 13 percent of male respondents exercised the right to take paternity leave, compared to 82 percent of women.
Japan's rigid corporate culture and deeply embedded gendered child-rearing roles have contributed to the slow take up of paternity leave.
Under the amended Childcare and Nursing Care Leave Act, companies are required to create an environment that encourages the use of paid parental leave and to inform and follow up with workers about leave after they report they or their partner are expecting. The new system aims to shift the emphasis on businesses to ensure staff know childcare leave is available to them.
The new system, which is being rolled out in phases, allows parental leave to be taken in four installments rather than a continuous 12 months. Under the conventional childcare leave system, undertaking work tasks while on leave was prohibited. Parents will now be able to take home a fixed amount of tasks to help take pressure off employees and companies, a change the government hopes will encourage fathers, in particular, to take leave.
Previously, a request for childcare leave must be submitted one month before the start date. Now, requests can be made two weeks in advance. In addition, companies are obligated to disclose the uptake of childcare leave among staff.
However, a major setback is the lack of a legally binding guarantee to childcare leave. The amendments only apply to major corporations with more than 1,000 employees. The corporate culture in small- to medium-sized companies and the existing pressures that make it difficult for men to take paternity leave remain unchanged. The updates also leave out part-time workers and unmarried workers expecting a baby.
Japan is facing a unique demographic time bomb. Rapidly falling births and an aging population are fueling a severe labor crunch. With the childcare, nursing, and elder care sectors facing acute staff shortages, announcing a pregnancy can be a major burden to business operations. This has led to a phenomenon called "mata hara" or maternity harassment, in which a woman who is pregnant or has given birth is subject to unfavorable treatment or abuse by staff or management.
Pregnancy is unpredictable, as is a baby's due date. But getting time off to be present for a baby's arrival remains a challenge. Technically, a company has the right to ask an expectant father to stay at work even in the case when their partner goes into labor earlier than formally requested.
Last month, a Japanese high court dismissed allegations of paternity harassment made by a former Canadian employee at Mitsubishi UFJ Morgan Stanley. Glen Wood, who has been living in Japan for 30 years, said his request for parental leave in 2015 was rejected by the company. Following the premature birth of his son, Wood says he was "demoted" and stripped of his responsibilities. He was ultimately dismissed in 2018. According to the Tokyo High Court, the company's acts were considered "inevitable." The company welcomed the ruling, calling it evidence that their position was not unreasonable.
When former environment minister Koizumi Shinjiro took 14 days of paternity leave over the course of three months in 2020, he became an overnight role model for working fathers. It was the first time a Japanese cabinet minister has taken paternity leave. In a formal announcement, Koizumi alluded to the struggle of juggling his work commitments and new family. He reassured the public of his commitment to maintaining public duties while also highlighting the child-rearing pressures women face after giving birth.
Corporate Japan has struggled to address work life balance and the new system is seen as a step towards a more responsive work environment. Koizumi's public explanation following the birth of his son sparked fierce debate and made international headlines. But two years on, the latest amendments stop short of resolving the structural bottlenecks and cultural expectations associated with child rearing.