Does Pakistan Have the Capability to Secure CPEC Projects?
China doesn't think so and is pressuring Islamabad to deploy Chinese private security personnel to guard its projects and nationals in Pakistan.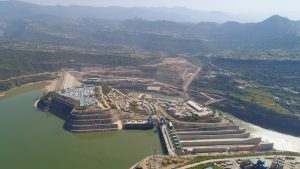 On April 26, a female suicide bomber of the militant Baloch Liberation Army blew herself up near Karachi University's Confucius Institute. The attack claimed the lives of three Chinese nationals, including the institute's head and two Chinese language tutors, and their Pakistani driver.
Funded by the Chinese government, Confucius Institutes enroll around 9 million students worldwide and have campuses in over 140 countries. Offering programs that teach Mandarin and Chinese culture, these are China's flagship soft power initiatives worldwide.
An attack on China's leading soft power initiative in Pakistan was therefore no ordinary event. It not only involved a highly educated female suicide bomber but also indicated that Beijing's efforts to push Pakistan toward containing Baloch militancy are not working.
A day after the attack, a video appeared on social media, in which a masked BLA commander, speaking in English, said: "China, you came here without our consent, supported our enemies, helped Pakistani military in wiping [out] our villages, but now it's our turn. The Baloch Liberation Army guarantees you that China Pakistan Economic Corridor will fail miserably on Baloch land." He warned the Chinese leadership to quit Balochistan or "witness retaliation from Baloch sons and daughters."
The attack on China's Confucius Institute outside Balochistan shows that Baloch militant groups are not only successfully countering Pakistan's anti-terrorism efforts but also introducing new dimensions to the decades-long conflict. Moreover, the group seems to be confident that it can take the fight to Pakistani security forces. This should worry China and Pakistan.
While China may not be ready to quit CPEC, a flagship project of Xi Jinping's Belt and Road Initiative, it is clearly angry over the recent developments. Beijing wants the BLA and other militant groups operating against its interests in Pakistan to be held accountable. It is not convinced that Pakistan has the capacity to achieve the desired results.
Hence, Beijing has been seeking to convince Islamabad to allow the deployment of private security companies in Pakistan to guard its citizens and assets. So far, Pakistan has denied the request, saying that its security forces are capable of doing the job.
A recent attack by the BLA shows that Islamabad's assurances on the capability of its security forces are unlikely to convince Beijing. Last week, BLA militants abducted and killed a senior Pakistani army officer near Quetta, Balochistan's capital. Lieutenant Colonel Laeeq Baig Mirza was kidnapped when he was returning to Quetta with his family after visiting a nearby tourist site. "Around half-a-dozen militants blocked the Ziarat–Quetta Road some 22 to 25 km away from Ziarat (and) searched vehicles," an official told Reuters on condition of not being named. Rarely has an officer of Mirza's rank been kidnapped and killed in this way in Pakistan.
It seems that the BLA had information about Mirza's travel plans. If the militant group had intelligence support and the abduction was not a random incident where the BLA got lucky, then it reflects a colossal intelligence failure on Pakistan's part.
Contrary to what Pakistan may want others to believe, it has serious issues of commitment and ability as far as its capability to deal with militancy is concerned. Currently, Pakistan's national security institutions appear to be more engrossed in managing domestic politics than focused on wiping out terrorism. Commitment doesn't only come from increasing the number of security personnel to guard a building, road, or project site. It also requires policymakers to make fundamental decisions on challenges at the policy level and then work on a robust plan to implement them. Pakistan has failed at all levels in this regard.
For instance, Pakistan's 20-point National Action Plan (NAP) to deal with terrorism and extremism reflects why counterterrorism efforts are bound to fail. The NAP was passed seven years ago and one of its aims was to deal with the Tehreek-e-Taliban Pakistan (TTP). The country is back to talking to the group, which has found sanctuaries in Afghanistan run by the Afghan Taliban – Pakistan's so-called ally.
Arguably, Pakistan never implemented the NAP to begin with. One of the core points related to streamlining religious seminaries was never followed. The only action taken in this regard was when the Financial Action Task Force (FATF) made this a requirement as part of its action plan for Pakistan. Pakistan didn't do much to choke the financing of extremist groups. It was only after the country was put on FATF's grey list that it started to take some action on the matter.
The list of failures is long, but the point is that Pakistan has not done much on the terrorism front except when it was forced by the international community.
A few months ago, Pakistan approved its first National Security Policy (NSP), which called for a "dedicated political discourse to develop a broad consensus on national security that transcends political differences and is not affected by changes in the national political space." Shortly after the approval of the NSP document, Pakistan's civilian government was ousted in a controversial vote of no-confidence in the parliament.
The entire saga has resulted in a rivalry between former Prime Minister Imran Khan and the national security establishment, with both seeking to undermine each other at the cost of the country's national security, foreign policy, and above all domestic stability. The entire drama involving Khan's ouster brought Pakistan to the verge of economic collapse.
Again, the International Monetary Fund (IMF) had to tell Pakistan that it cannot continue with business as usual and needed to implement stringent reforms if it wanted access to IMF funds. The point is that no one in Pakistan is ready to do their job, but they still expect the international community to take them seriously.
The issue of commitment is also tied to Pakistan's usually overrated counterterrorism abilities. Ejaz Haider, a renowned security analyst, argues that it is "deeply disconcerting that despite being engaged with and against Afghanistan and in Balochistan, our [Pakistan] intel capabilities are less than satisfactory."
Not surprisingly then, China prefers to secure CPEC projects with the presence of private security firms. This is nothing less than a vote of no-confidence against Pakistan from one of its closest allies.
The deployment of Chinese security firms can complicate things for Pakistan's policymakers as they will have to explain the decision to Pakistanis.
Ideally, Beijing may not want the deployment of its security personnel in Pakistan but probably sees no other way as Pakistan continues to fail.
Beijing is aware that the deployment of Chinese security personnel in Pakistan could raise anti-China sentiments across Pakistan, particularly in Balochistan, where Baloch militants are describing Beijing as an "occupier." Perhaps Beijing is pushing Pakistan only to make it realize the gravity of the situation and what may happen if the attacks on Chinese nationals continue.
Security cooperation has long defined Pakistan and China's partnership, with "economic ties lagging far behind military engagement." The focus on the security dynamics of the relationship is expected to become the central issue in the coming months as Beijing pushes to safeguard its interests in Pakistan. Chinese pressure on Pakistan on this issue is bound to increase as Baloch militants step up attacks on its interests and nationals.