Does the US Have Patience for the Middle East Quad's Geopolitical Differences?
Lacking a shared perception of who or what constitutes a threat, I2U2 leaders drew up a largely non-militaristic agenda during their virtual summit last week.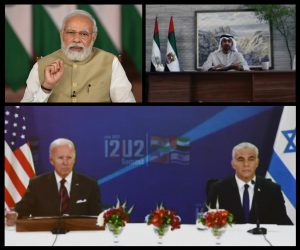 When U.S. President Joe Biden decided to go to the Middle East last week, not everyone was convinced by the rationale for his trip.
Particularly contentious was his visit to Saudi Arabia. As a presidential candidate, Biden had vowed to turn Saudi Arabia into a "pariah" for the killing of journalist Jamal Khashoggi. Last Friday, he fist-bumped Crown Prince Mohammed bin Salman in Jeddah.
Human rights activists have cried foul at the president's realpolitik, but Biden knows how critical Saudi Arabia and its friends will be in the post-Ukraine war world. In the wake of sanctions targeted at Russia and soaring inflation, the West is looking for substitute energy suppliers to step up to the plate. Few oil producers have as much influence in the matter as Saudi Arabia. Just as importantly, Biden hopes to keep the Gulf states away from China.
To these same geopolitical ends, Biden also held another equally significant virtual summit before he headed to Riyadh, with the so-called Middle East Quad, comprising India, Israel, the UAE, and the United States (I2U2).
The idea for the I2U2 group originated last October as a way to leverage newfound common ground between Israel and its Arab neighbors in the aftermath of the Abraham Accords. India was looped in ostensibly as a regional economic power, a counterweight to China, and as a link to the original Quad in the Indo-Pacific. In the midst of the Ukraine war, Biden will hope to build consensus within the coalition on isolating Washington's key geopolitical foes: Russia, China, and Iran.
Yet, if there's anything that binds the I2U2 together, it isn't geopolitics.
India and the UAE are major holdouts in America's quest to isolate Russia. For decades, Russia has been a significant arms partner to India, but since the invasion of Ukraine, India has also massively raised Russia's status as an energy supplier. Since April, India's oil imports from Russia have multiplied a striking 50 times – up from almost nothing. Meanwhile, the UAE has refused to impose sanctions on Russia and Dubai has positioned itself as a place of refuge for Russian wealth.
The UAE and its Gulf allies also increasingly see China as an alternative to dependence on the U.S. – an objective that has only become more important to the Gulf since Biden began raising human rights issues and Democrats in Washington began lobbying against Gulf atrocities in Yemen. As early as his first month in office, Biden ended U.S. support for Saudi-led operations in Yemen. And even on his recent trip to Riyadh, Biden told reporters that he believed that Crown Prince Mohammed bin Salman was responsible for Khashoggi's death.
Even the U.S. and Israel have their share of differences, including on Iran. On his trip to Israel last week, Biden and Israel's caretaker prime minister, Yair Lapid, differed on the future of the nuclear deal with Iran and on what represents the best way to stop Iran's nuclear program.
In that sense, Washington's patience will be tested in the I2U2, especially if the history of the Indo-Pacific Quad is any indication. For several years, the Quad tripped up on geopolitics and failed to pursue a coherent agenda, with India refusing to allow the coalition to become a countervailing force against China. That position began to change in New Delhi – even if subtly – only after deadly clashes between Indian and Chinese troops in 2020. The Quad was then galvanized, through much of the pandemic, by the desire to compete with China's vaccine diplomacy and supply chain dominance in Asia.
But if rallying allies against China took over a decade in the Quad, it will be all the more challenging for Washington to sustain interest in the I2U2 – given far wider divergence in policy between its members and their lack of agreement on who or what constitutes a threat.
To get started, the I2U2 drew up a largely non-militaristic agenda last week, focused on energy, food security, health, space, transportation, and water. India, Israel, and the UAE all have complementary strengths and weaknesses on these fronts. India is a largely agrarian economy with a vast agricultural workforce, and Israel is a world leader in farming technology. Meanwhile, the UAE – located mainly in an arid desert – suffers significant threats to food security. To that end, last week, the I2U2 nations agreed to pool their resources together to build a food park in India.
But for the U.S., which is significantly more developed than its I2U2 partners and geographically distant from them, such initiatives are likely to hold little long-term interest unless they eventually lead to geopolitical coherence within the I2U2. To achieve that, Washington will need to show sustained patience in reestablishing itself as a preferred partner to the Gulf over China or Russia.