Japan's NATO Outreach Bears Fruit
Prime Minister Kishida's emphasis on unity with NATO over Russia paid off with recognition of China as a challenge to NATO's interests and security.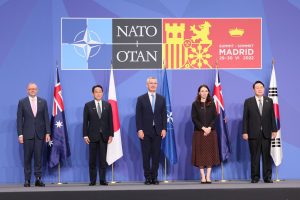 On June 29, Kishida Fumio became the first Japanese prime minister to attend a NATO summit. At the summit in Madrid, Spain, Kishida called for a significant upgrade of Japan's ties with NATO. He suggested several concrete steps toward that end, including upgrading the 2014 Japan-NATO Individual Partnership and Cooperation Program, dispatching Japanese Self-Defense Forces officials to NATO headquarters, having Japanese and NATO observers at each other's exercises, hosting a visit to Japan by NATO Secretary General Jens Stoltenberg, and inviting Australia, Japan, New Zealand, and South Korea – collectively referred to by NATO as its "Asia-Pacific partners" – to NATO summits on a regular basis.
Kishida emphasized throughout the summit that the security of Europe and the Indo-Pacific were "inseparable." While of course Kishida is interested in what Europe can do for Japan, this language does beg the question, what can Japan do for Europe? In preparation for making this argument, which he also referenced at the Shangri-La Dialogue, Kishida imposed additional sanctions on Russia on June 26, including banning gold imports from Russia; prohibiting provision of services to Russia in accounting, trusts, consulting, and other areas; freezing the assets of about 70 individuals and organizations in Russia; and expanding the ban on exports to organizations related to the Russian military.
Kishida is also clearly signaling that, even though Japan may not be able to militarily assist NATO members, Japan is not just asking for help from others but is willing to do more for its own defense. Reiterating many of the themes and pledges from his Shangri-La Dialogue, Kishida promised to NATO:
In response to the current international situation, Japan will draw up a new National Security Strategy by the end of 2022. In addition, we will fundamentally reinforce our defense capabilities within five years and I am determined to secure a suitable increase in our defense spending to support such a reinforcement. We will strengthen our security cooperation with like-minded countries and our partners while we raise the Japan-US Alliance to new heights.
It appears that Kishida's rhetoric and willingness to impose sanctions on Russia has been well received by NATO leaders. For the first time ever, NATO's Strategic Concept, a document that will guide NATO for the next decade, mentioned China. The document stated that China's "stated ambitions and coercive policies challenge [NATO members'] interests, security and values." It listed many areas of concern including China's non-transparent conventional and nuclear military build-up, "malicious hybrid and cyber operations," "confrontational rhetoric and disinformation," attempts "to control key technological and industrial sectors, critical infrastructure, and strategic materials and supply chains," "[creating] strategic dependencies," "[striving] to subvert the rules-based international order, including in the space, cyber and maritime domains," and "deepening strategic partnership" with Russia.
The Madrid Summit Declaration also similarly states, "We face systemic competition from those, including the People's Republic of China, who challenge our interests, security, and values and seek to undermine the rules-based international order."
Given these deliverables, Kishida was able to claim success when he told reporters in Madrid, "I confirmed awareness that the security of Europe and the Indo-Pacific are inseparable, and that any change in the status quo by force will not be tolerated in any region."
On the sidelines of the NATO summit, Kishida also held a trilateral meeting with U.S. President Joe Biden and South Korea President Yoon Suk Yeol, in which the leaders discussed the North Korean threat and the United States reiterated its commitment to the defense of Japan and South Korea. This was the first in-person meeting between the leaders of these three countries in about five years. Kishida also held a quadrilateral meeting with Yoon, Australia Prime Minister Anthony Albanese, and New Zealand Prime Minister Jacinda Ardern.
The NATO summit was the first time that Kishida and Yoon, who was inaugurated on May 10, met in person. Tensions between South Korea and Japan are running high, following former President Moon Jae-in's decision to scrap an agreement with Japan settling the "comfort women" dispute. Subsequent decisions by South Korean courts holding Japanese companies liable for forced labor during World War II also sparked outcry from Tokyo, followed by Japan's decision to enact trade restrictions on South Korea.
The new Yoon administration, however, has made clear its desire to normalize the relationship. Although there had been discussions of Kishida having a bilateral meeting with Yoon on the sidelines of the NATO summit, these were scrapped due to concerns about how Japanese conservatives would react with the upper house elections approaching. However, there is momentum for real improvement in Japan-South Korea ties after the July 10 upper house elections in Japan.