Managing Cross-Regional Expectations After the NATO Summit
Inter-regional solidarity in the face of aggression is welcome. But there are hard limits to hard commitments outside of a country's home region.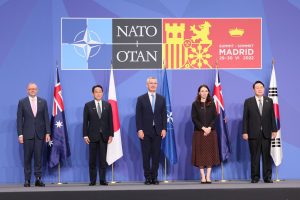 The recent NATO Summit in Madrid marked a welcome elevation in high-level coordination between the United States' European and Indo-Pacific allies. For the first time, the leaders of Australia, Japan, New Zealand, and South Korea, the so-called "Asia-Pacific 4" (AP4), were invited to join the annual summit. From the U.S. president on down, administration officials increasingly speak of the Euro-Atlantic and Indo-Pacific, not as separate theaters, but as interlinked regions. Indeed, the AP4's attendance is a conspicuous example of what National Security Council Indo-Pacific coordinator Kurt Campbell recently commended as an unprecedented level of engagement and interest from Asian partners into the European theater.
For the Biden administration, the inclusion of the United States' closest Asian partners at the NATO Summit showed the "global resolve" of democracies and the growing potential for cross-regional partners to respond against common threats. But there are hard limits to hard commitments outside of a country's home region. The efforts of Washington and its allies to foster inter-regional cooperation against Sino-Russian coordination are beneficial and necessary, but they should not detract or distract from the more urgent task of deepening intra-regional coalitions better tailored to manage their respective great power challengers.
The Promise of a Cross-Regional Alliance
Although the United States continues to underwrite the balance of power in both Europe and the Indo-Pacific, the Biden administration recognizes that it cannot address global military threats alone as its relative military primacy declines, particularly in Asia. Aiming to compete simultaneously with Russia in Europe and China in Asia, the administration has sought to rally its global network of democratic allies to step up, whether through direct deployments or capacity-building and military aid.
In that sense, the AP4's stated and material support for Ukraine and its endorsement of NATO's new Strategic Concept appear to demonstrate the real benefits to such cross-regional cooperation. Noting that security in the Indo-Pacific and Europe is "indivisible," the leaders of the AP4 have real stakes in how the world responds to Russia's violation of rules and norms. Australian Prime Minister Anthony Albanese stressed the need to defend "democracy, peace, and security and upholding the rule of law, whether it is in this region or ours." Japanese Prime Minister Kishida Fumio emphasized safeguarding international and territorial sovereignty, expressing his concerns in the lead-up to the summit that "Ukraine today could be East Asia tomorrow." While not identifying China or Russia by name, South Korean President Yoon Suk Yeol nevertheless emphasized the threat to "universal values" evident in the ongoing conflict.
All four AP4 countries have imposed sanctions on Russia and sent humanitarian aid to Ukraine, while Japan and South Korea have also restricted exports of key technological and computing inputs and released oil reserves to stabilize markets.
For their part, European allies have also acknowledged their own stakes in the Indo-Pacific. NATO's new Strategic Concept cited the "systemic challenges" posed by China's coercive behavior and its "malicious hybrid and cyber operations and its confrontational rhetoric and disinformation." The United Kingdom, France, and Germany have all stepped-up their defense diplomacy in the Indo-Pacific and forward deployed assets, which has been welcomed by the United States. Many have also noted the importance of "peace and security in the Taiwan Strait" in their high-level engagements with Indo-Pacific counterparts, poignant references given the linkages drawn, rightly or wrongly, by many between the fates of Ukraine and Taiwan in recent months.
Hard Limits to Hard Cross-regional Commitments
Despite these reciprocal words and deeds, however, these developments should be appreciated for what they are – largely displays of shared political resolve with limited material components. Even the United States' most staunch allies are reluctant to dedicate their limited resources far beyond their borders. With the exception of Australia, which has pledged AU$385 million in military aid and sent dozens of armored vehicles and several howitzers, Asian allies have been unwilling or unable to provide significant lethal assistance to Ukraine. This is despite repeated requests by Ukraine and the United States for militarily capable allies like South Korea to do so.
Equally, NATO's recognition of the threat posed by China and the flurry of defense diplomacy in recent years do not guarantee action when the chips are down. As welcome as they would be, there are few in Asia today who expect European powers to make meaningful military contributions in a major security crisis in the Indo-Pacific, or to decisively tilt the regional balance of power in peacetime. That the conflict in Ukraine appears likely to drag on for some time will likely only sharpen those states' attention on their own region.
Horses for Courses: Intra- vs Inter-regional cooperation
Alliances are an incredibly useful resource in the United States' global strategy toolbox, but they are not blunt instruments to be applied to every problem. In that sense, even as Washington encourages greater cooperation between its Indo-Pacific and Euro-Atlantic allies, the United States should not lose sight of the fact that these allies are ultimately most effective – and committed – in their own regions.
Faced with competing global priorities and real material constraints, the Biden administration will need to be selective in identifying where threats would be better answered through smaller issue-driven coalitions rather than potentially unwieldly inter-regional groupings heavier on symbolic than practical value. Where inter-regional cooperation is required, the United States should be seeking to leverage allies' specific niche strengths that can generate the greatest pay-off. For example, East Asian allies are well positioned to contribute on technology, Singapore on financial transactions, Australia on energy and agriculture supply chains, and so forth.
Rather than prioritizing efforts to build an inter-regional Europe-Asia coalition, the United States should instead devote its attention to sustaining the promising progress in strengthening intra-regional cooperation amongst allies. For example, Madrid provided an unexpected venue for the United States, South Korea, and Japan to reinforce their coordination, reflected in the first trilateral leaders' meeting in almost five years. The United States should further facilitate and encourage stronger intra-regional cooperation among Australia, Japan, South Korea, New Zealand, as well as India, Singapore, and others in the Indo-Pacific – and empowering these partners to do so themselves – to preserve a favorable balance of power in the Indo-Pacific.
None of the above is to detract from the importance of the genuine solidarity on display at Madrid, nor to overlook the clear interests of Asian and European allies in networking between themselves and helping each other. But ultimately, a more united Europe and a more united Asia will better safeguard their security and support U.S. strategic objectives in both regions than a superficial melding of the two.