Thailand's Vanishing Regional Leadership
During the Cold War, the country played a central role in regional diplomacy, but in recent years its activism has waned.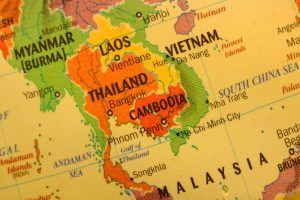 Many Thai netizens showered Indonesian President Joko "Jokowi" Widodo with praises as he embarked on a journey to Moscow and Kyiv late last month in a bid to mediate the ongoing war and alleviate the global food crisis. Criticisms that Jokowi's initiative brought no substantive change, was more about domestic gains, and has only helped underpin Russian propaganda which are not much of a concern for the Thais. At the end of the day, Jokowi has demonstrated a strong determination to play a proactive and constructive role in foreign affairs.
In other words, Indonesia has made commendable efforts to live up to its widely acknowledged role as the natural leader of the Association of Southeast Asian Nations (ASEAN).
In stark contrast to Indonesia, Thailand's presence in the international arena so far this year has been severely lacking. Although Thailand eagerly participated in the U.S.-ASEAN Special Summit, and made international headlines by normalizing relations with Saudi Arabia after 30 years of tensions, the Thai government has remained largely muted and non-committal when it comes to addressing conflicts in Ukraine and Myanmar – the two urgent security challenges facing Southeast Asia.
Unlike today, Thailand's foreign engagements during the Cold War and its immediate aftermath were robust. By mediating between its neighbors and drafting the Bangkok Declaration, Thailand was a catalyst behind the formation of ASEAN in the late 1960s. Many of ASEAN's big decisions, such as the campaign to "intervene" in Cambodia following Vietnam's invasion in 1979 and the creation of the ASEAN Free Trade Area in the early 1990s, were also driven by Thailand.
Furthermore, Thailand took a lead role in communicating with major powers. Given Thailand's strategic location and goal of beating back communism, the kingdom became the United States' critical base in Southeast Asia. Thai troops, too, were deployed to support U.S. missions in Korea and Vietnam. After the U.S. withdrawal from Indochina in the mid-1970s, Thailand was one of the first ASEAN countries to pursue diplomatic normalization and formed a de-facto security alliance with China to counter Vietnam's (and the Soviet Union's) expanding influence.
Over the last two decades, however, Thailand has started wearing the invisible cloak to focus on its mounting domestic priorities and avoid getting sucked into great powers' spats. And, inevitably, Thailand's leadership role in regional politics has faded.
To be fair, Thailand is no longer confronted with external existential threats. Communist expansion in the past was a grave danger to Thailand's state ideology – nation, religion, and king. Thailand was therefore firm in its anti-communist stance and was overtly pro-U.S. But Thailand does not see the current "revisionist axis," China and Russia, as the enemy. Similarly, Myanmar does not pose a serious military threat to Thailand in a way Vietnam did back in the Cold War era. The Thai military actually has friendly relations with its Myanmar counterpart and prefers to deal with the ongoing Myanmar conflict quietly.
Besides, as I have previously noted, there are growing uncertainties in international relations and alliance-based security guarantees are no longer reassuring. For a medium-sized country with no real external enemy like Thailand, maintaining neutrality and a low-profile foreign policy is perhaps the best way to survive.
That said, there are limits to how far Thailand can feign nonchalance. The recent encounter with Myanmar suggests that Thailand's foreign policy has become too reactive, and that Thailand has seemingly lost the will to reclaim its regional leadership.
On June 30, a Myanmar MiG-29 fighter jet battling ethnic rebels in the Kayin State breached Thailand's airspace without an interception, reportedly for 15 minutes. This sent Thai border villages into panic and prompted evacuations. The incident cleared up following the launch of Thai F-16 fighters on air patrols and insistence from Thai authorities that Myanmar had apologized for the "unintentional" incursion.
What was deeply troubling was the "no big deal" remark made by Gen. Prayut Chan-o-cha, who is not only the prime minister but also the defense minister. By issuing a weak response to the incursion, something that should normally set off alarm bells, Thailand has effectively normalized the violation of territorial integrity. And if Thailand cannot even defend itself, would Thailand be willing to take any action if similar incidents were to occur to other ASEAN members? Probably not. The fact that Thailand is still waiting for an official written apology from Myanmar makes the Thai government's passive response even more bizarre.
Additionally, by not intervening quickly and allowing Myanmar to carry out military operations from Thailand's soil, the Thai government has unintentionally shed its stance of neutrality and has, instead, portrayed itself as an accomplice of Myanmar's military in a civil war against ethnic insurgents.
If Thai leaders from the past could time travel to the future, they would surely be disappointed to see how weak and invisible Thailand has become on the international stage.